Ok, so I shot exclusively with my 2 Slr magic lenses from August 2011 till December 2011, I got some great shots and now feel I can discus what I think are the strengths and weaknesses of the lenses.
I'd like to start out with the 35mm as this is the one that I naturally just kept reaching for at first. It just felt fun to use, and when I looked at the screen on the Nex I was always very excited with the shots I grabbed with this lens. It's funny that of the 2 lenses, this one always grabbed me more when out shooting over the 28mm, however when I got home and loaded them up on my computer, that was always where I found my love for the 28mm, but more on this later.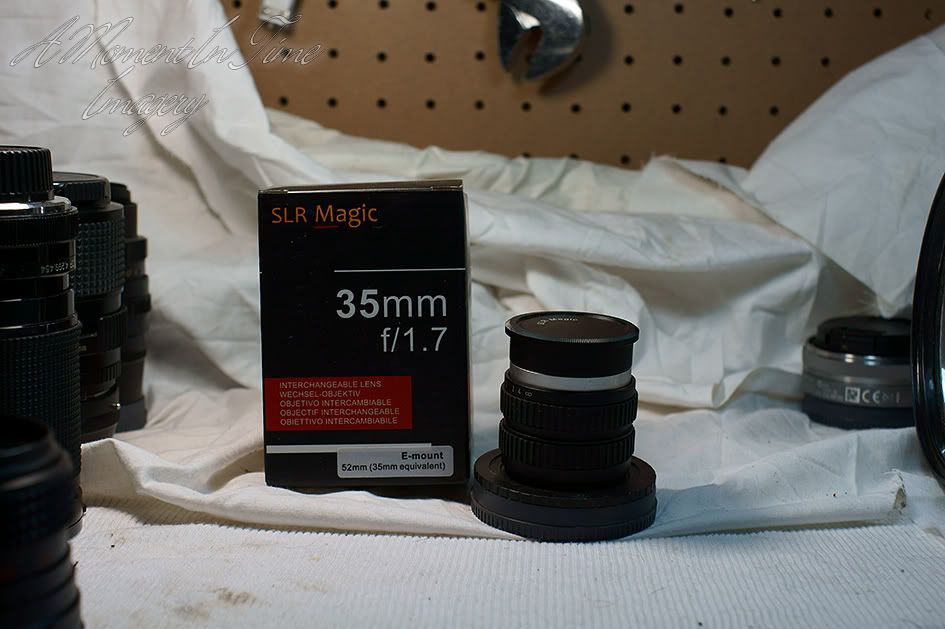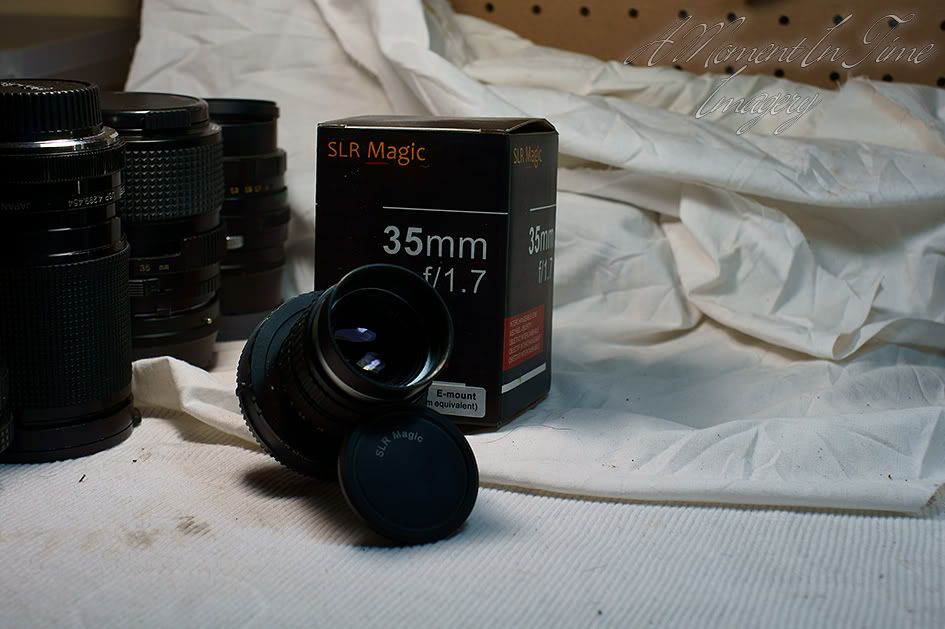 Upon receiving my package from SLR magic containing my 2 lenses and adjustable macro extension, I was very impressed by the packaging, it all seemed quite nice and had a feeling of quality I was not expecting this for such relatively inexpensive lenses. I remember being so eager to go shooting with these lenses when they arrived, I took a few brief snaps around the house to get the hang of focusing manually on the Nex, which is a dream by the way with it's focus peaking and magnification. (however I must admit to not having recorded the aperture stops for each image and the Nex does not record your aperture settings on manual lenses for obvious reasons)
Once feeling comfortable enough, I chucked the dog on the leash and proceeded to the local park to give him a run and go shooting with this lens. The first thing I noted with this test was how easy this lens was to focus, the are no click stops for aperture, so it is great for video too. The rings turned freely and smoothly and did not feel loose or plastic-y at all. Not having much around I was reduced to shooting my dog and the local nature, however these shots turned out to be some great tests for me.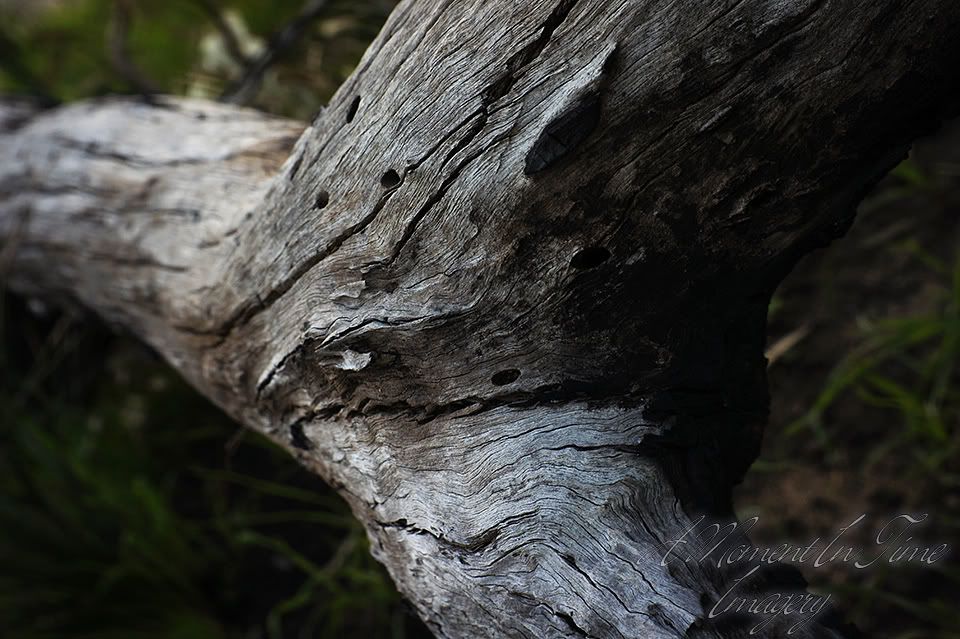 This shot was probably my favourite from this quick walk around the park. I like how it articulated the grain on the trunk.
Sh. Sp. 1/50 ISO 200
However I quickly noticed once I loaded the shots up on my PC that this lens had quite bad lens distortion as is quite plain in the next pic. It does not always seem to be in the same place in pictures, which leads me to believe that this distortion point rotates around as you focus, so it will depend on the distance from the subject to where the placement is. I'm not sure if this obvious lens distortion is in all examples of the lenses or if it is just this particular copy that I have.
You can see from this test shot where the lens distortion is quite prevalent. Sh. Sp. 1/250 ISO 200
Although this would be seen by some as quite a serious problem in this lens, it still was and is not a deal breaker for me. I did not buy this lens to get the most awesome, crystal clear, drop dead beautiful captures. No, I bought this lens as it was advertised to me, as a great creative lens and this is exactly what it is. If you buy this lens and expect it to give you perfect, leica or zeiss like images then you will be sorely disappointed and I have to question what you thought you were going to get for a lens that you get change out of $150AU.Still this was just the beginning for me, I had already caught the bug for shooting manually on the Nex. It just feels so good, it's like meditation, it makes you slow down, really think about and compose your shot and then snap. Manual shooting makes you a better photographer, period.
Wanting to get out more and experiment with my new lenses I planned to go into town (Perth) that very next w/e, since I had gig posters to put up for our next show, I figured why not kill 2 birds.The first shot I snapped was just of a typical street sign right outside of the parking complex I had left my car in. I was that keen to get shooting, I just snapped the first thing I saw as I got out on the street. Even just by looking in the viewfinder, I was already impressed by the way the colours popped with this lens, it seemed right away to have more contrast than the native auto lenses.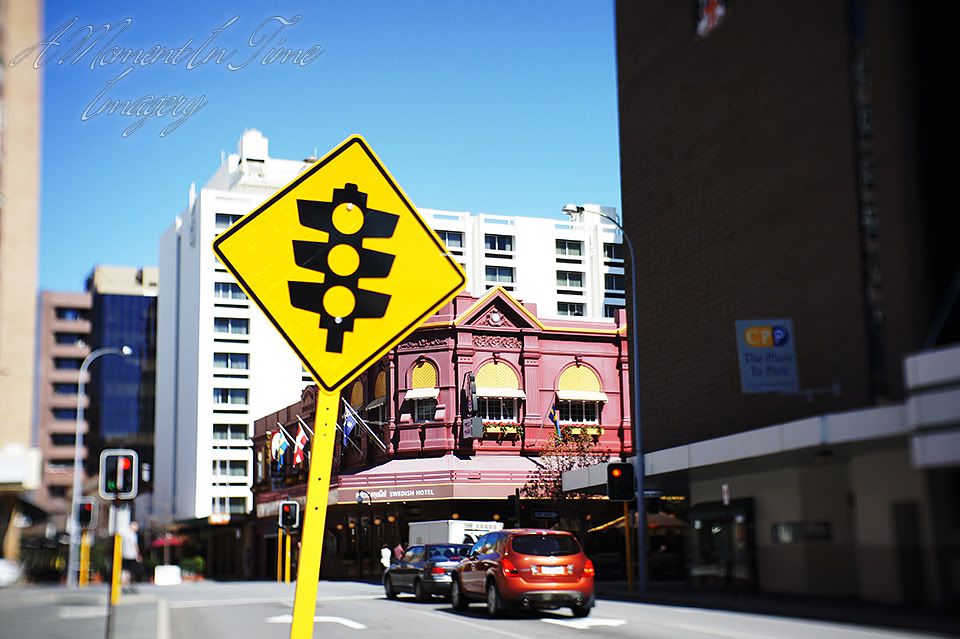 It's pretty close to midday so the sun is pretty harsh, but I like it in these, it conveys Perth city, we live under harsh summer sun. Sh. Sp. 1/4000 ISO 200
I still am blown away by the colour that these lenses convey to the sensor, it just seems miles and above the rendition from the kit lenses. I think this is probably one of the greatest factors in these lower end SLR magic lenses, they obviously have quite decent multi-coating. Combine that with the relatively fast f1.7 of this lens and you fun, creative walk-around that can handle low-light quite well.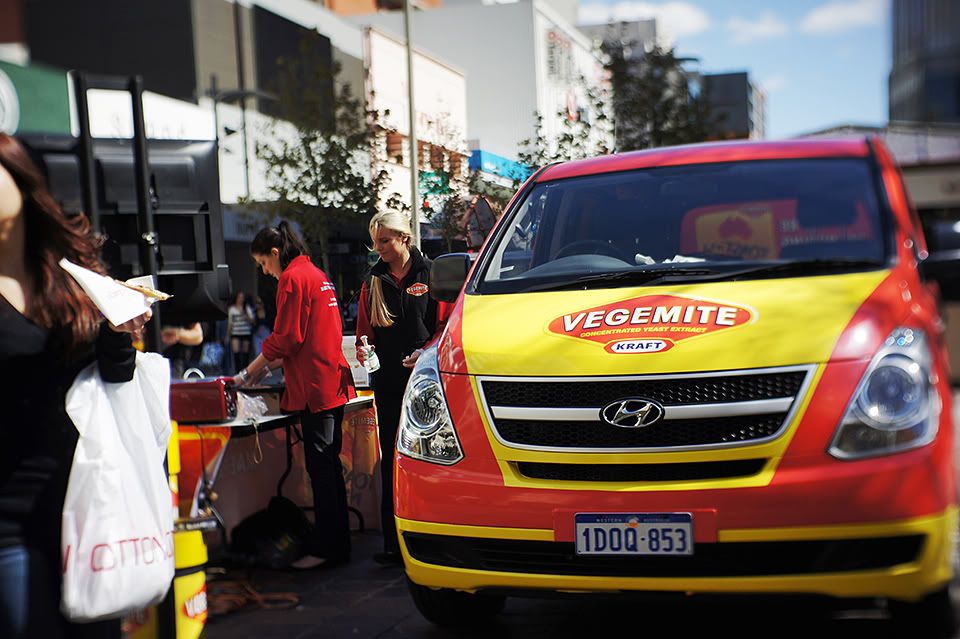 Again still midday so the sun is quite harsh… They were running a Vegemite van in town giving out samples, how Aussie is that? Sh. Sp. 1/4000 ISO 200
I must admit that it was only from these first few town shots that I first truly noticed the full extent of the actually quite heavy vignetting to the edges of the lens. Again this was not really that much of a deal breaker for me, as I quite liked how it frames what you want the viewer to see.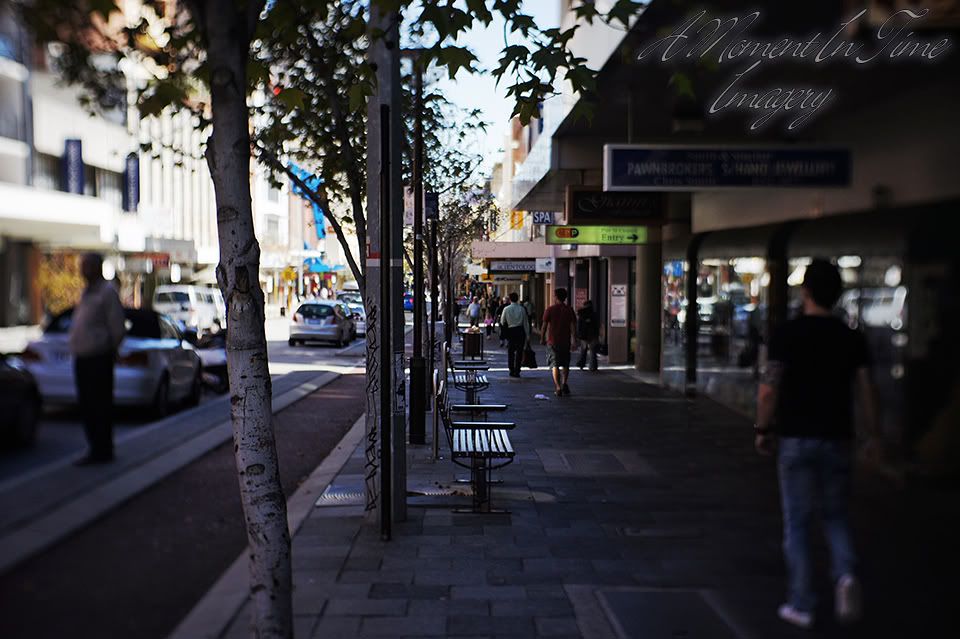 As shown here you are always going to have really soft edges with this lens, as long as you take that into account, I think it can work for you. Sh. Sp. 1/3200 ISO 200
Again it is all about how you use this lens, very creative I feel, and as these 2 shots show, it performs quite well in normal low-light. Sh. Sp. 1/2000 ISO 200
Being new to shooting completely manually I wanted to see how I would go capturing some action shots, I was lucky enough that some teens were skating in front of a new monument that was being erected. I was impressed that this lens was actually fast to focus, the rings turned very smoothly and freely, without feeling loose, but firm and tight, fast enough I could capture kids flying through the air.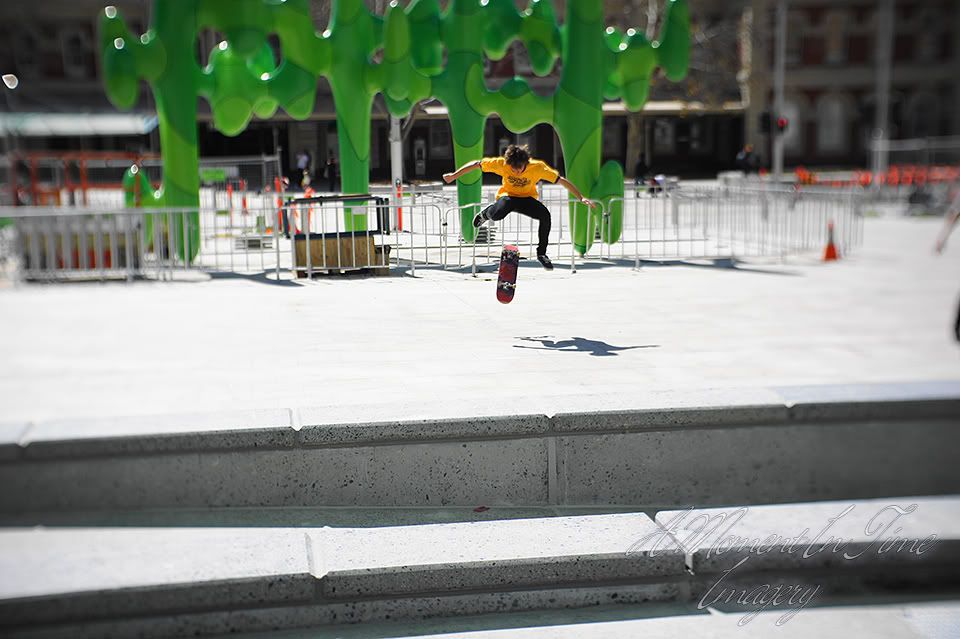 Having now become much more aware of the soft edges due to reasonably vignetting, (I believe the lens only just covers the whole Nex APS-C sensor) I thought I should shoot some lines to gather the lenses effect on them out to the edges.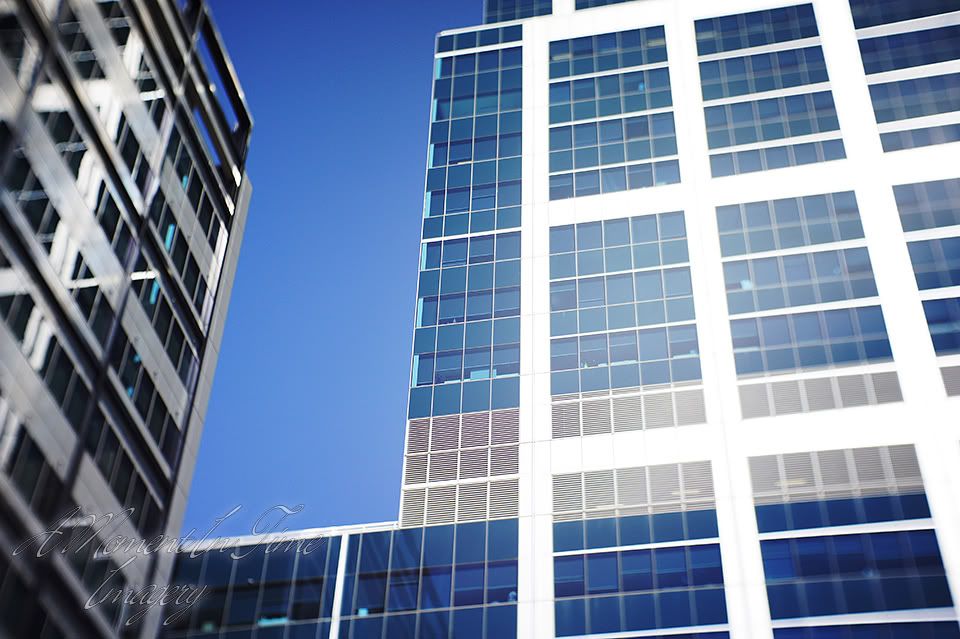 As you can see still quite sharp in the center, but you get large displacement out to the edges.Having now felt comfortable with the lens and having figured out the pros and cons to shooting with it for what, I wanted to put it through it's paces in a more professional capacity. Knowing the band was not far off releasing our then brand new single , I wanted to organise a promo shoot, to get some great photos of the band to help promote and also to put this baby through her paces in a more demanding scenario.
You can see here how it as worked quite well, Matt is nice and sharp and the background gets this kind of ethereal feel due to the soft edges. Sh Sp. 1/160 ISO200
It was on this shoot that I noticed that the vignetting will often cause you to get that 'swirling' bokeh feel. I feel it is useful in some instances, giving the shot a feeling of movement behind a stationary object. Sh. Sp. 1/4000 ISO 200
So all in all after shooting with this lens for around 3 months I feel I can give it the thumbs up. It is not the stellar performer that you will get from other lens manufacturers for quite a lot more money, but it is creative. Extremely so. In fact I feel this lens fits into the 'it is so bad it is good' category. Because when you start adding up that it has barrel distortion around the center of some of your images and you have very soft edges due to vignetting that also effects bokeh in a kind of swirling way, I guess it starts to sound like a bit of a dud on paper. But, if you take into account that you will pick it up for less than $150AU, it has great colours and the build quality actually feels quite good, If used right this lens is a winner. If you take into account this short comings when shooting you will actually start to make the flaws work for you and create some amazing images. I also feel that if this is your first foray into manual lens shooting, you could do far worse than splashing out on this lens. It feels good on the end of the camera and it will make you slow down and compose your shots better.
All in all I have a real soft spot for this lens and it will always be in my kit. While not even coming close to some of my great glass like my SMC takumars or Minolta rokkors, this lens does things that they cannot do, and this is due to it's unique imperfections which make it a classic creative tool for your Nex.
(all photos were taken jpeg as there was no way to process the Nex raw at the time, this has now been rectified)