Today I got to put my grubby little hands on one of the first Pentax K01's to hit the shores here in Oz! So I took a few pics of this funky new piece of kit and thought I might share some of my first impressions of the camera with you all.
The first thing I noticed about this little beauty was that it felt very sturdy in my hand, that great Pentax build quality is there, no corners were cut as far as manufacturing was concerned. I must admit that it is quite fat, much fatter than I had anticipated in my head actually. This camera is not really any smaller than say a Pentax Kx, however the more streamlined design does make it feel smaller and compact in your hand. All the dials and switches clicked nicely and firmly, it generally had an all round nice hand feel.  The screen is fantastic, very high resolution and a good size, however I feel it was a mistake to not make the screen tilt-able. This aside it is a very good screen for checking focus. Which brings me to kit 40mm f2.8 lens. This lens is really small, it is only about 10-15mm high, in total! It is also a stellar performer, quite quick and silent to focus, while also being rather sharp. Not as sharp as the Pentax 40mm limited, but not far behind either. I personally think this lens would be nice in my kit 🙂  The addition of the built in popup flash is a nice bonus, and it seems adequate for most general tasks.
Unfortunately I was unable to take away any of the photos I took with it today, however the sensor does seem to render very nice output. The dials, controls and back panels all seem typical of a Pentax Dslr if not re-configured for this new mirror-less body.
All in all this is a very nice little camera, although I can't help myself wondering if it is a little too late to the mirror-less party with it's current feature list. Sure it is pretty much a mirror-less K5 with a few less features in a redesigned body with a great 40mm prime lens for $899au, but now that the K5 has come down in price you can have one of those bodies without a lens for around$896au online, plus you get all the extra pro features and the viewfinder. But I also can't help but compare it to the Sony Nex5n which is currently around about $596au with the kit 16mm lens. You get the same 16mp sensor as in the K5 and the K01 one, you get a tilt-able screen that is just as high resolution as the K01, but no viewfinder like the K5. So to surmise the K5 is still the superior pro league camera in my eyes, but if you were going for a pro-sumer mirror-less the Nex5n still represents a larger 'Bang for Buck' figure to me. While I'm sure there are devoted Pentax lovers that will choose this mirror-less as their smaller alternative to carry all their Pentax auto glass, I am personally still afraid that at this price-point the K01 may just have missed the mark a little. However I look forward to future installments of this capable little camera system from Pentax.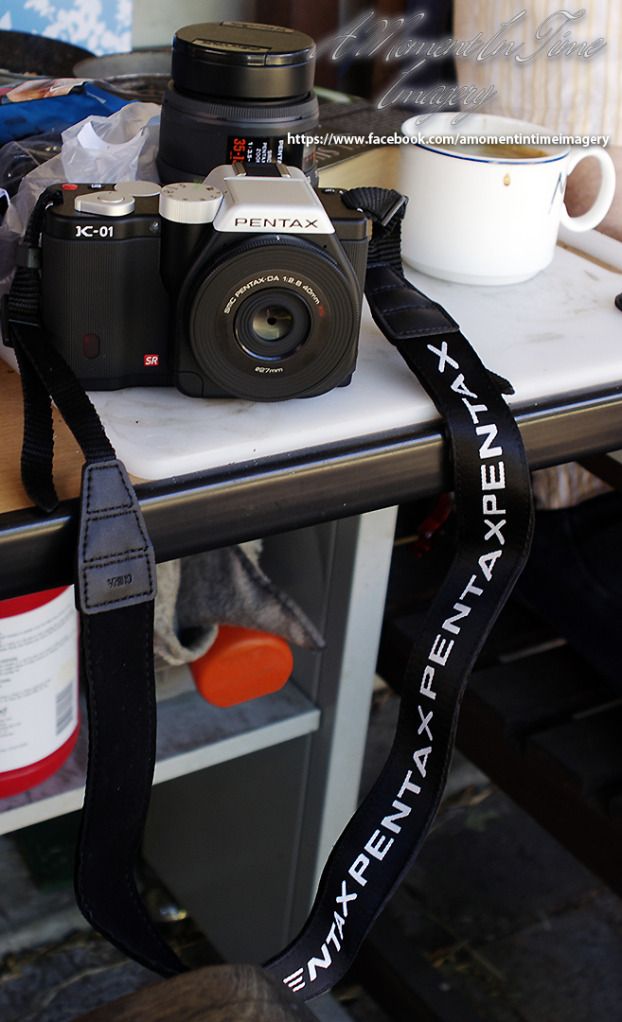 (I had to laugh that the strap is exactly as was pictured in the promotional information that was released prior to the cameras debut)