If you have read my review of the Slr magic 35mm 1.7 lens, you will know that I shot exclusively with these 2 Slr magic lenses for the final 4 months of last year (2011). I thoroughly enjoyed shooting both lenses, they both are very complementary to the Nex camera. I find they both have very good contrast and colour when in comparison to the 2 kit lenses. As I explained in my review of the 35mm, I always for some reason reached for that one more, I guess it just seemed more fun. However that lens has some serious short comings that you will not really notice till you blow your image up on you PC screen, such as quite soft edges due to harsh vignetting and there is some barrel distortion. However like I said in that review, as long as you keep this in mind and make it work for you it is a terribly creative lens.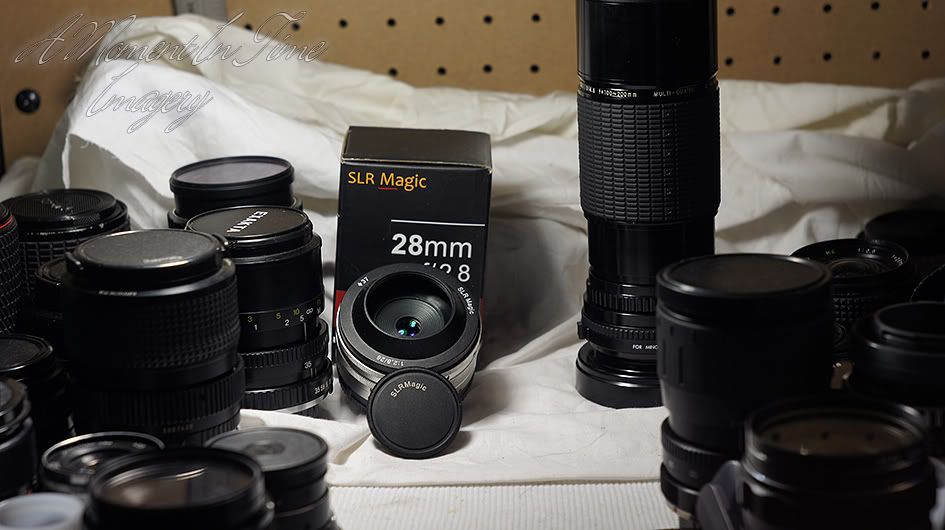 This lens is a different kettle of fish. It arrived well packaged and boxed in superb time along with their 35mm and again the first thing I was impressed by was the quality for such a cheap lens. The first thing you notice upon inspecting the lens is that it does not have your typical aperture blade, instead it seems to have an aperture disc that rotates to different cut aperture openings within it and this achieves aperture stops. While fine for still photo taking, I could see how this may hamper the lens's effectiveness for footage, as when you change aperture you will actually close the lens to light as you move in between the click stops due to this disc for aperture. This ring seems to click into place nicely and sturdily and the focus ring turns smoothly and freely. So of course out I went, put the dog on the leash and off to the park for an initial round of test shooting. (I must apologise for not recording the aperture settings as the Nex does not do this for manual lenses. All photos taken from jpeg as the Nex raw could not be processed at the time, this has since been rectified.)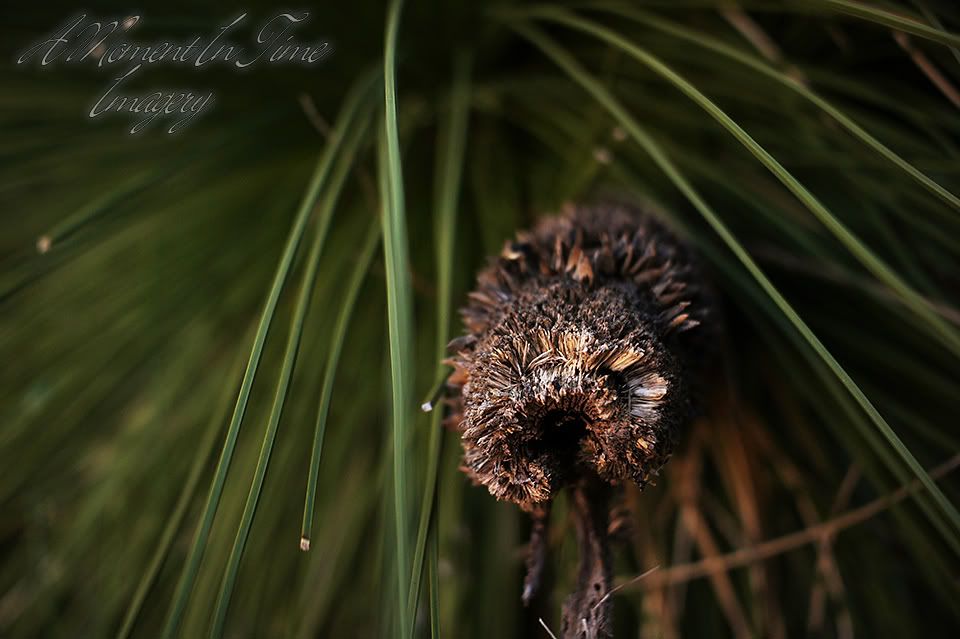 Iso 200    Sh.  Sp. 1/160

The first thing you notice is how nice and sharp and how articulated the front of this tree is, then you notice that creamy silky smooth, out of focus area or bokeh, as some refer to it, almost melts. The colour rendition is also truly supreme. It is funny how for some unknown reason I just didn't reach for this lens as often as the 35mm when out shooting, as when I look back on all these test shots I am truly astounded at just how good this lens in that you can have for less than $150aus, brand new!
You will see why I rave so much when you see this next pic, I was throwing the ball for my dog and best mate 'Dengis' and in between his running about I was trying to snap a decent portrait of him eagerly anticipating the throw of the ball, I think this shot captures that moment quite well, from the whiskers on his nose, to the slobber and grass on his tongue from returning the ball, he such a happy character.

Iso 200    Sh. Sp. 1/320

Of course as you know if you read my review of the Slr magic 35mm lens I now had to do more shooting after such positive first time out test results. So I packed up my bag with my Nex-5 and my two new Slr Magic lenses and off I went into our city here in Western Australia, Perth, to do a more comprehensive test run. Having been shooting the 35mm for the first half of my trip into town, I now switched to my Slr magic 28mm. I was still at the sculptures I photographed in the 35mm review, so my first round of test shooting began there.

Iso 200   Sh. Sp. 1/4000


Iso 200   Sh. Sp. 1/4000

The first thing you notice from these test shots is how sharp this lens is in comparison to the 35mm, notice how clean and crisp the edges are. I really like the way it renders, however not much colour and light in this spot so I move on in search of something more vibrant to test this baby out on. The very next thing I come across when leaving the sculptures is this street that has cobbled stones, as opposed to the typical bitumen of the average roads, and has some classic, vintage looking buildings running up the sides. It is bright noon sun, however the colours look so earthy and warm, this lens renders this shot seamlessly.

Iso 200   Sh. Sp. 1/4000
Still this is not the colour I am in search of to really test the pop of this lens.  However along my journey across town in search of such a shot I stumble across this vibrant young street performer. Her smile is just beaming as she performs her martial arts dance, her skirt twirling about her as she speedily skips around. Perfect action shot scenario. So I take aim, focusing with the Nex manual focusing aids is a charm and with the well built, nice and smooth ring of this lens capturing a moving target is a breeze. I feel the lens captured this moment perfectly, from all the detail or her swinging skirt, to her vibrant outfit, to rendering the skin tones perfectly too.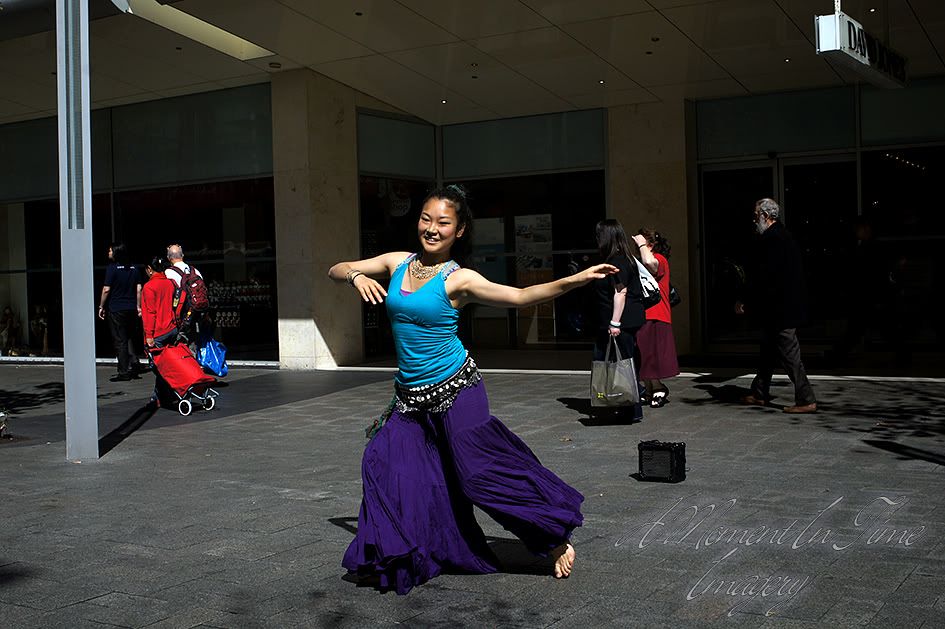 Iso 200   Sh. Sp. 1/800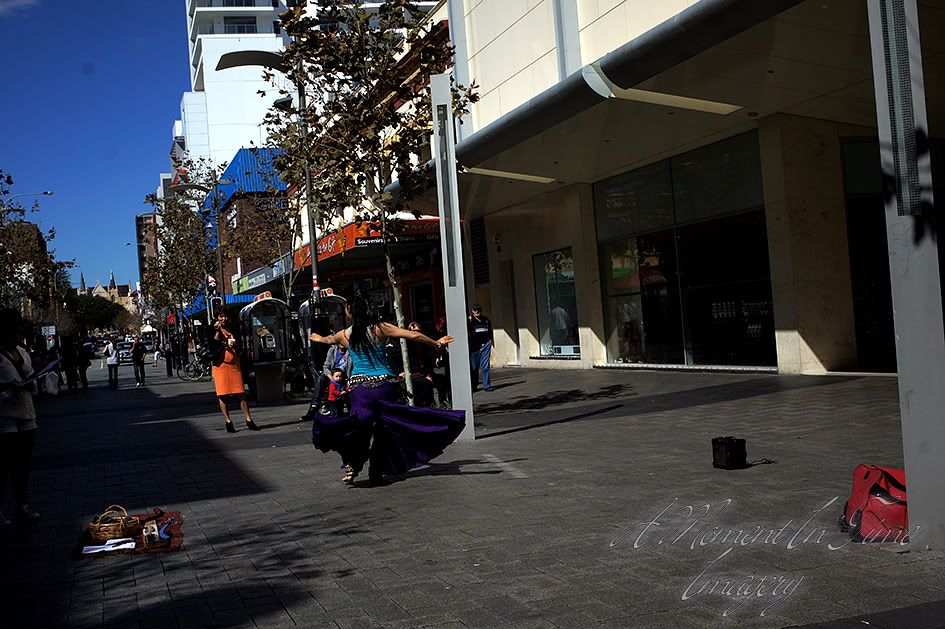 Iso 200  Sh. Sp. 1/1000
Wanting to test just how sharp this little sucker was, I then took aim at the city skyline to give me some nice right angles, so I could really test how sharp this lens was and see if there is any corner softness or distortion.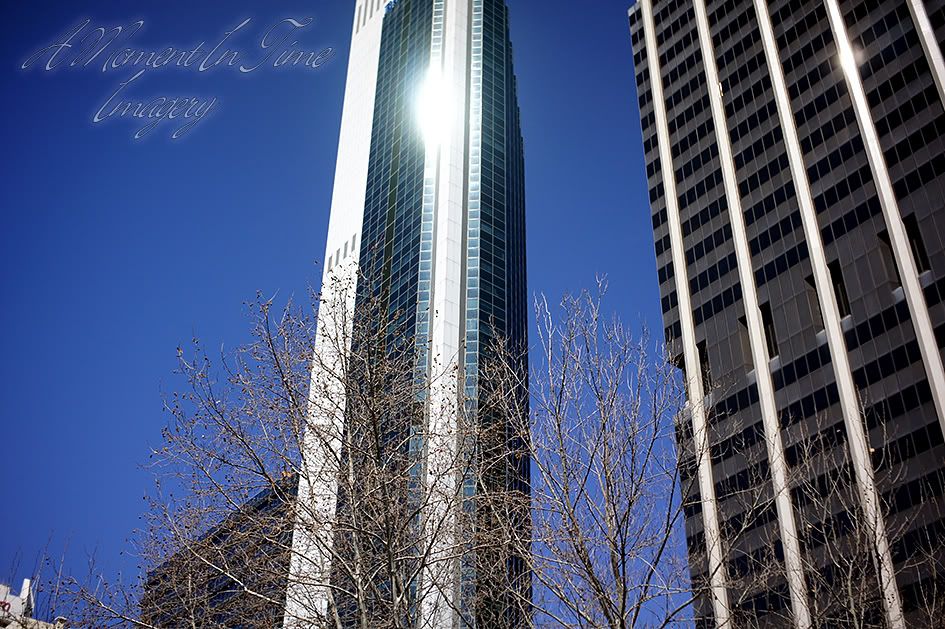 Iso 200   Sh. Sp. 1/4000

As you can see the copy I received is almost flawless, very sharp from corner to corner with almost nil line distortion.Very impressive for a lens of this price category. Not being done with this lens I had one more test up my sleeve.  I went back home, packed Lisa in the car on the premise of getting dinner, and headed on down to Scarborough beach as it got on to evening. I wanted to test how this lens would render evening low-light and basic portraiture. 

Iso 200    Sh. Sp. 1/80
This shot was actually taken while Lisa was meant to be pulling a face, but I snapped it while she was smiling instead, isn't she beautiful? I love this shot, the out of focus area is smooth and creamy and the skin tones are warm and accurate, without reddening.
All in all this lens represents significant bang for buck. If you are chasing a lens for your Nex that is sharp from corner to corner, renders in a nice classic way and has great colour and contrast without breaking the bank, then I could not more highly recommend this lens. It meets all the requirements, with the only major drawback being the disc style aperture that could be a hindrance to capturing video. Looking back over these test shots I now feel the fool for not reaching for this lens more than it's 35mm brother, it is clearly a Superior performer that I will be remembering to fit in my kit bag more often.