Quote:
Man I love film!!
After years of only shooting digital, I felt like giving film a whirl again as I love the grittiness of it… it is so raw and beautiful, the imperfections make it special!
Anyway, just got my first film back, had to wait 2 days! haha
…and the anticipation…. whew, I was hoping they were ok….
and then you open the first photo and you see this!!

Man, I love film!! 😀 – my facebook comment last night. (this photo is straight from the file given to me after processing. No post editing what so ever!)
I've been shooting digital exclusively for about 8 years now. I have been totally happy with digital, it had not even occurred to me to give film a whirl again until I received two old film camera bodies, with a lens I got on ebay. The thought crossed my mind to give them a go, however I just shelved them, more concerned with playing with the lenses on my digital.
Anyway, a few weeks later I was on Steve Huff's blog and he posted one of his daily inspirations, it was Nepal shot on Kodak Kodachrome film. It looked awesome! The film just had so much character! I started looking back into the merits of shooting film when I came across Ken Rockwells site, another treasure trove of info, and some great general film shots from him to prove it's validity still.
So I went straight to ebay and ordered 10 rolls of Fuji 400 Superior and 5 roll of Kent-mere B&W 400 and pulled down the old Minolta 404si I had planned to now shoot (I have a real soft spot for Minolta gear).
(Shots of cameras etc. were shot with our NEX-5 using my MIIDA 35mm manual lens)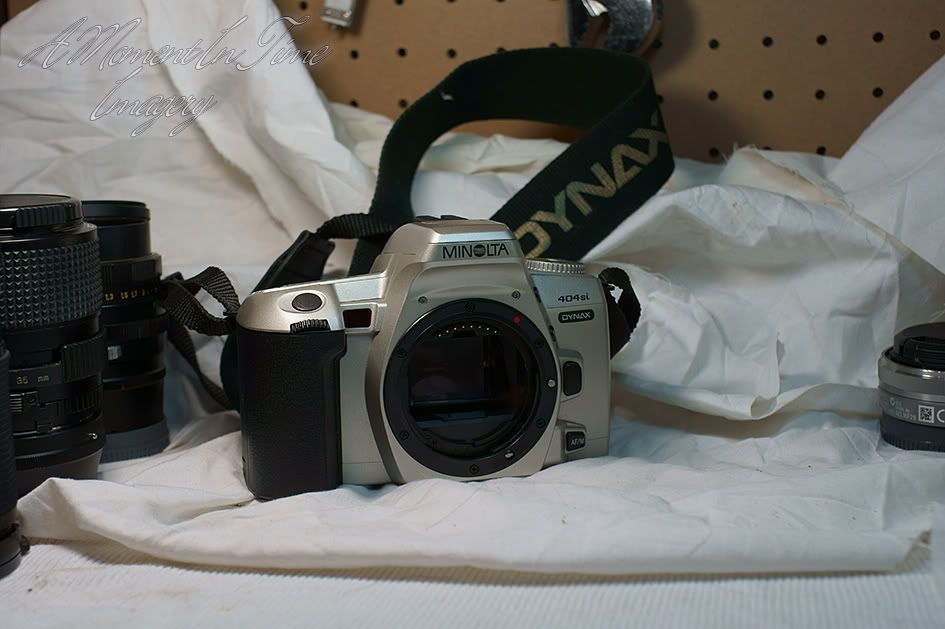 I was lucky enough to visit with Lisa's parents later that afternoon, after they heard about my intended venture into film, they bestowed upon me a great opportunity. They pulled out the old 1974 Canon Ex-auto rangefinder camera. This is beautiful, this is a piece of art, this is from back when real cameras were made of heavy metal!
Wanting to get them serviced before I went out shooting, I took them down to see my friend Max Dellaway camera serviceman extraordinaire. If you have any problems with any camera or lens I can recommend no-one better to take your loved camera equipment to, he is a fountain of knowledge and does fantastic work.
Back to the story at hand, Max Inspects the 404si for me, then walks over to his 'junk box' pulls out a perfect looking 500si and says 'this one is clean, I'll sell it to you for $30, I'd charge you $50 to clean that one'. I of course jumped at that deal, how could I not and went home a very happy man. With a nice clean Minolta 500si and a cleaned and serviced Canon Ex-Auto, my anticipation for the arrival of my film was building.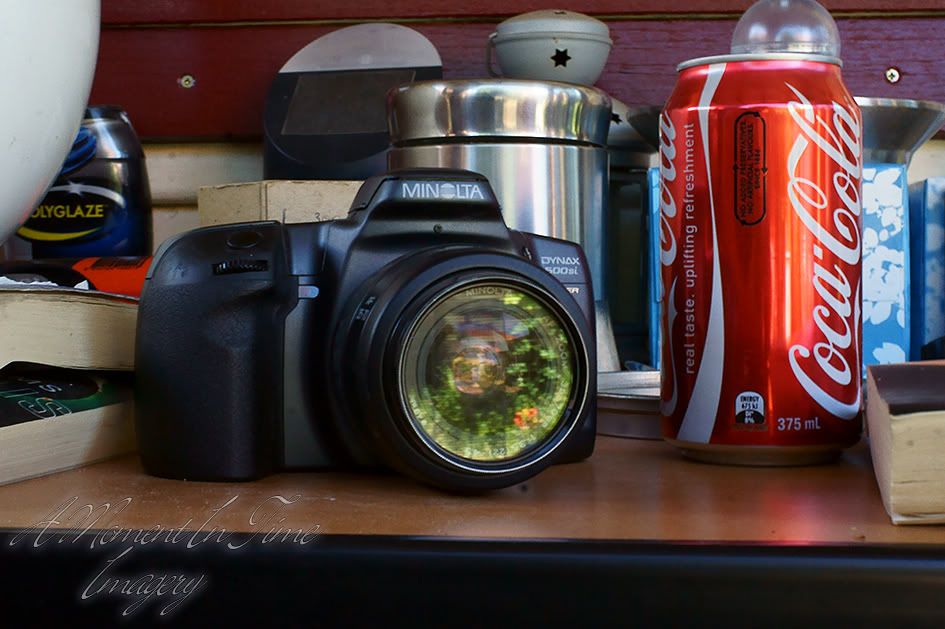 Funnily enough my first 10 rolls of Fuji arrived that very afternoon, so of course I had to go test shooting. I loaded up the first roll in the 500si and went out the back and snapped a couple of flowers and our 2 dogs. It was a very satisfying clunk as the shutters opened and closed, then the thought 'I hope that is a good one'. Ahh film, how different it is, you do not know whether you wasted your time or not until you get the film back from processing.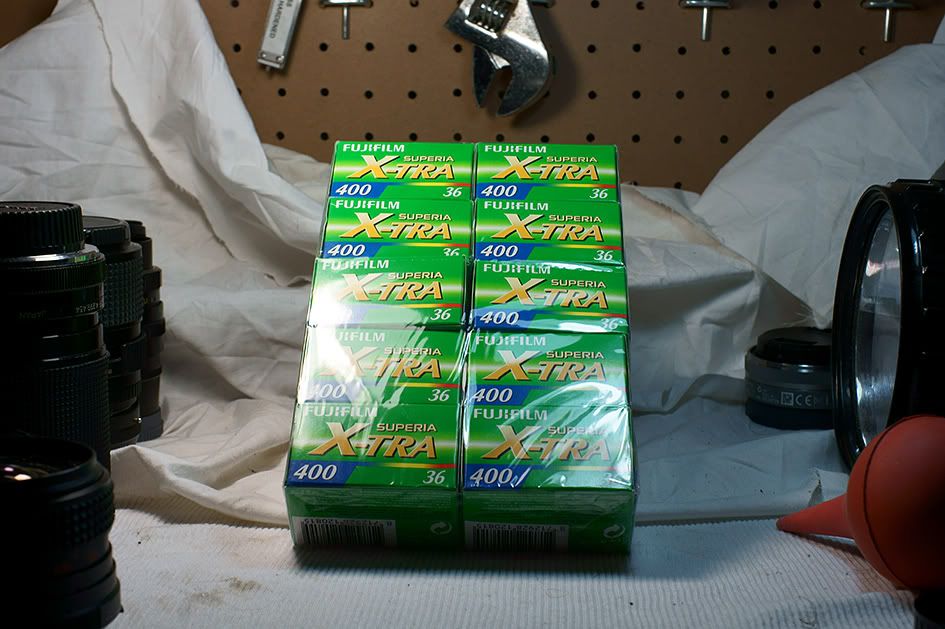 Not wanting to waste my whole first roll at home I put it to bed till the next Monday afternoon when I decided to go to the park to test it in a few scenarios. I took my time playing with the settings, getting used to focusing through an optical viewfinder again. I snapped birds and trees and rocks, until that whirring noise that indicates you have finished your film and it is being re-wound back to the start. I quickly ran back to the car and drove straight to Joondalup Big W, where I had found out earlier in the day, still processed film and would scan the negs to disc for me for $12.95.
I walked on into the Big W and the first thing you see is this massive Fuji booth, is it just me or is film coming back? Apparently Fuji posted an increase in their film sales last year, maybe this is the reason for the investment back into processing booths. Either way I dropped off my film and was informed it would be ready in 2 days, so I bought a roll of Kodak to compare to the Fuji I had just shot and went straight out and shot some sunsets. hahaha So addicted to shooting.
Anyway 2 days passed and the day had arrived to pick up my film. I was filled with both anticipation hoping they were good and trepidation hoping they weren't crap. I dropped off the roll of Kodak I had just finished shooting  and picked up my disc and negs. I practically ran to the car, not wanting to wait to check the pics, I threw the disc straight into my dvd player car stereo. Bang, they looked awesome, but they were small and contrasty on my crappy computer screen, so I had to race hope to check them on my monitor. I raced through the door straight to the computer and loaded them up, they are awesome! Man I love film, from the unknown of whether you made the shot, to the vibrant colours and characteristic grain that only comes from great film.
Here are the shots from that first test roll, I am very happy, I can't wait to see the results of the Kodak and my B&W film. I will definitely be shooting some art pieces in film again, there is just something about it you cannot attain with digital. I still love digital and will shoot it a majority of the time, however my film shooting will now increase again too, there is just something so magical about it.
Here is a slideshow of that first test roll, I hope you enjoy:
(Photo-bucket is playing the photos in reverse so all the bird shots are at the front, please just click to the end if you want to see the other shots)
I intend to go out shooting with the Canon EX-auto too and test using different films in the future, I will post my results here.