I had been an admin as part of the Facebook group Photographers in Perth since it's earlier days. I had for a long time been in charge of setting the group theme challenges, when one day I was informed by my fellow admin that they had in fact decided that they no longer desired to run the group and had made the decision to leave the group completely. I was informed that I could either take the reigns of the group or shut it down entirely. I straight away decided shutting down the group was not an option so the only other way to proceed was to try to keep the group rolling. We have come a long way since then and our membership has more than doubled to over 300 members. A few months ago I brought in Lisa and my mate Graham to help with administrative duties as it was now growing to be more than I could keep on top of on my own. All good things, we managed to keep our little photography group and even grew under the circumstances. It had dawned upon me however that we had never had a proper group photo walk since I had been bestowed with running the group and also since I had made the minor name change to Photographers in Perth, Western Australia. Which was made as we had a few Scot's starting to sign up as they though it may have been photographers in Perth, Scotland. haha.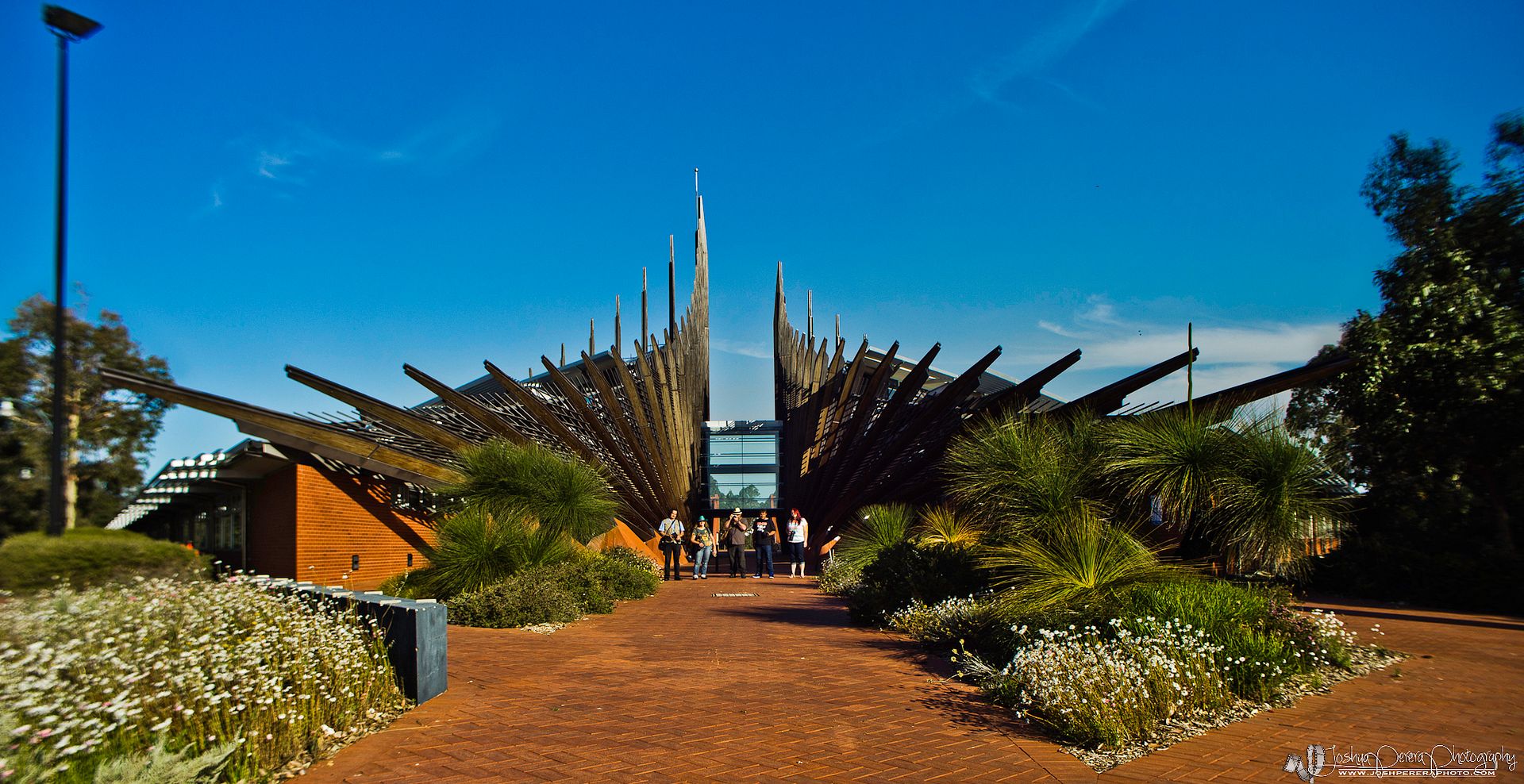 We have been just starting to come into our nice weather season and I wanted to capitalize early for the group photo walk. I also wanted to choose somewhere that maybe not everyone had shot before, so I chose an area through Joondalup in Perth's north, where two secondary education campuses meet and what you get is a great meshing of two great academic worlds providing you with some nice landscapes opportunities at times and some architecturally interesting buildings. We met at a nearby Dome to grab coffee before we started. It was good to see some people I converse with online more regularly were there like James and Mark. I must admit I was a little disappointed in the numbers we had turnout, however I guess I did organize it with a little short notice and it was just our first one, we will grow them in the future. We were also down Graham as here was in Melbourne for a holiday. 🙂
We started our walk near this little war memorial park where they hold dawn services on ANZAC day. It was good spot to get our gear out and and start to warm up the old trigger fingers. I love this little lane way, I have shot it before on film near sunset and it was fantastic. This time being a little earlier in the day I did not have the awesome colours but it looks good in B&W. I can only imagine how nice this walk will look in the future when these trees grow. All shots in this article were shot on my Nex5n with spiratone 20mm f2.8 manual focus lens on Lens turbo focal adapter. I converted all the b&w's using DXO Film effects 3(as usual click on images to see larger and sharper)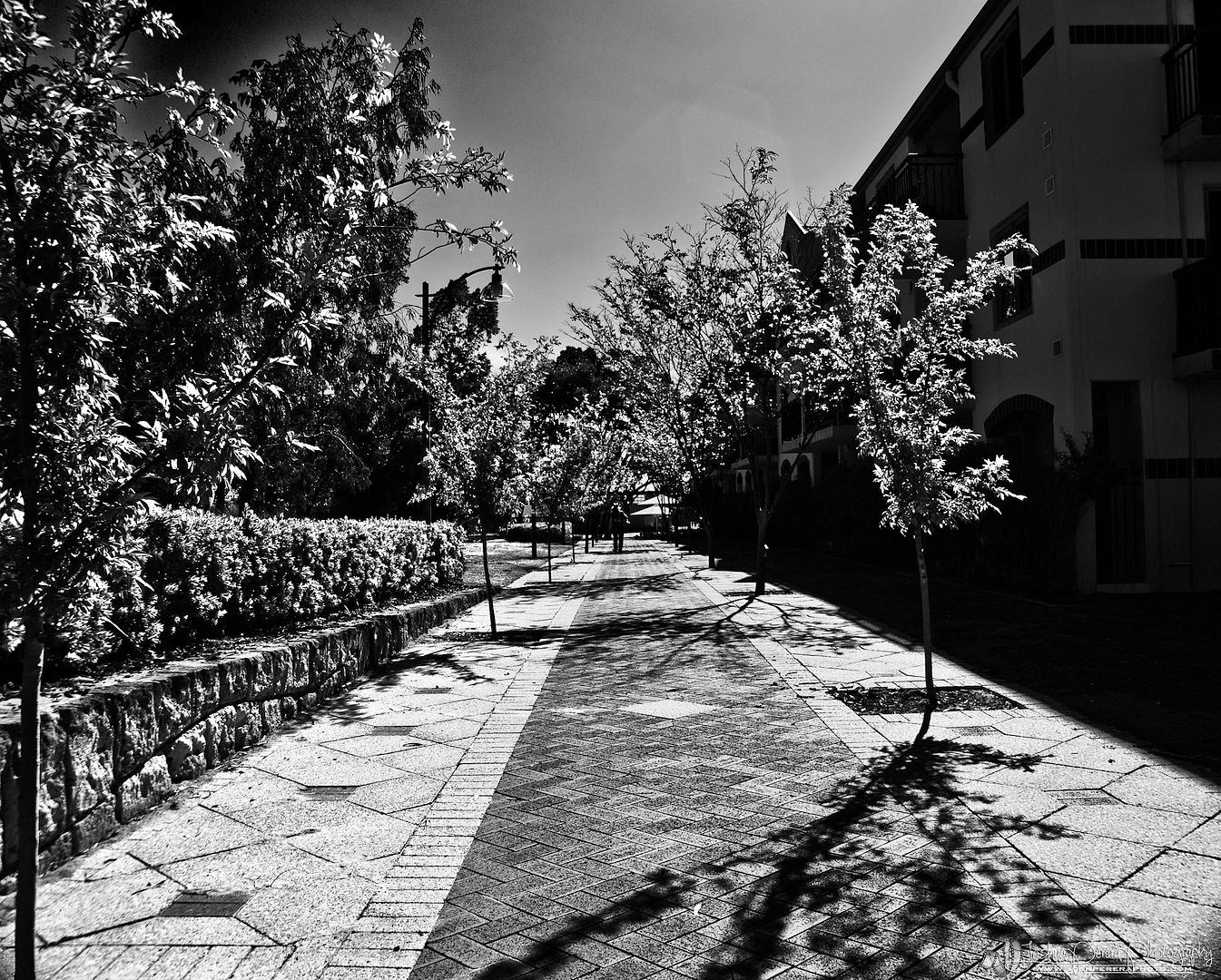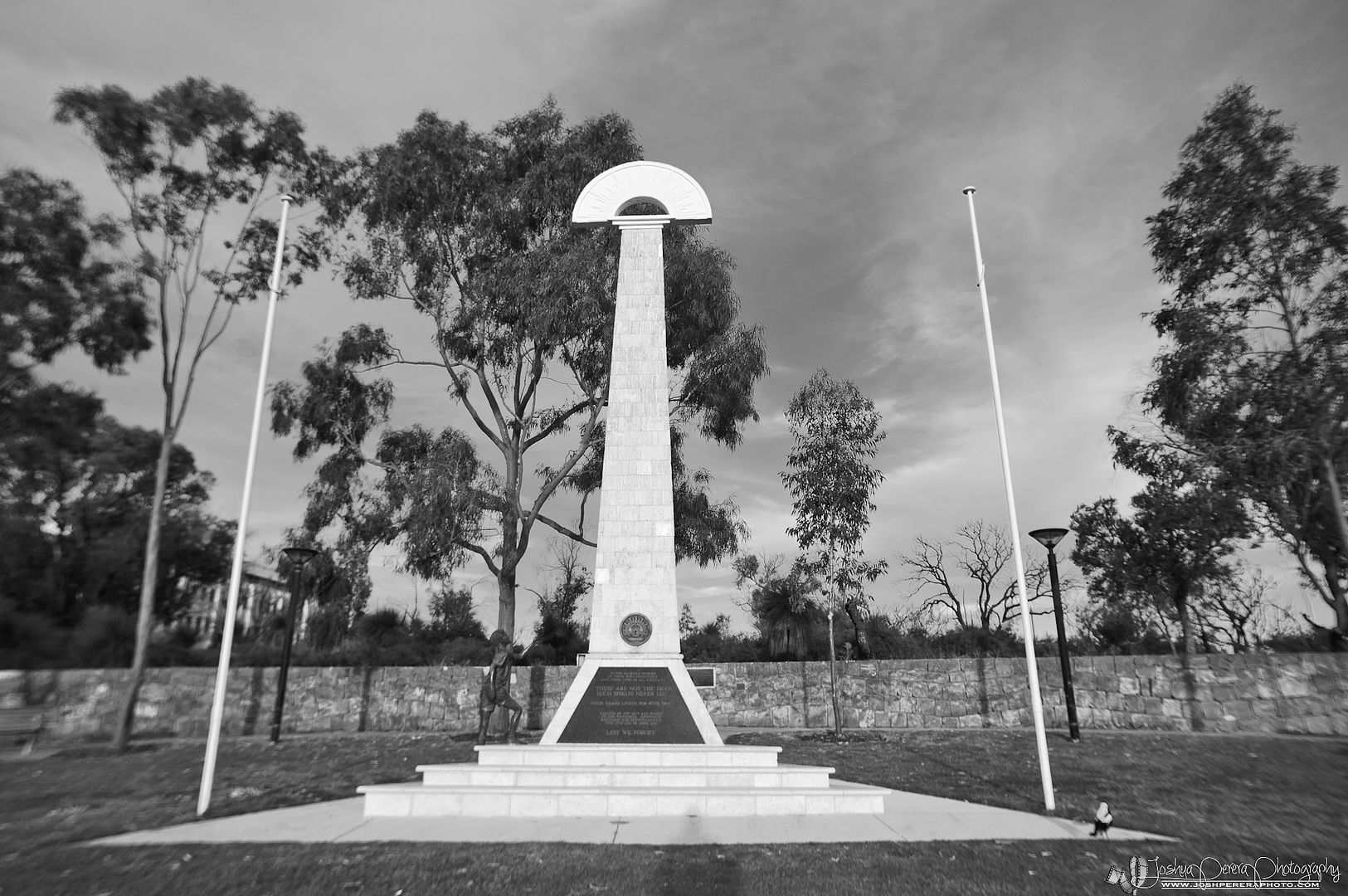 Heading down the trail leading out of the memorial park you find yourself confronted with some amazing water works, sculptures and bridges as part of the Joondalup Tafe campus.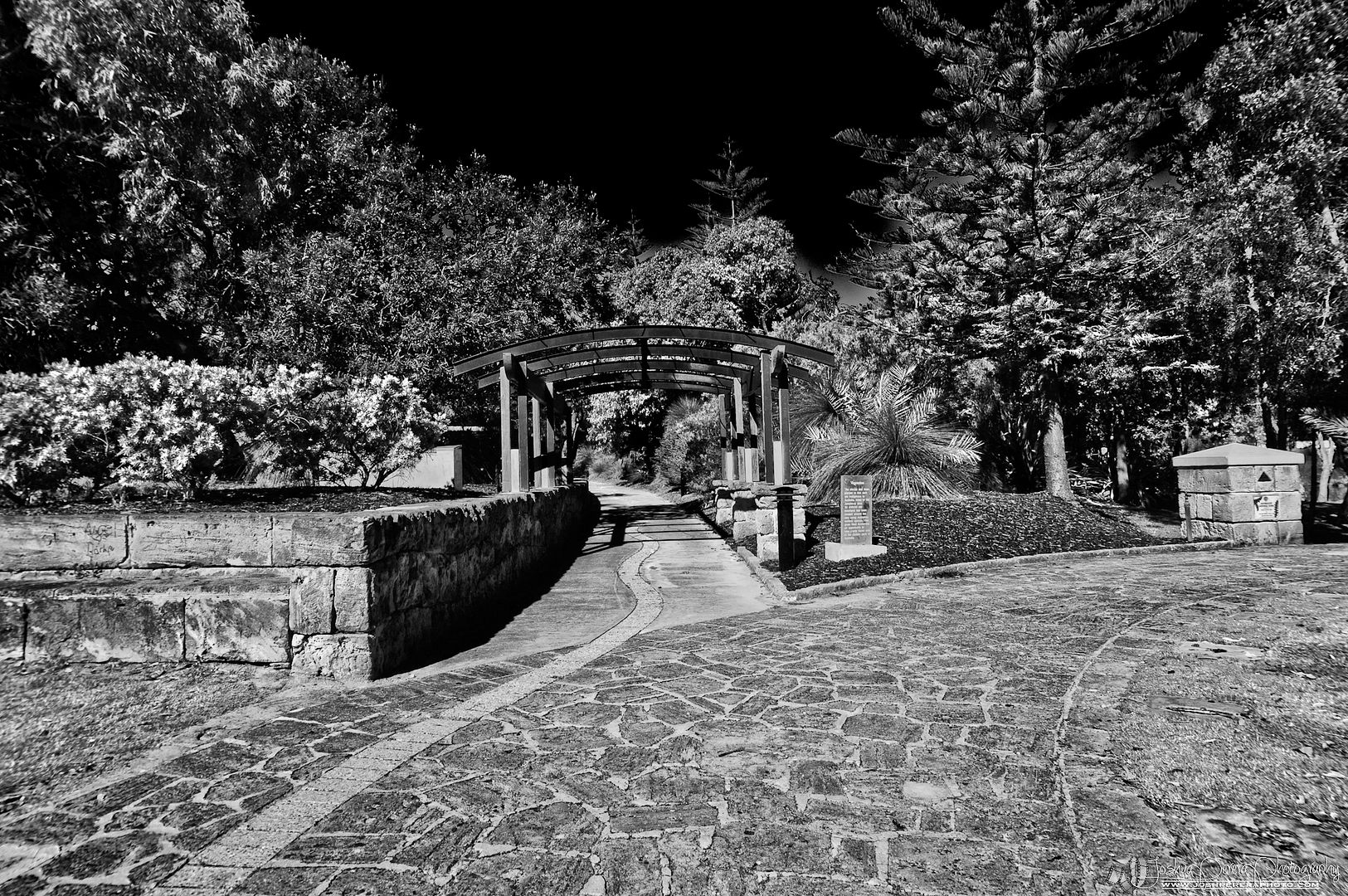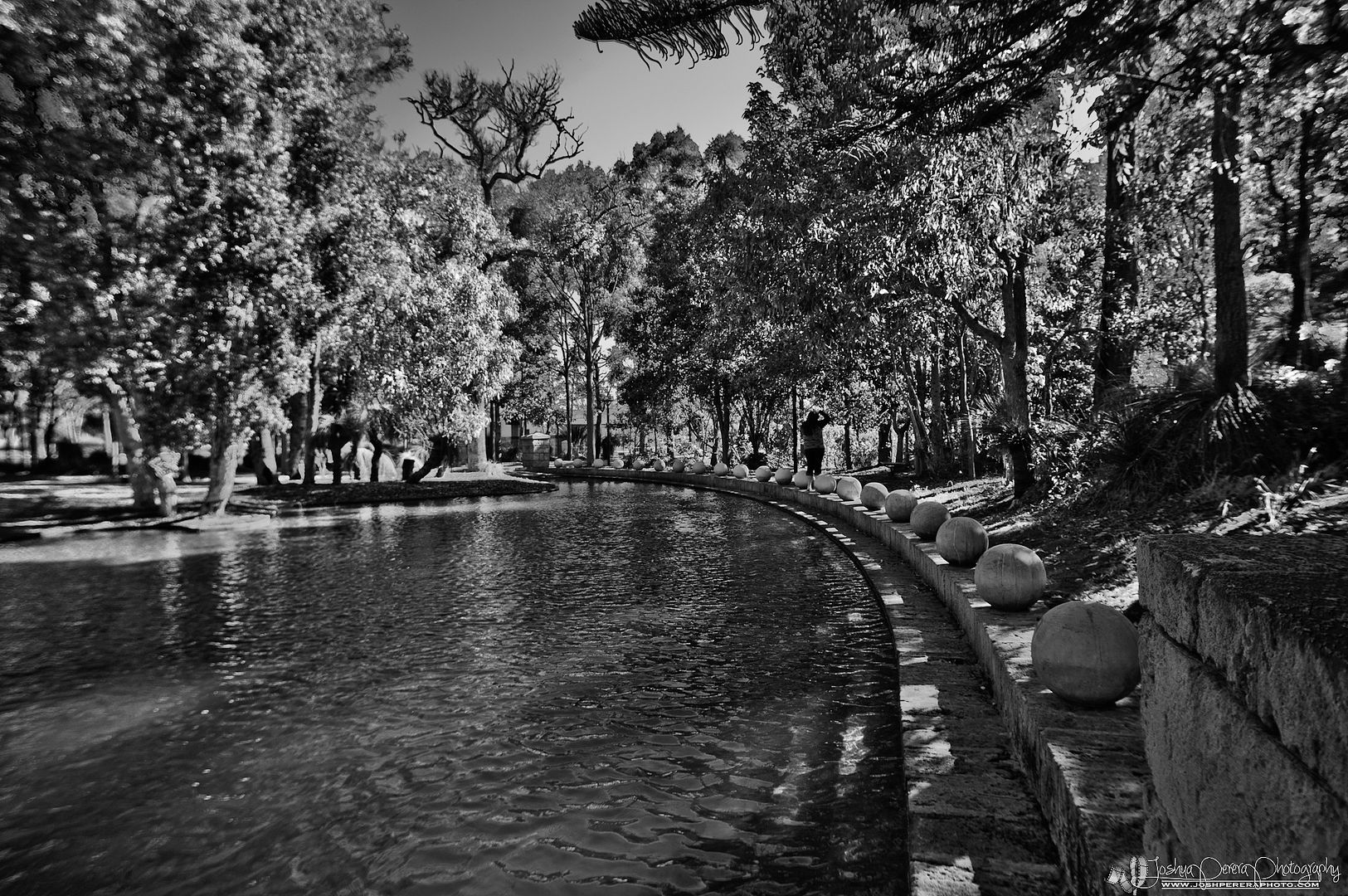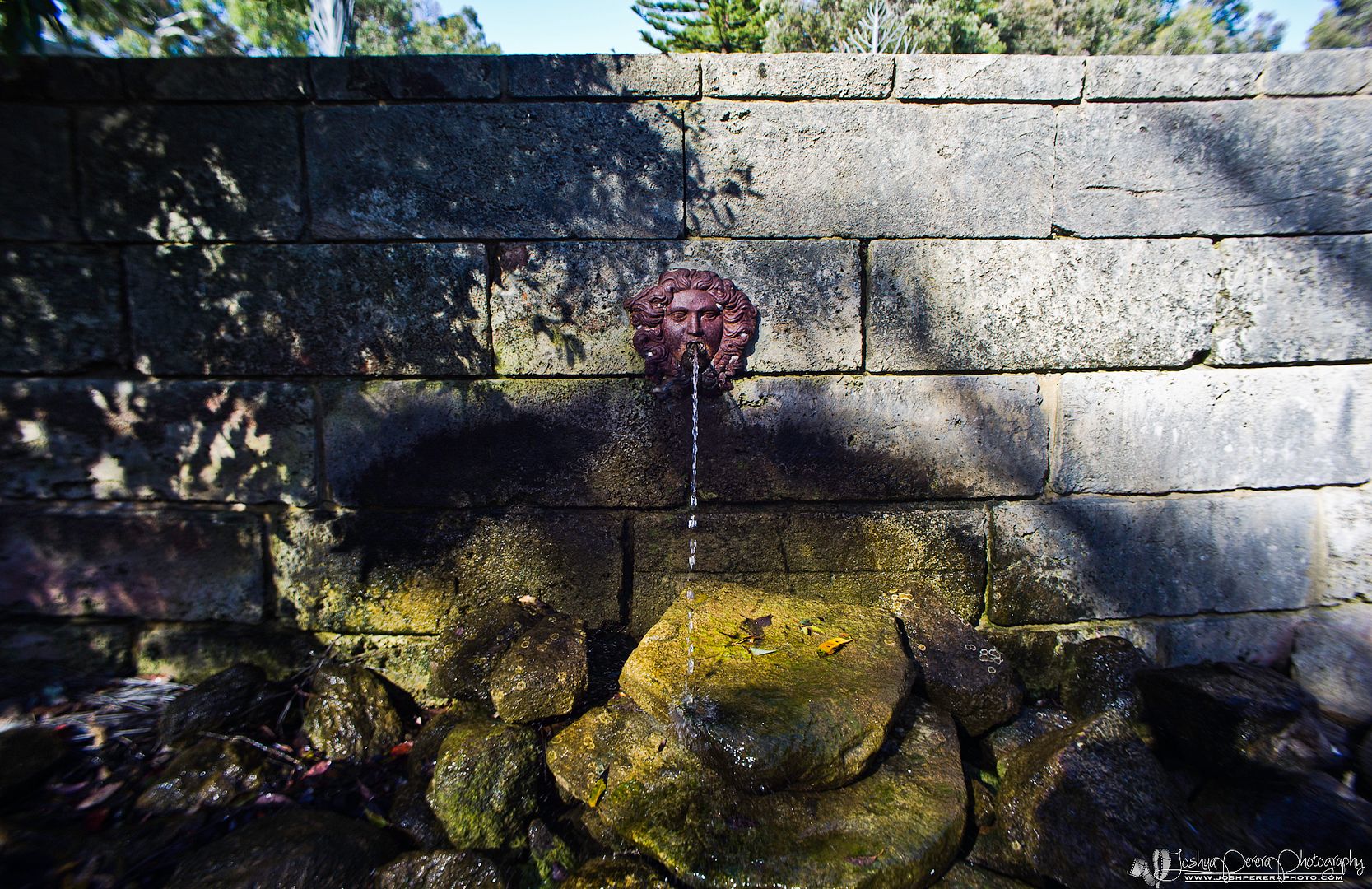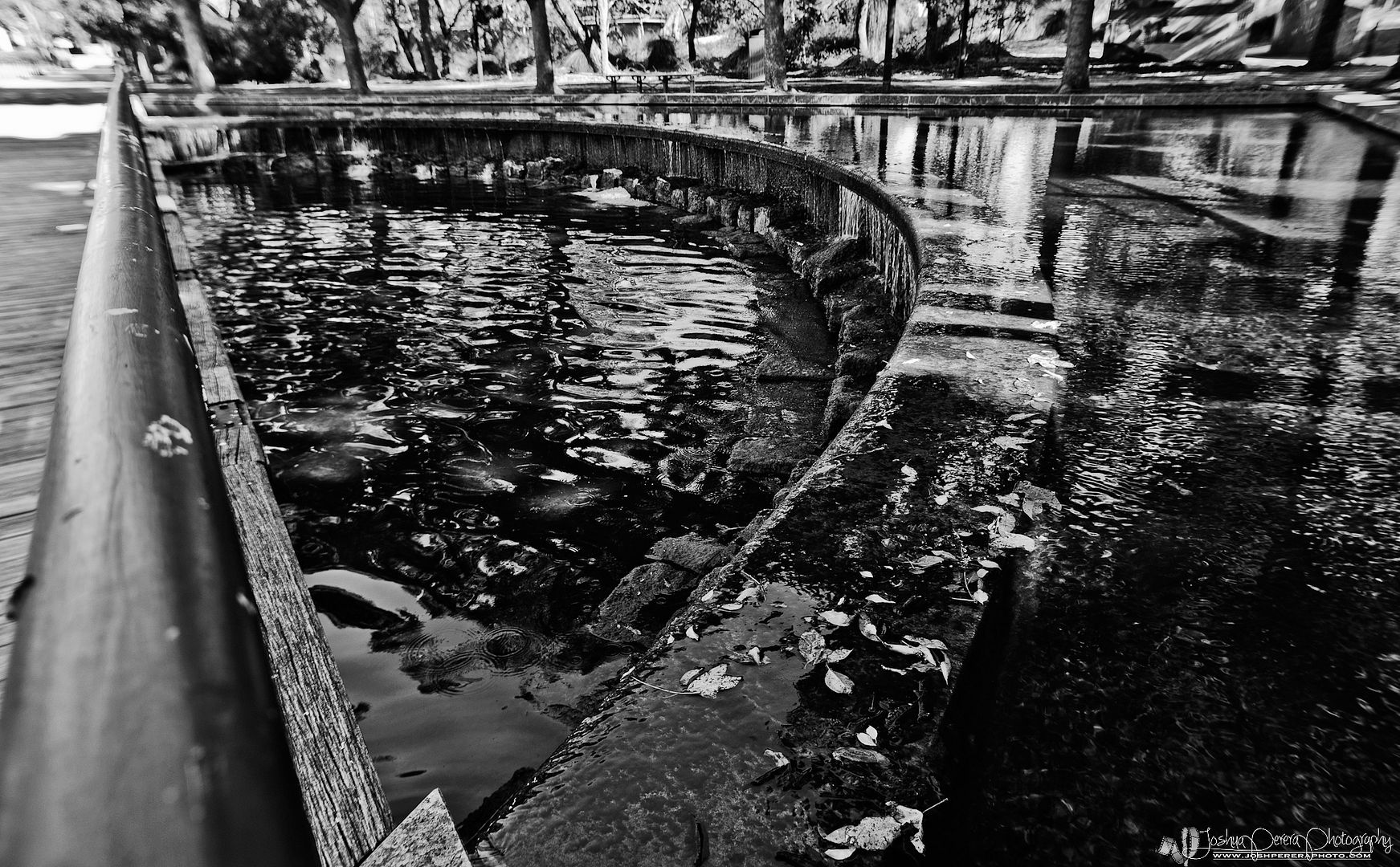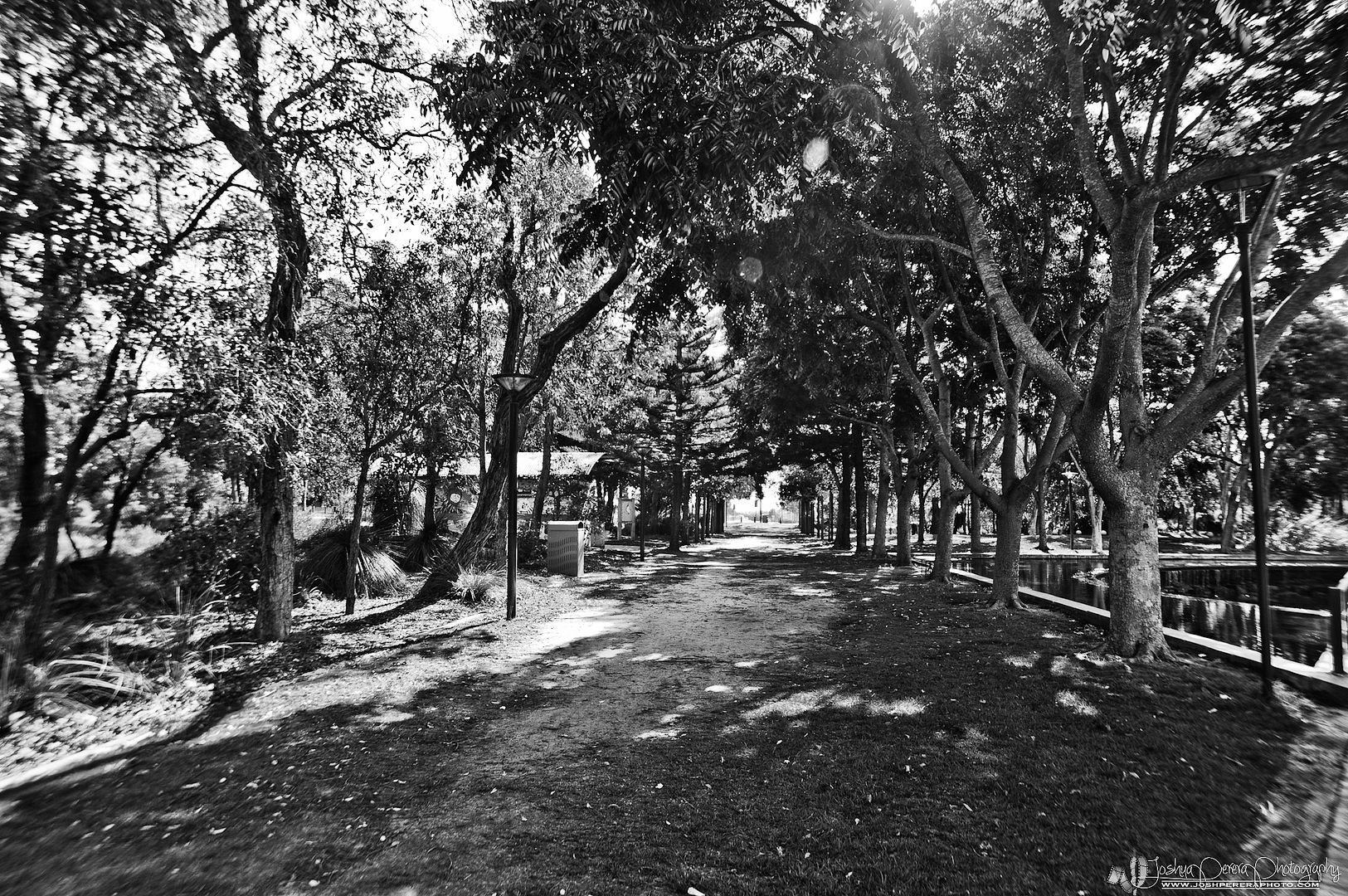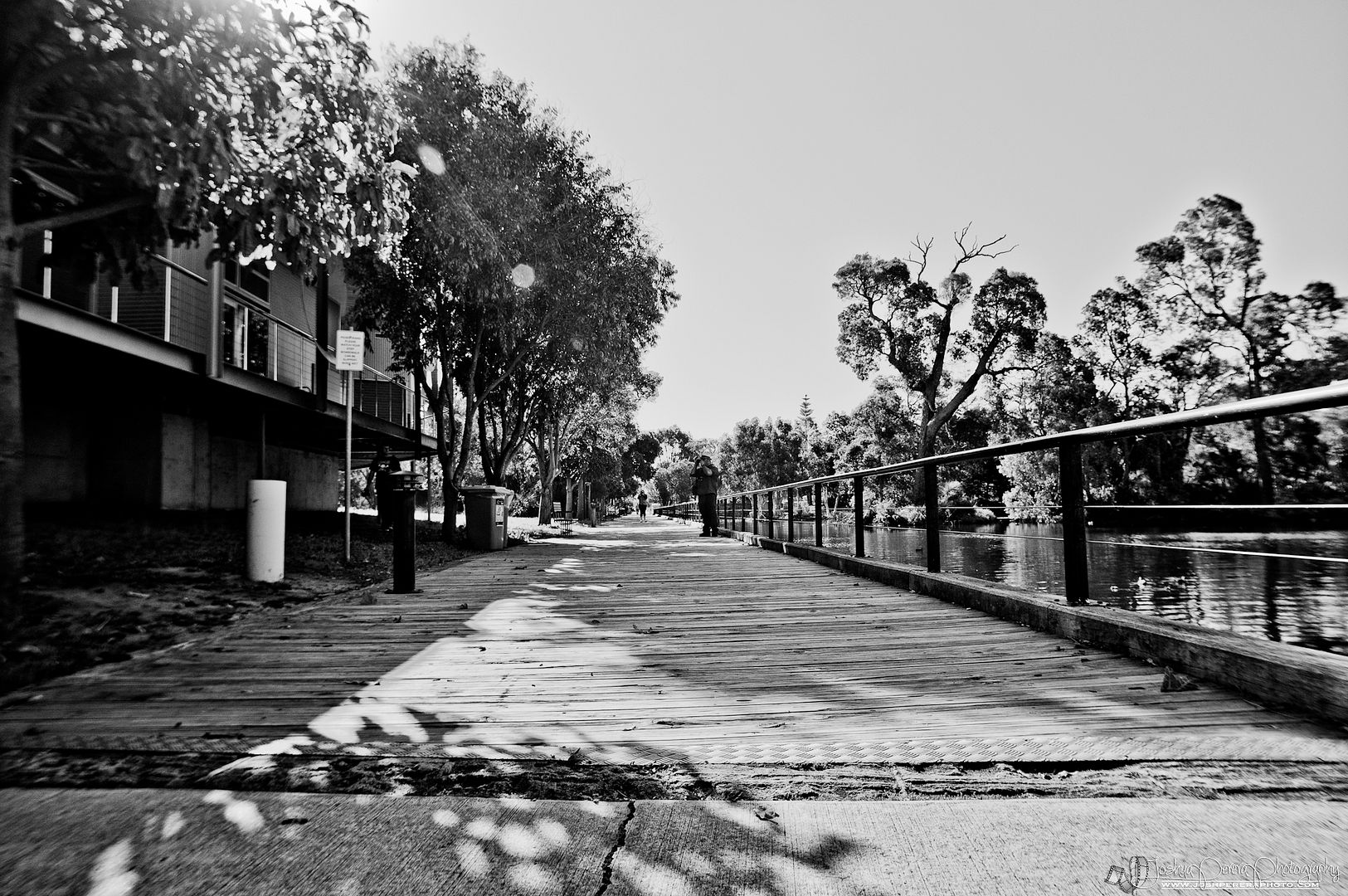 Leaving this great area we passed through the major part of the Tafe campus to make our way to the front of the ECU university campus nearby. I love this UFO underpass type thing. I have shot it before on XP2 chromogenic film, it is still a fun subject to behold.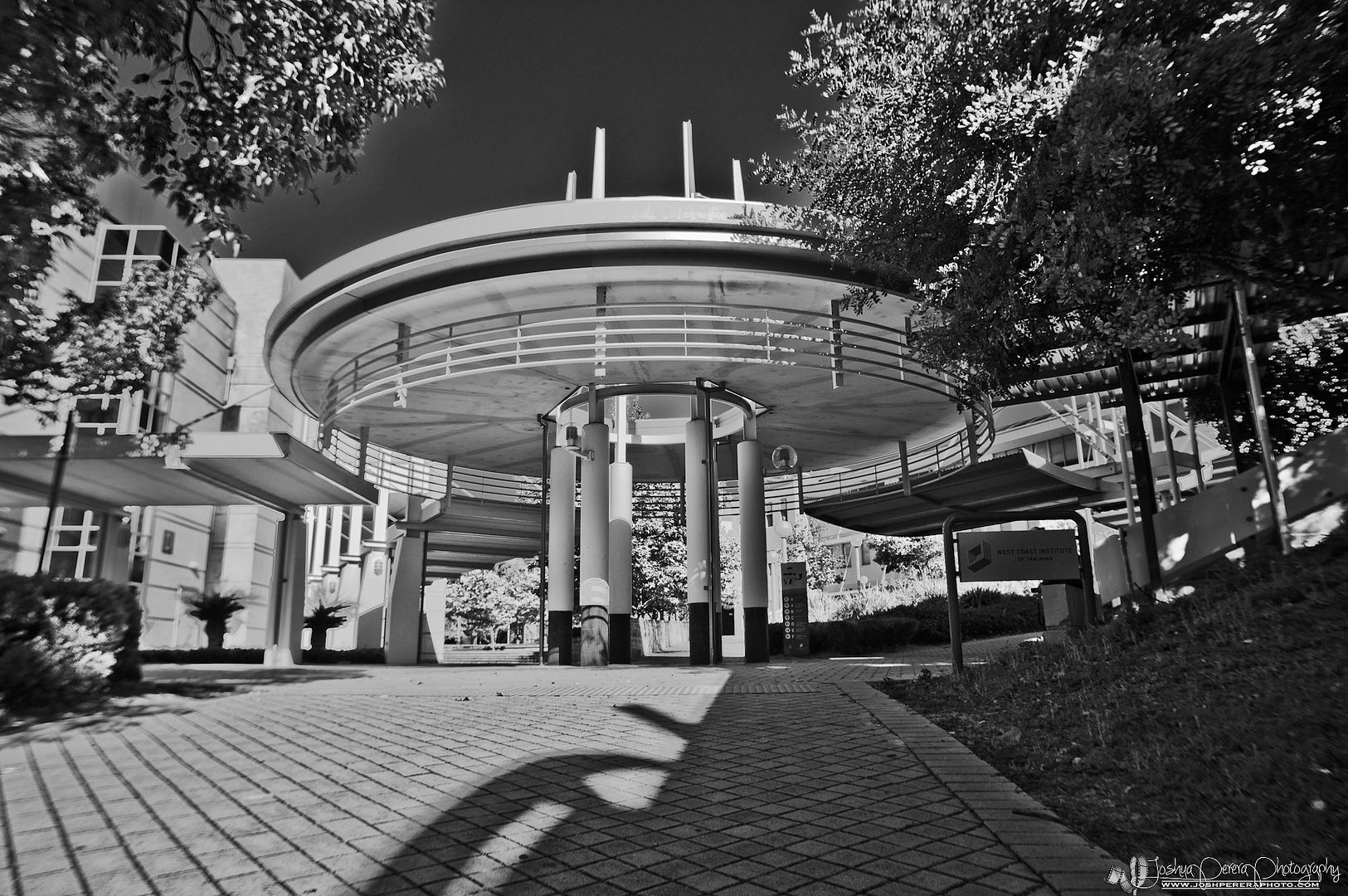 I found this wavy roof interesting and was keen to try and capture it's lines.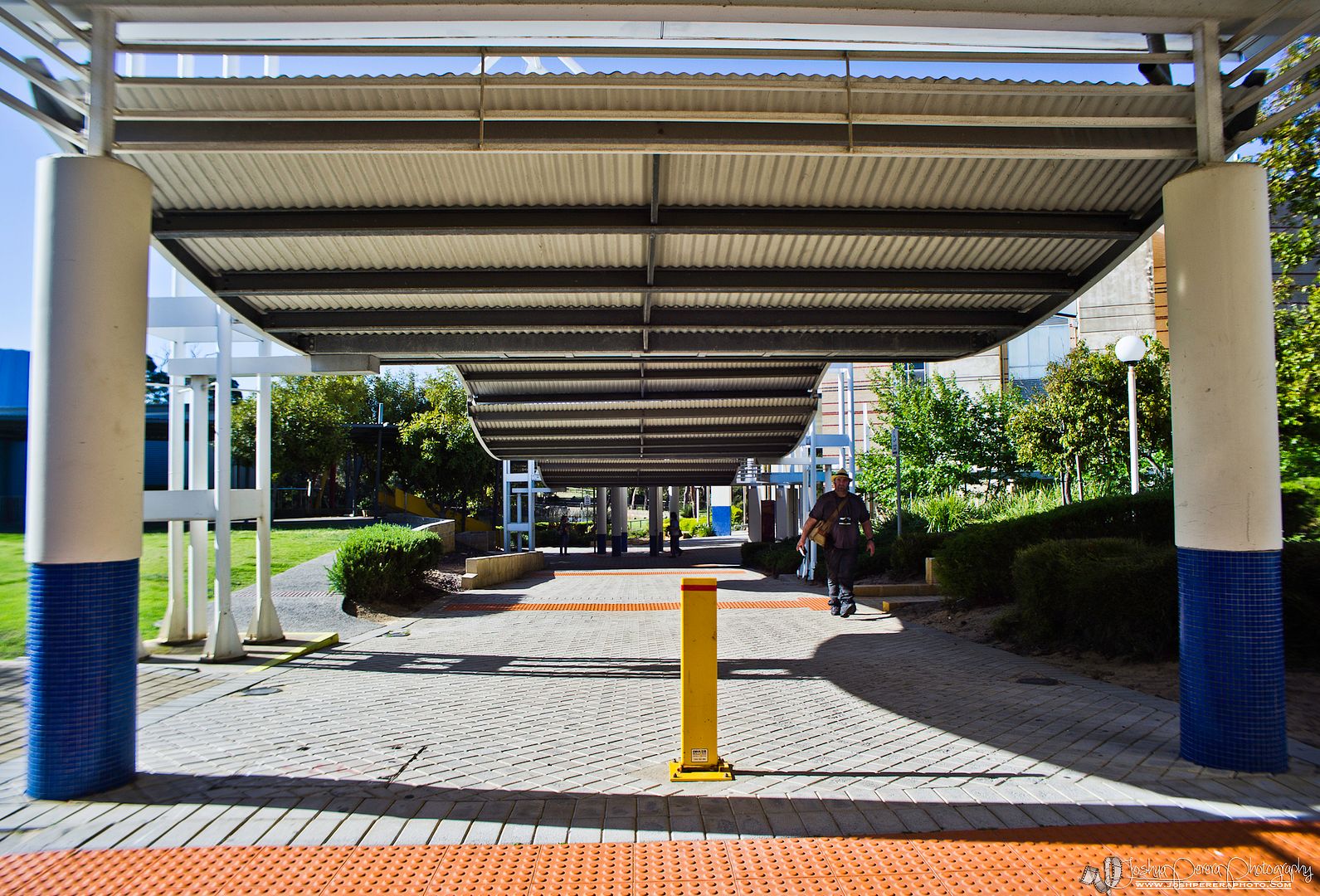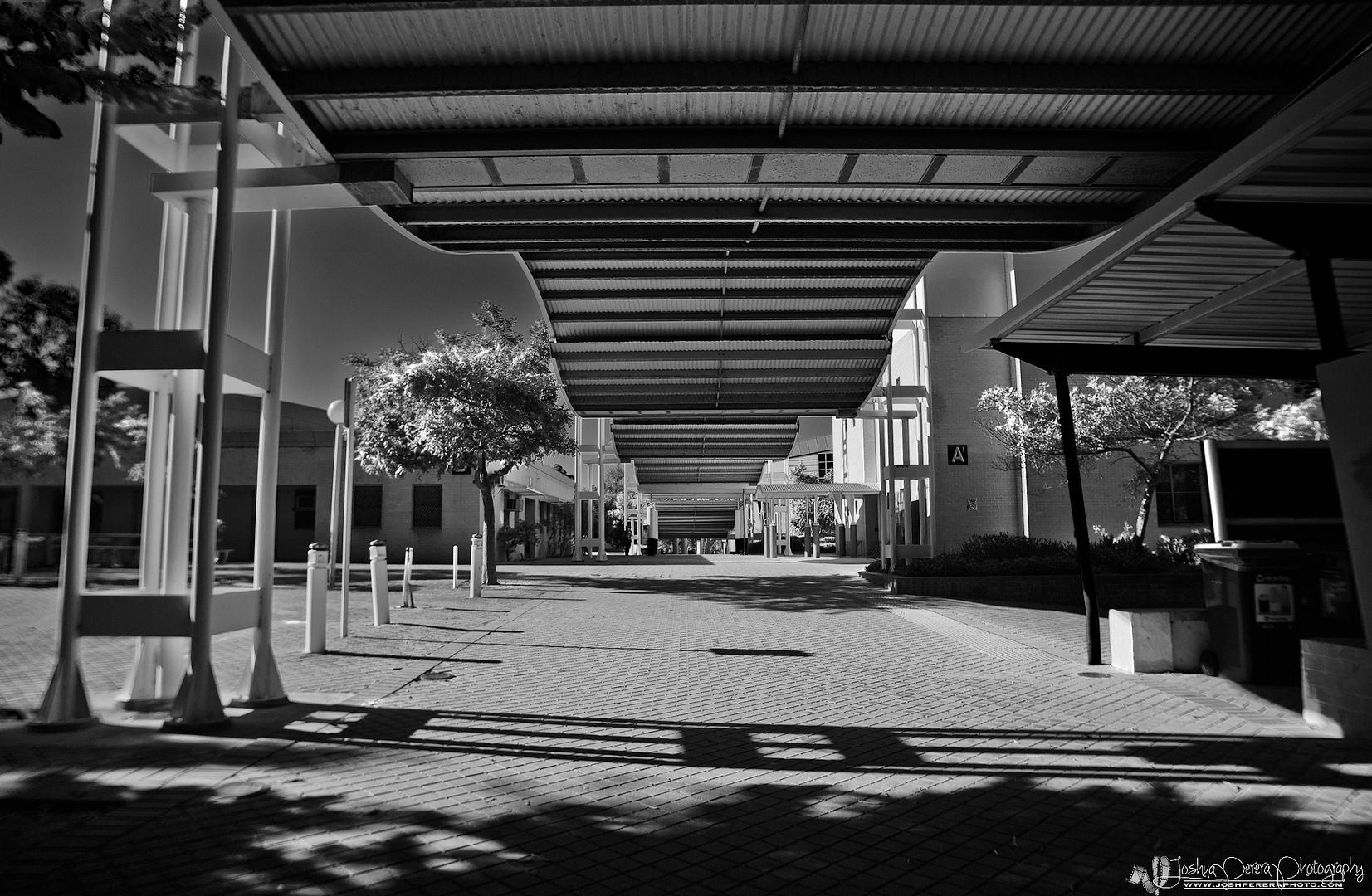 I have always loved how utilitarian some of the buildings are on this campus.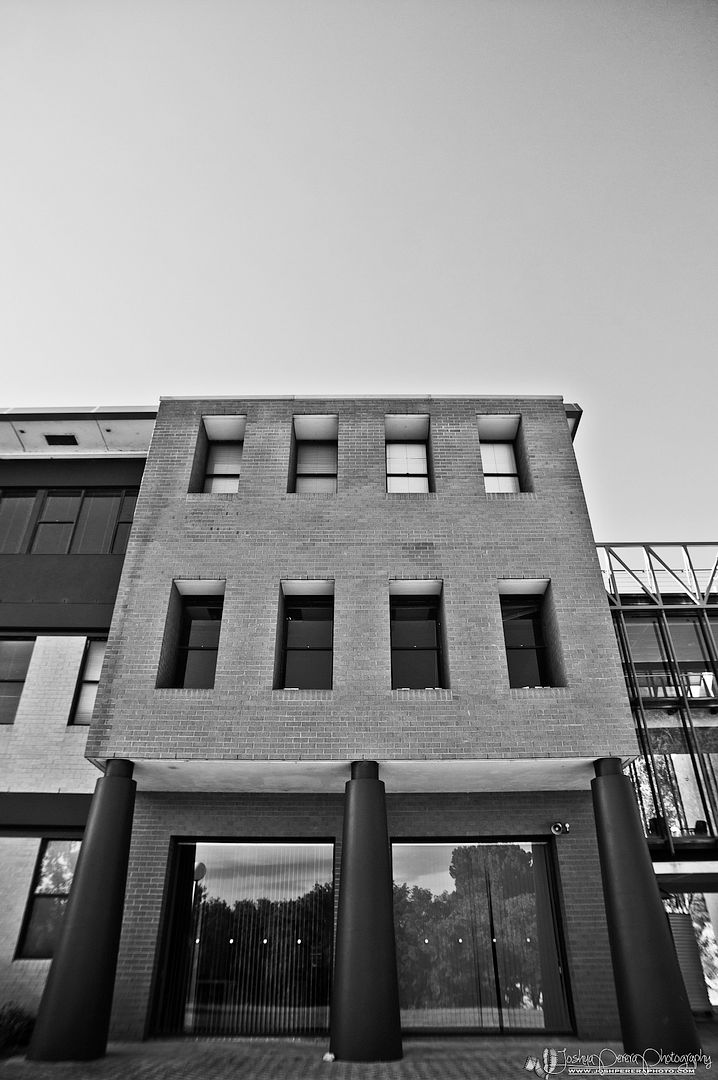 Finally rounding our of the Tafe campus and onto the ECU campus we made our way to the very front where there is the very architecturally unique 'Spiky' building as I refer to it. haha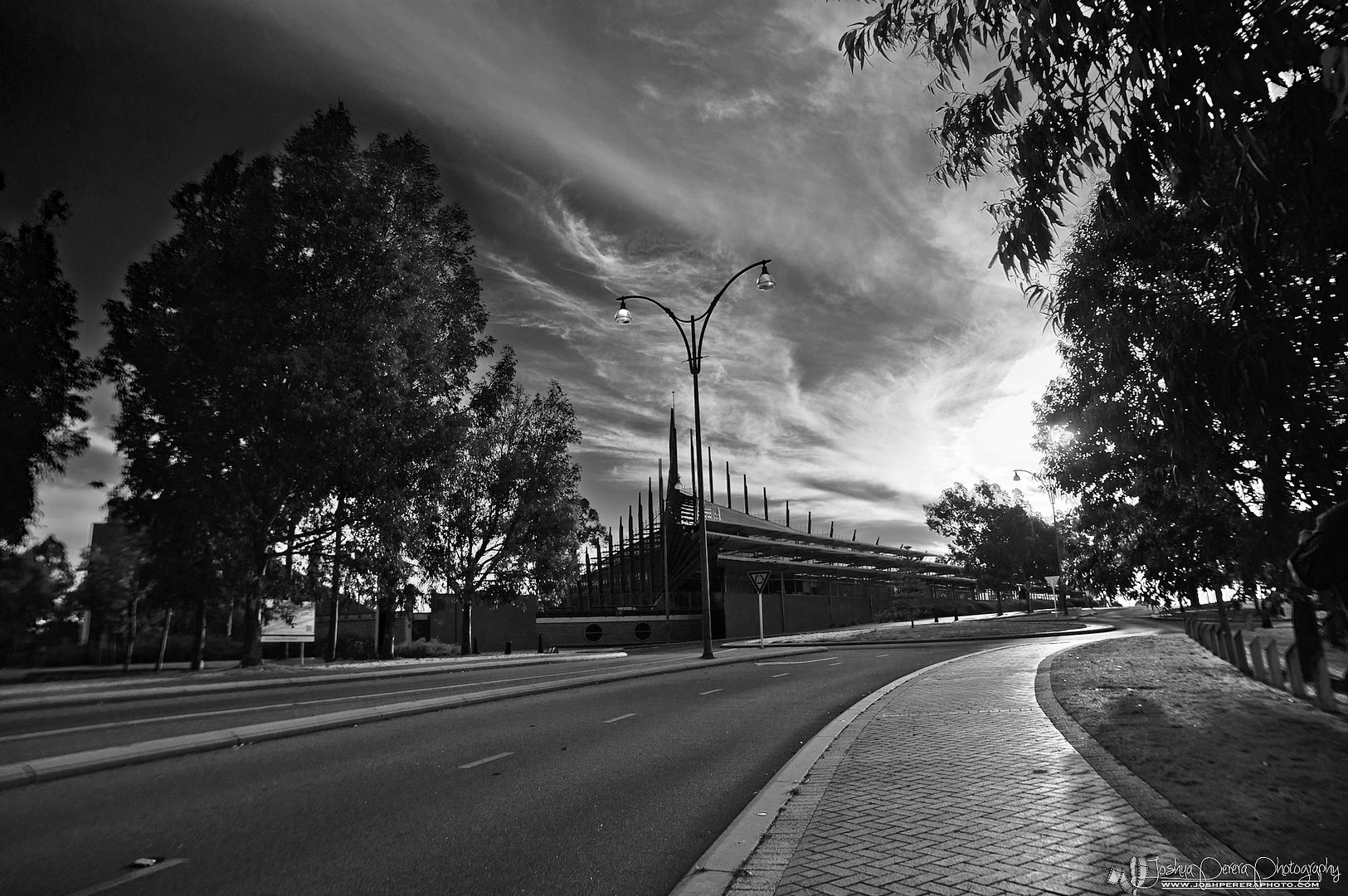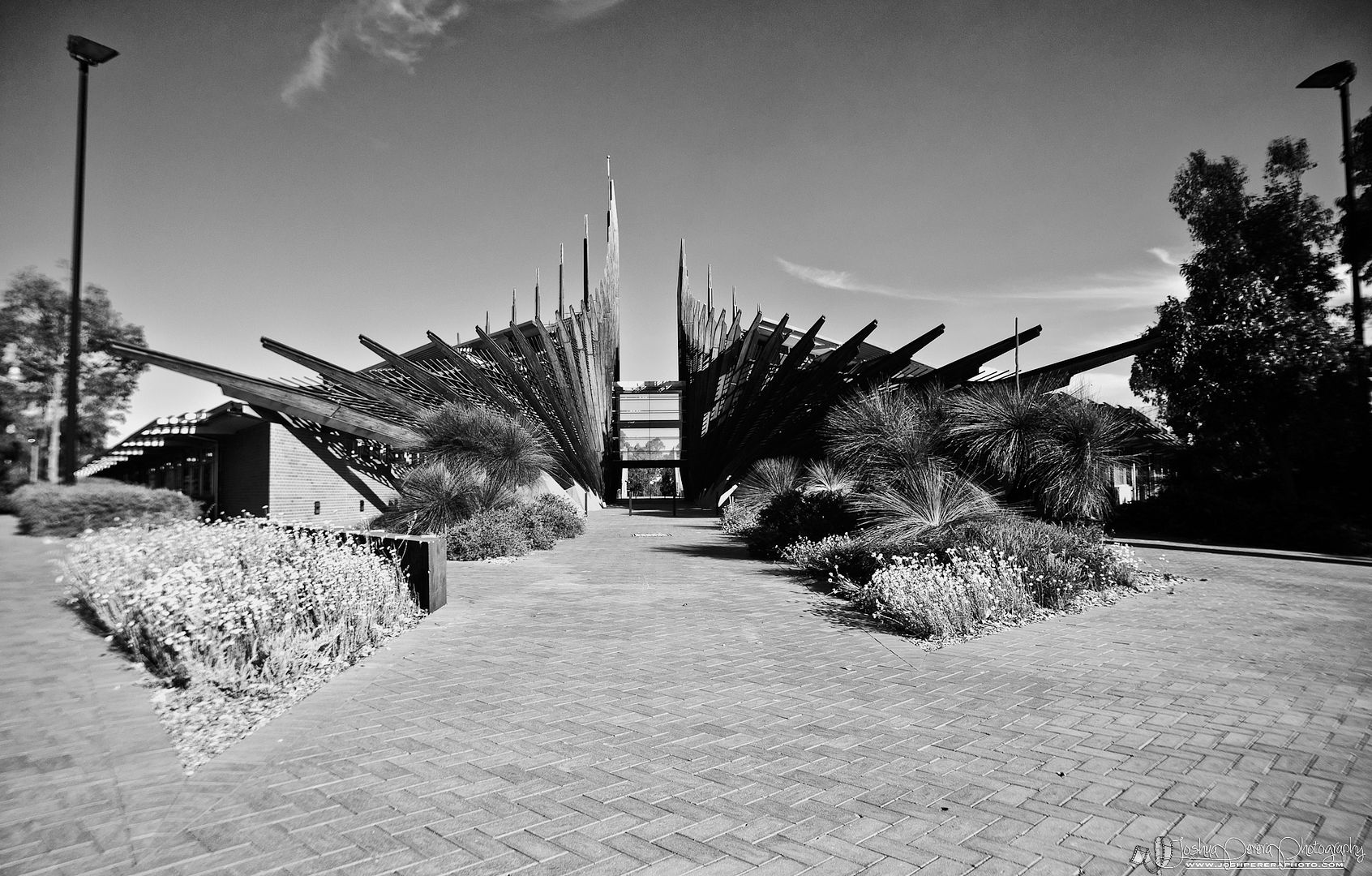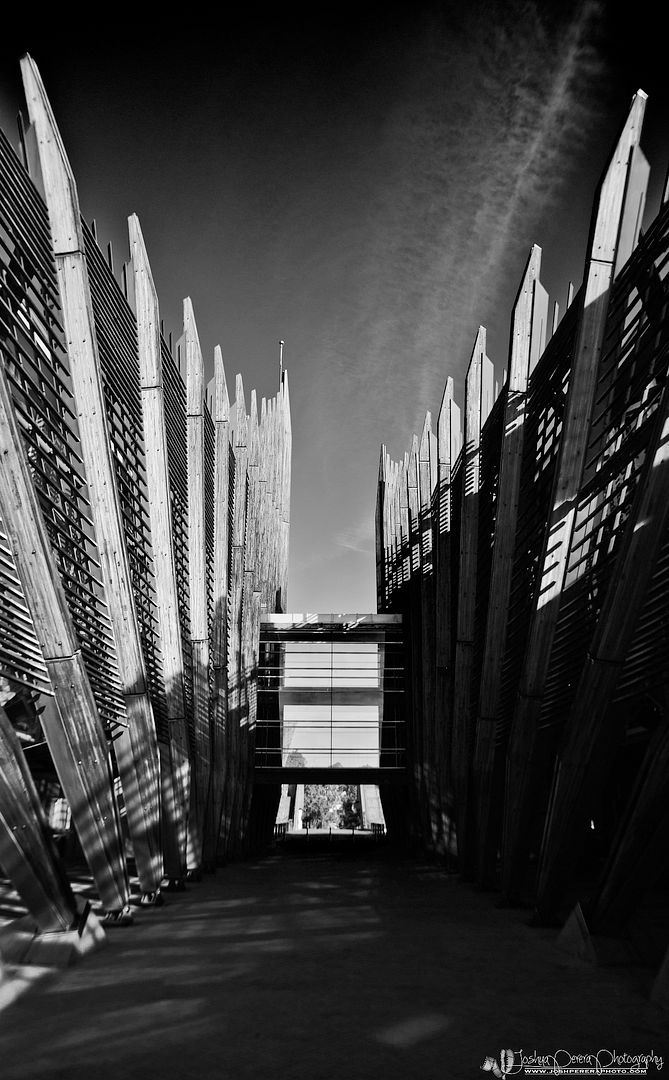 Some of the lines in this building are just fantastic to behold.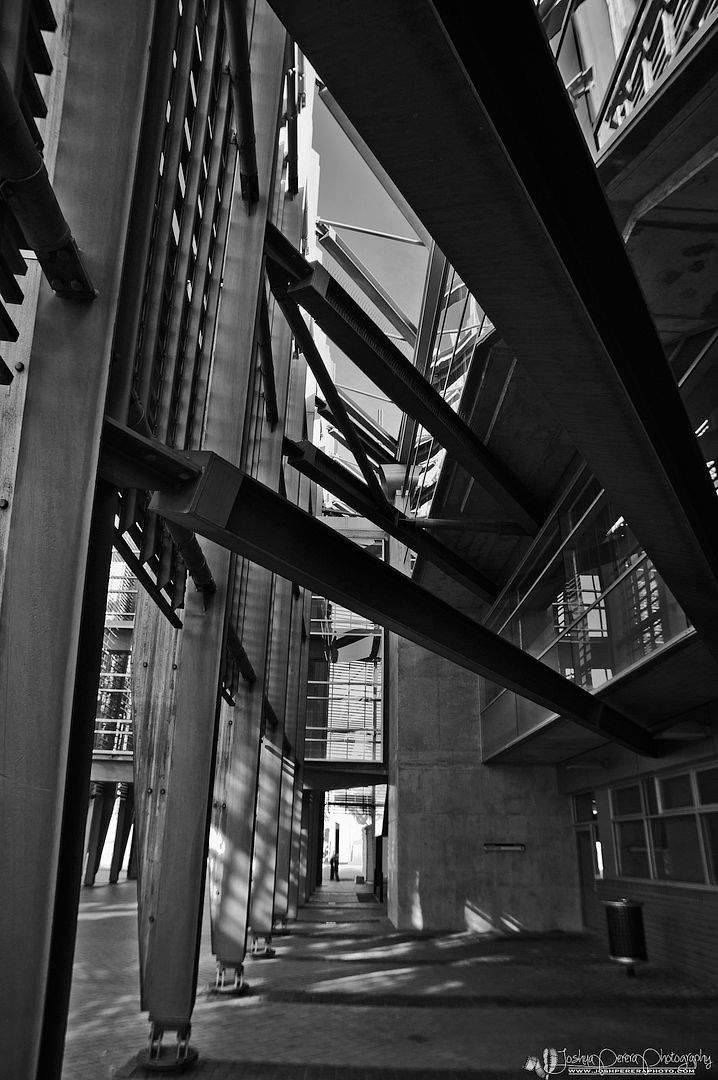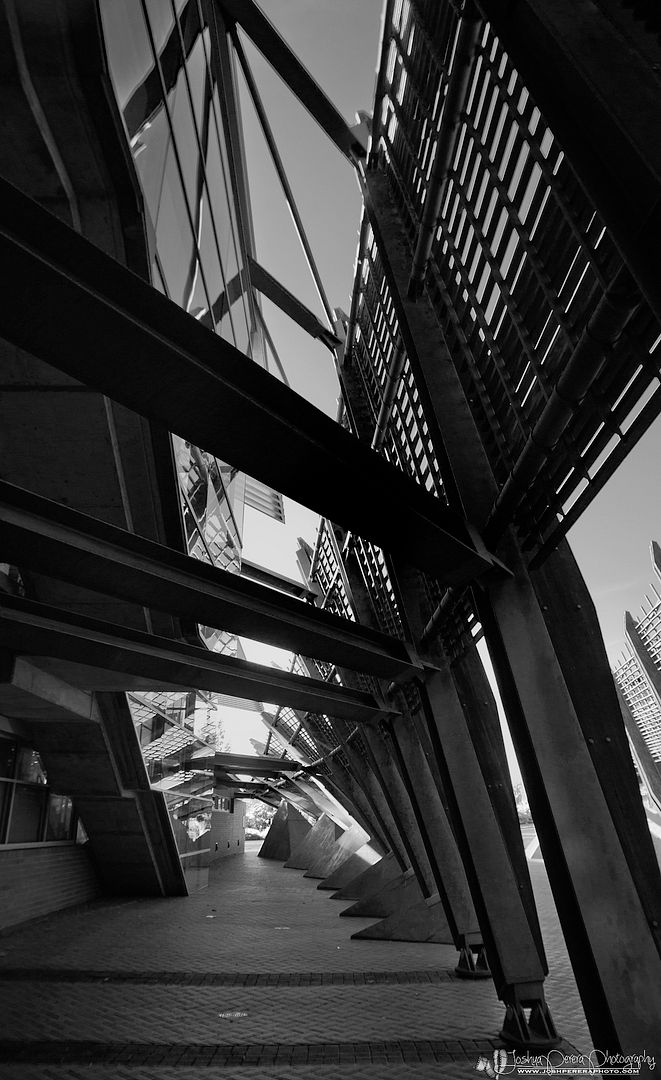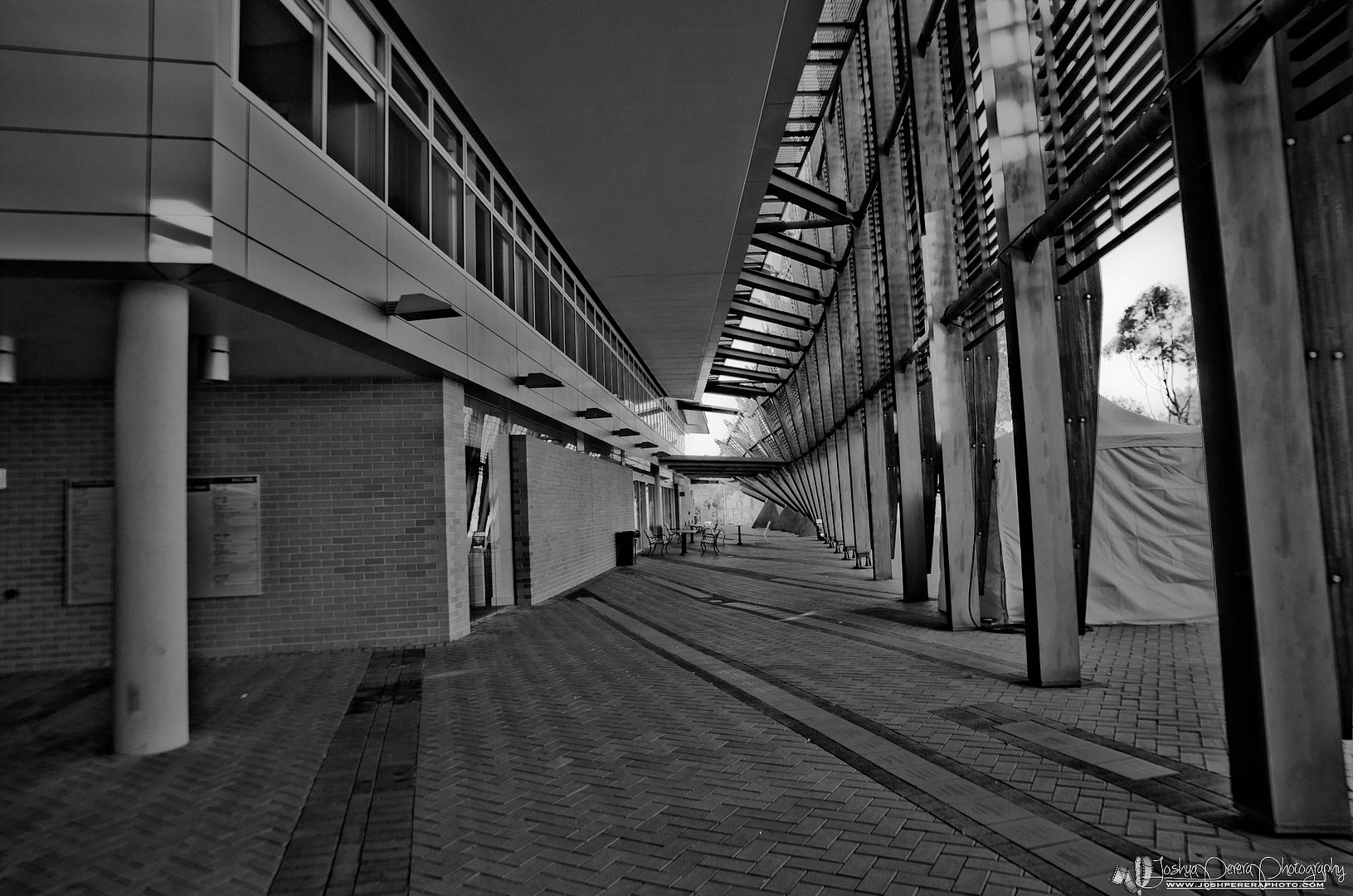 Passing through this amazing building you come into this fantastic amphitheater where there is these great sculptures all around.
As we made our way from this area into the greater portion of the campus I spied this young fellow walking in the oposite direction back into the amphitheater, the shot was just too good to pass up.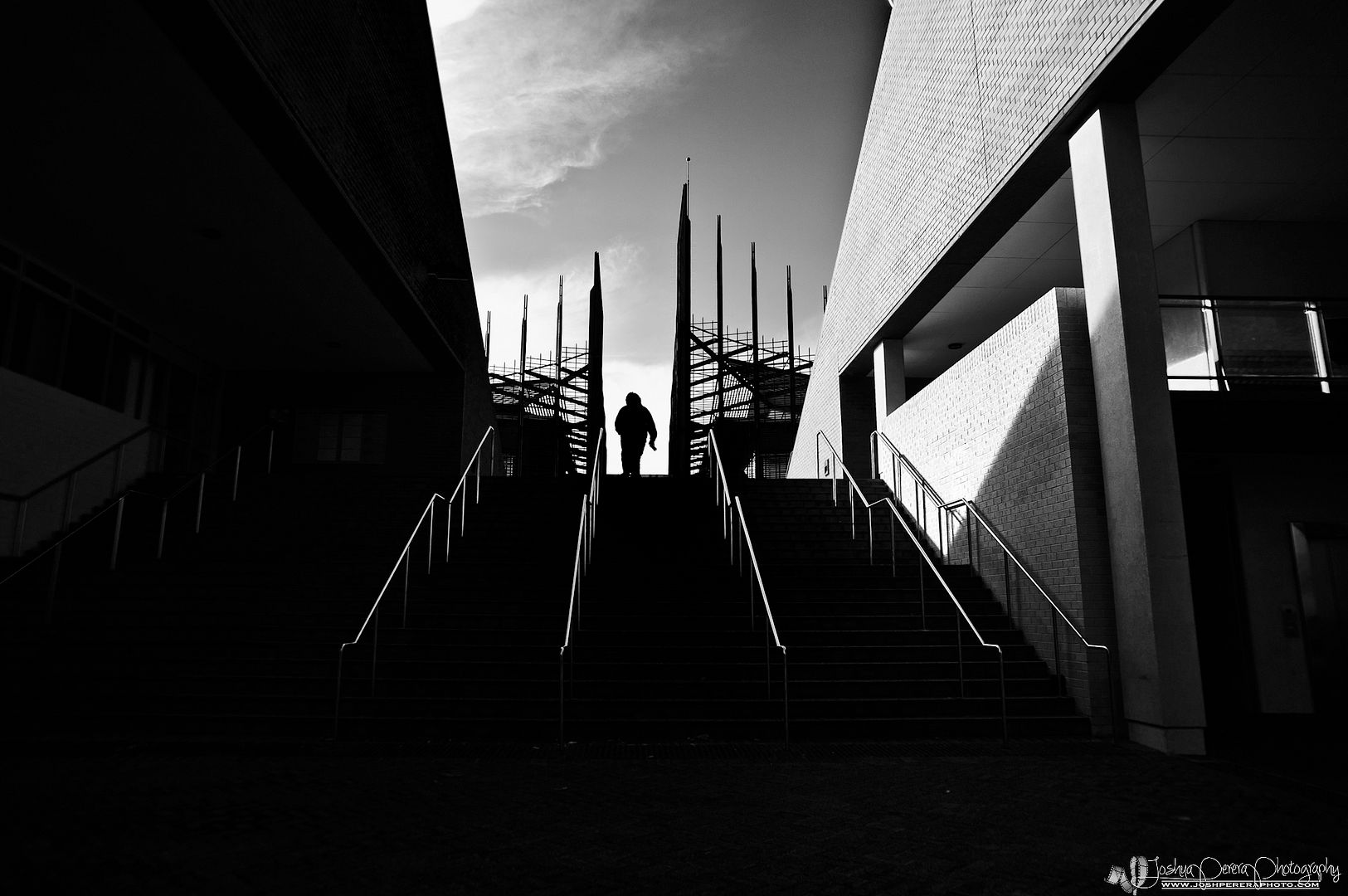 Heading into the greater campus area the were some great building to shoot as well as some more wetlands and you guessed it, some more sculptures too. haha
This tree was just really interesting but I could not get it all in, so I took two shots in the hope of creating this two shot stitch which gives it that huge towering feel.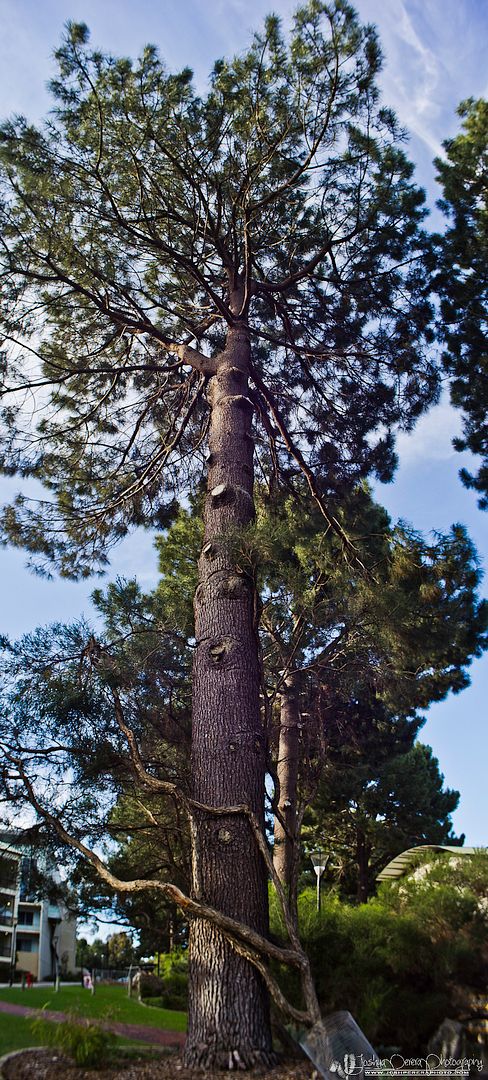 By this huge tree is the second wetlands on this walk.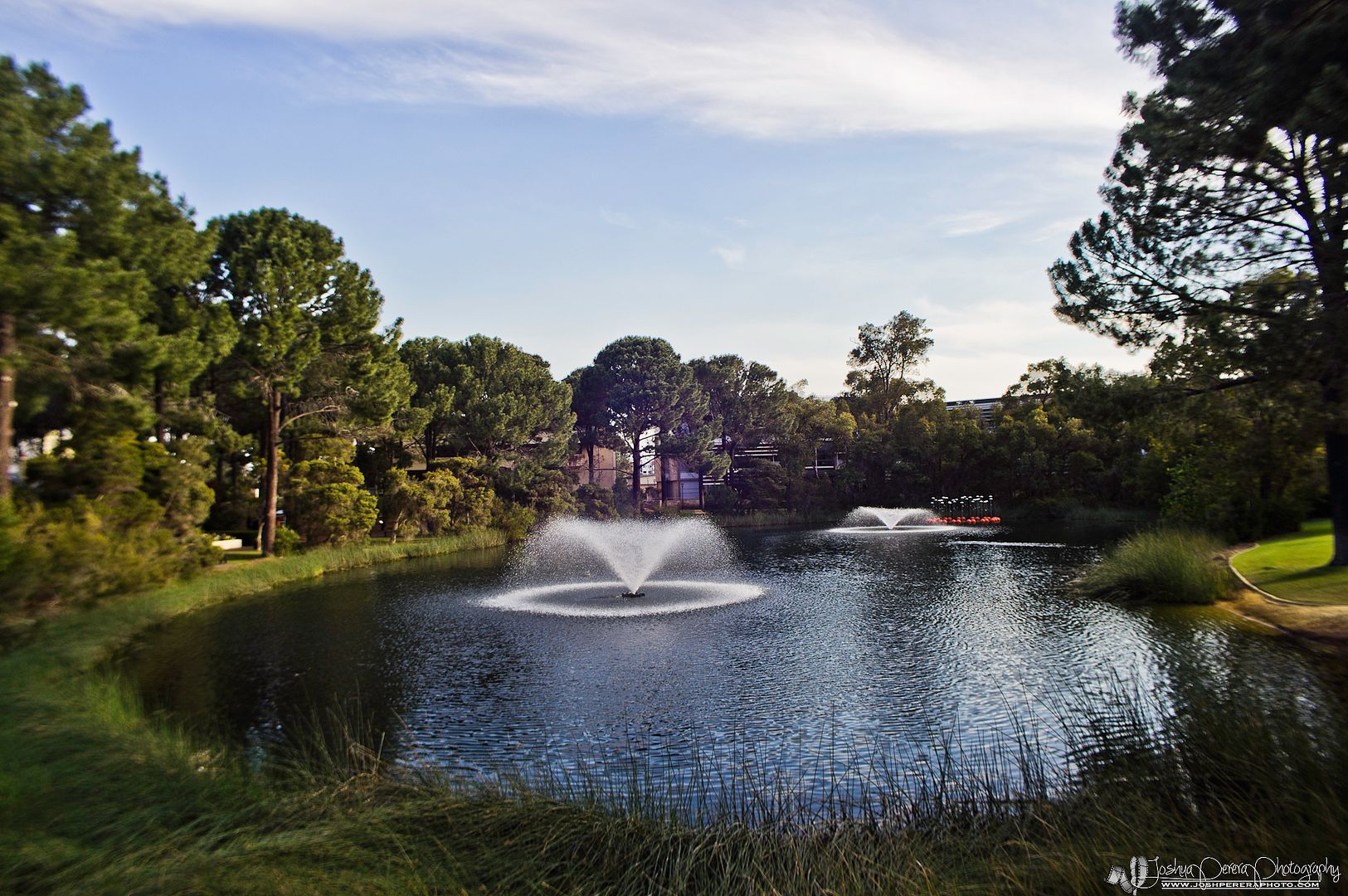 We came across this curious old style building, that apparently was old man ECU's old campus house. Eitherway it was interesting enough for us to shoot.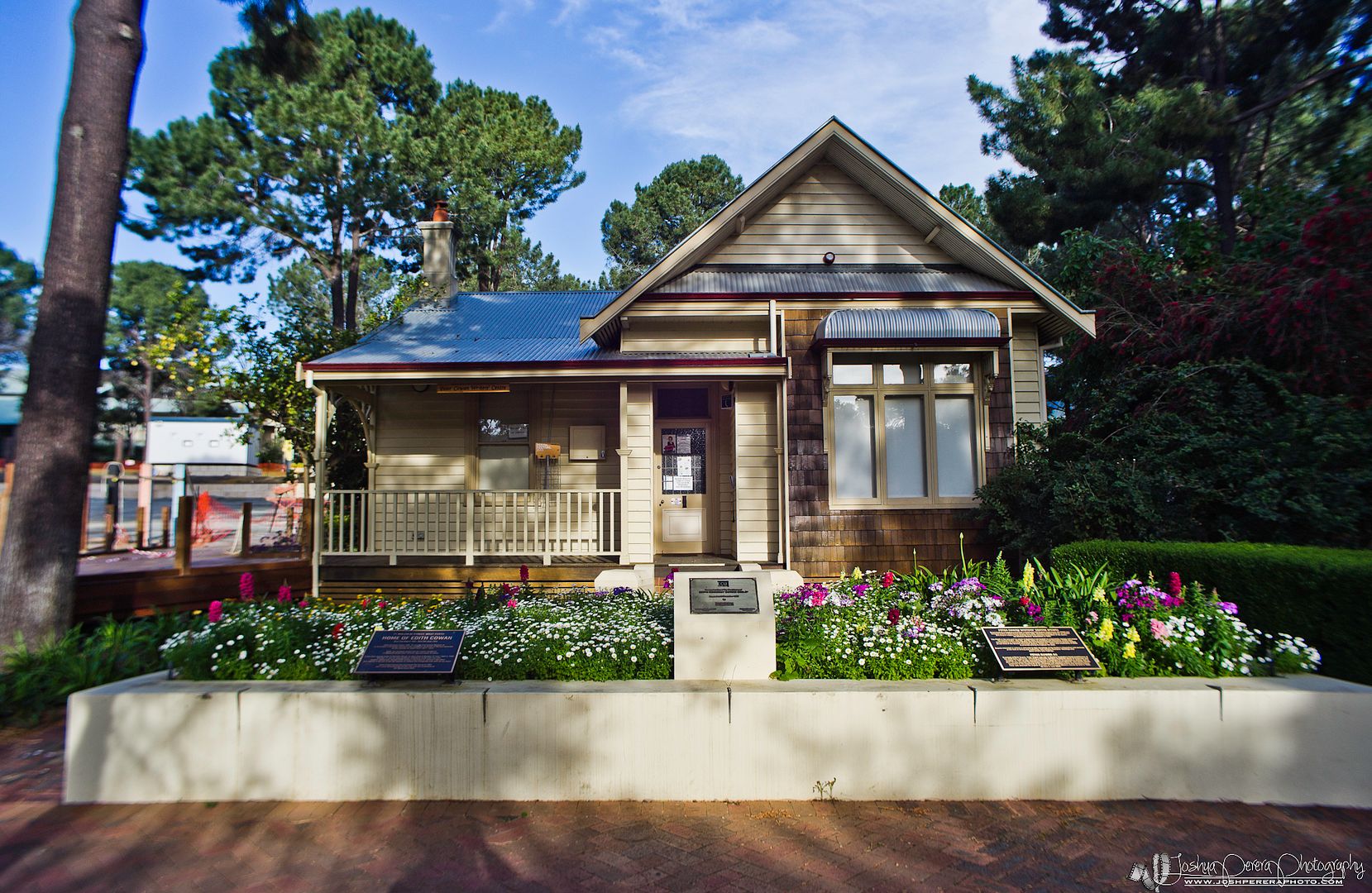 It was a bit shady to capture this sculpture properly but it is still interesting I feel.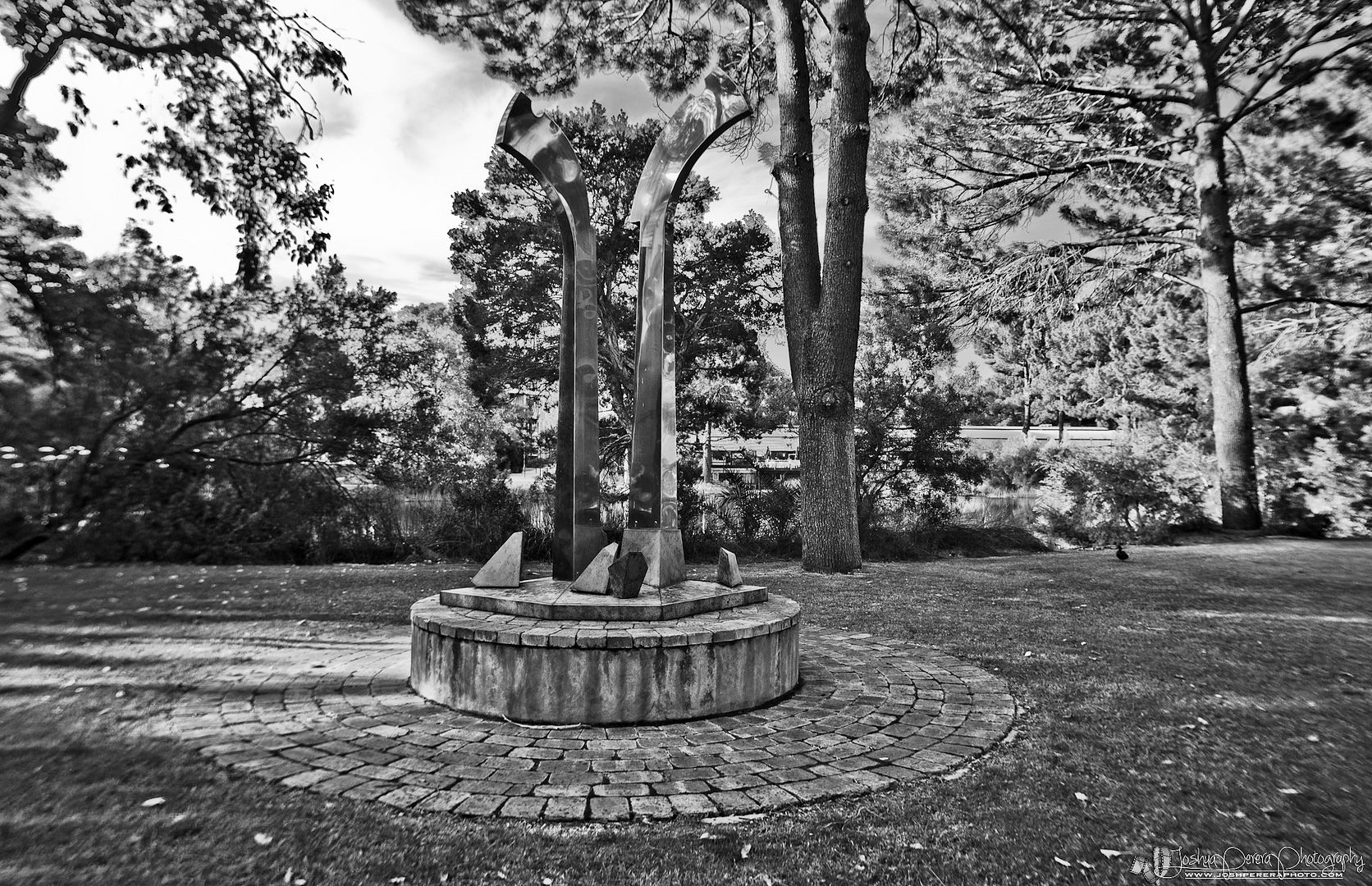 I love the panels on the outer walls of the engineering blocks at this university.
This were presumably interactive sculptures that give off different effects when you yell into them. haha
I have no idea what this symbolizes but it looked cool. haha
I must admit I like a bit of architectural shooting so had some fun shooting some of the buildings.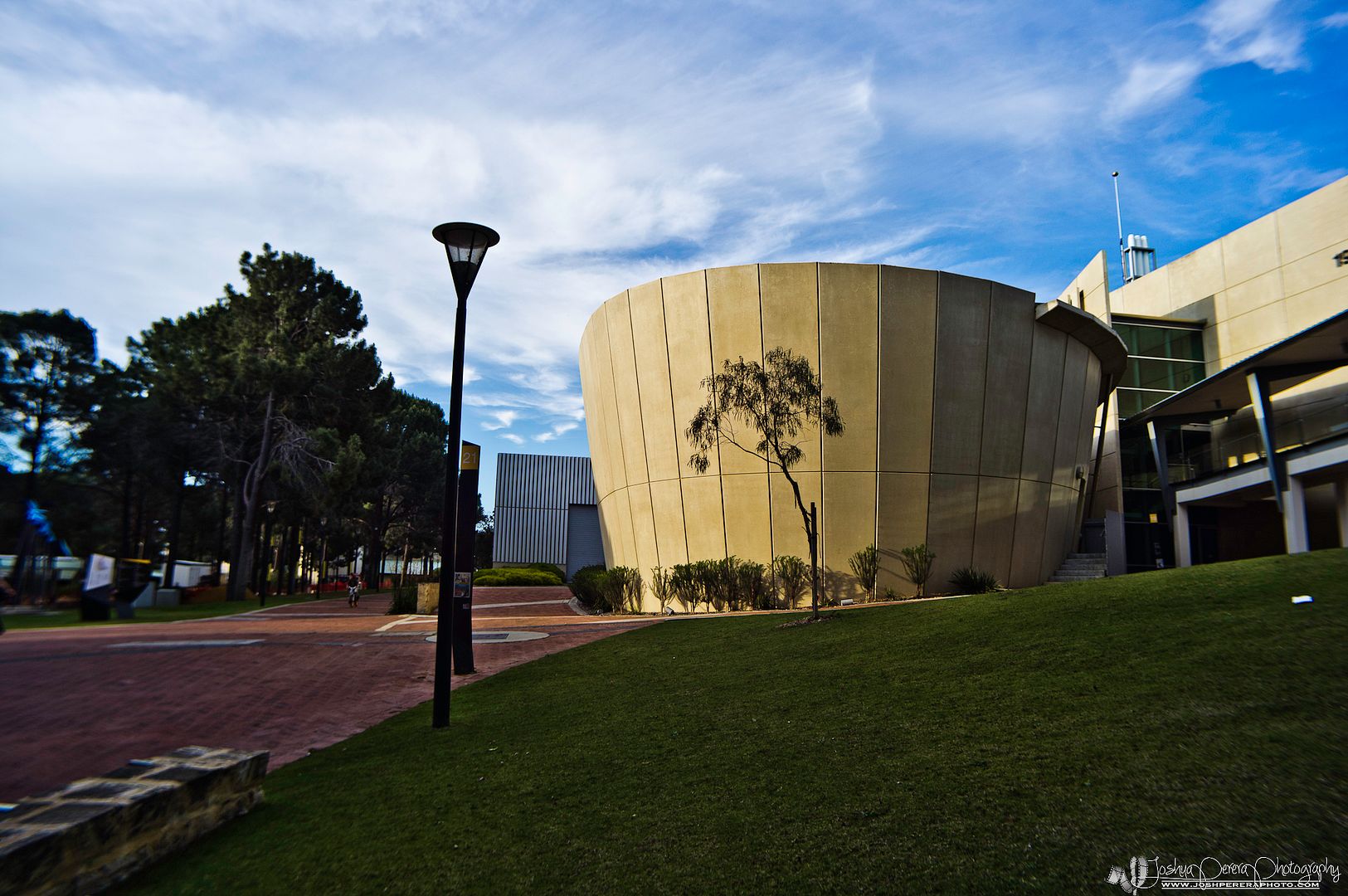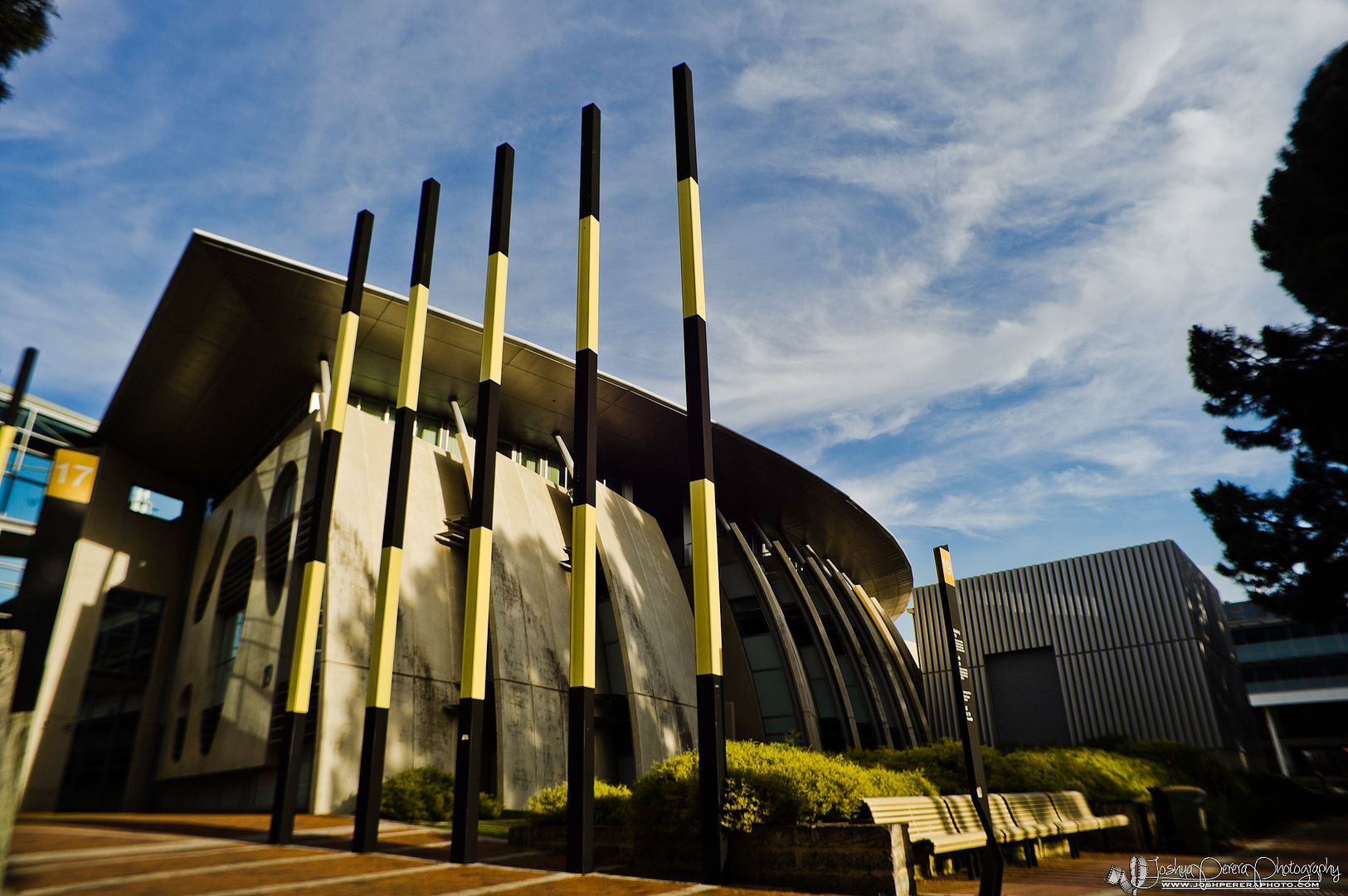 …and this is about where we concluded our first little photo walk for this afternoon. But do not be disappointed, this article is just part 1, the output from just one of the two cameras I shot on this day. I will have more from my other camera in another post soon. Till then Happy Snapping guys. 🙂