As I spoke about in my recent 1 day in 1 roll post, it was my first time home developing my own b&w film. What I didn't mention however was that my dev tank can fit two rolls to be developed at once. So this is in fact what I did. The Friday night before we went to the royal show and shot our rolls for 1 day in 1 roll I went for a shoot with Boris, a friend from our film users group.
Boris put the call out in the group a couple of weeks ago that he would have the Friday off and was keen to go for a shoot in the city if anyone wanted to join him. Knowing I would have my work done by the Friday afternoon I told him I would come meet him for a shoot. We met in a little hidden away bar I had never been to before called 'Mechanics'. Boris shouted me a pilsner I had also never tasted before, but it turned out to be a decent brew. After finishing our beers we decided we best get moving before it got too late and we lost the light. I had been shooting a test roll of Super Lucky 200 iso colour film with my Himatic 9, so I finished off the last few shots of this roll as we were leaving the pub. Having finished that test roll (which I have yet to develop mind you, but my c41 dev kit has just arrived) I loaded my roll of Kentmere 400 iso b&w film as we headed towards the center of the city. This is the first shot that turned out after my 'wind ons' unfortunately it is only half a frame, but still interesting I feel. (as usual click on images to see full size)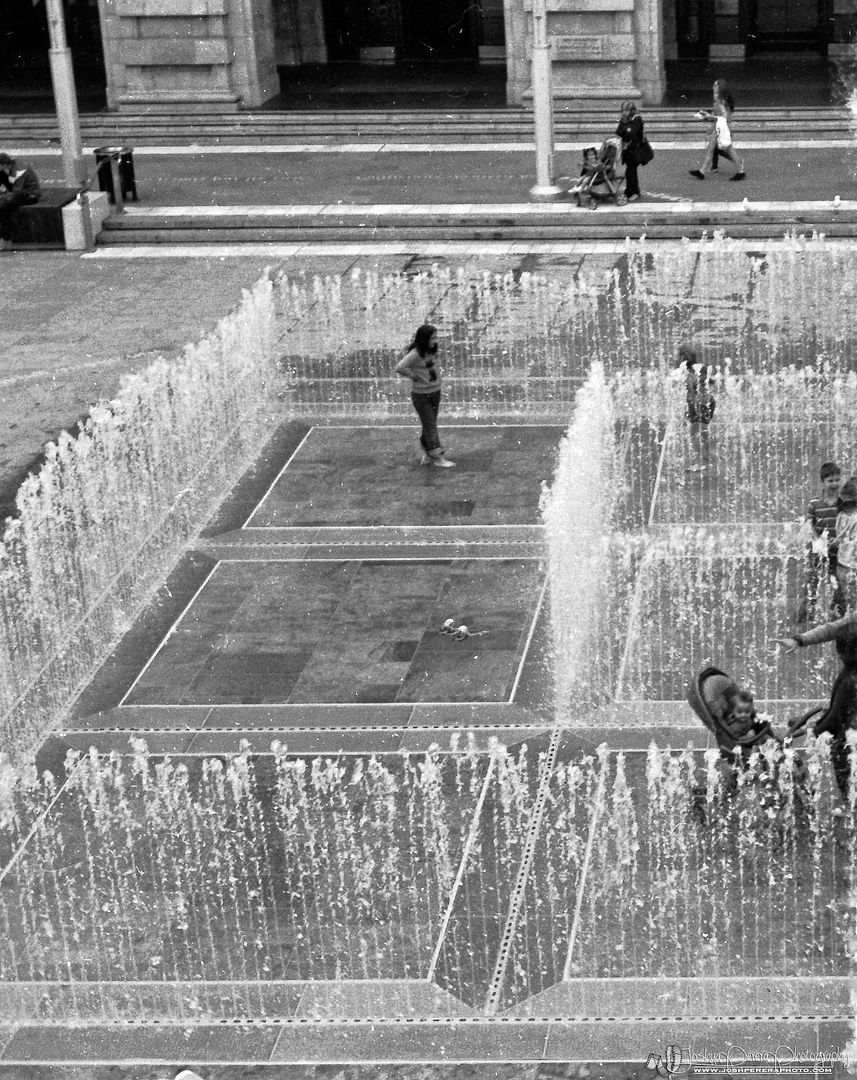 Coming down from this vantage point above the main quadrangle of the City we then walked through the main center heading towards the Belgian beer cafe, contemplating more beer. The main square was busy and bustling with people, it was intoxicating as usual and I happily knocked out a few snaps. I love the amount of action in this snap. I was focusing on the skaters down the alley and was disappointed at the time that as I clicked people walked through my shot, but looking back on it now it does not bother me as there is so much going on.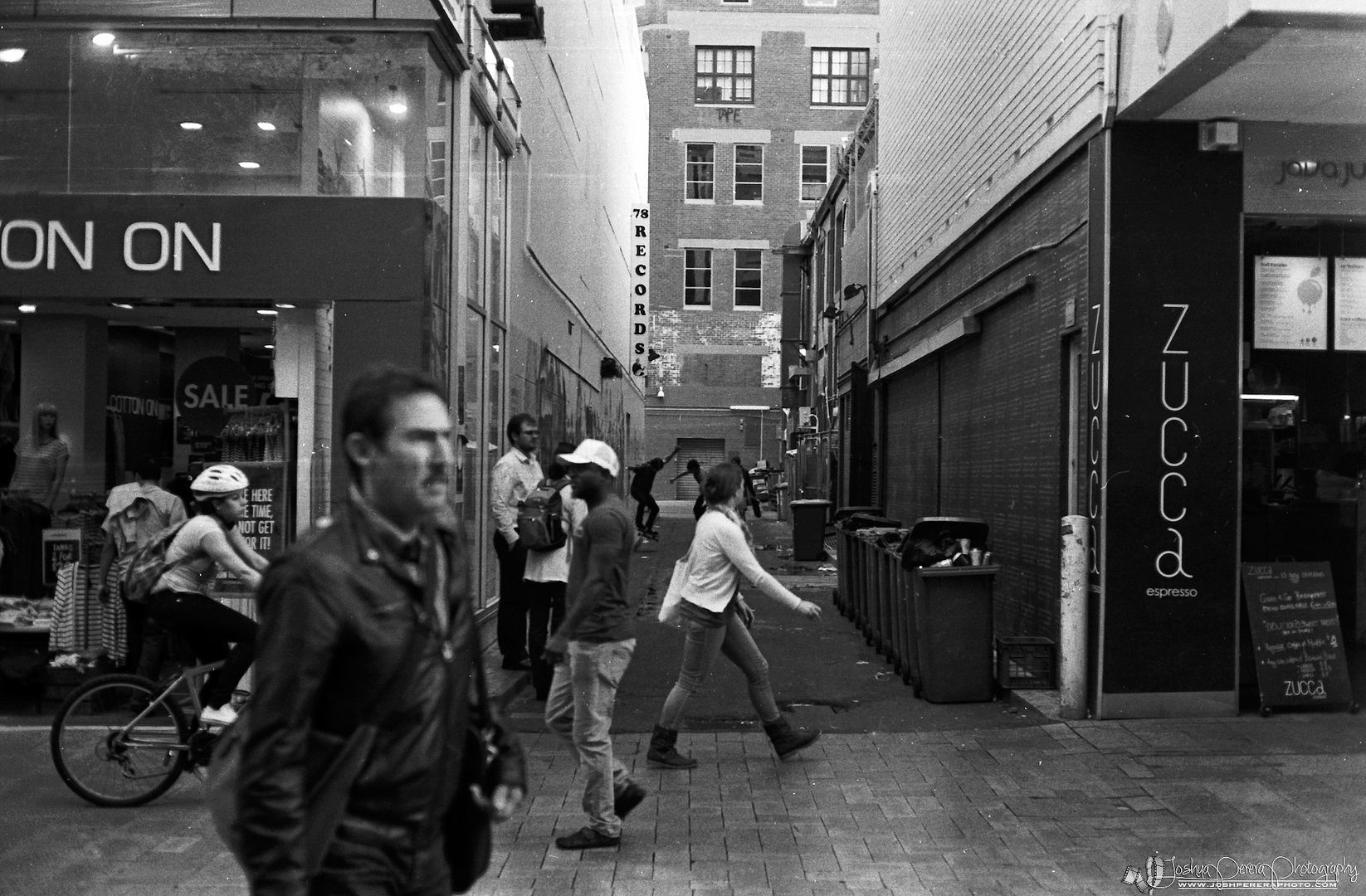 I tried to capture just how busy the City center was, I think I needed to get higher to convey it how I wanted but I still like this shot.
Being out shooting film cameras the inevitable happened, as my mate Graham will tell you, we were stopped by an older tog who was interested in our cams and wanted to talk for a moment to regale the days of old when he used to shoot film before going digital. I quickly palmed the conversation over to Boris by turning to shoot the two of them in conversation. Sorry Boris. hahaha
Next to where we were conversing with the older 'tog, there was a busker who was not playing at the time but had his dogs with him. I found this interesting as you rarely see dogs in the city center. I found this too interesting not to snap.
Continuing on toward the Belgian beer cafe we noticed that it was currently surrounded in scaffolding casting it in a dark light. The bouncer also did not look too happy about us approaching with cameras so we decided against going in, I did manage to snap this of his discontented face however. haha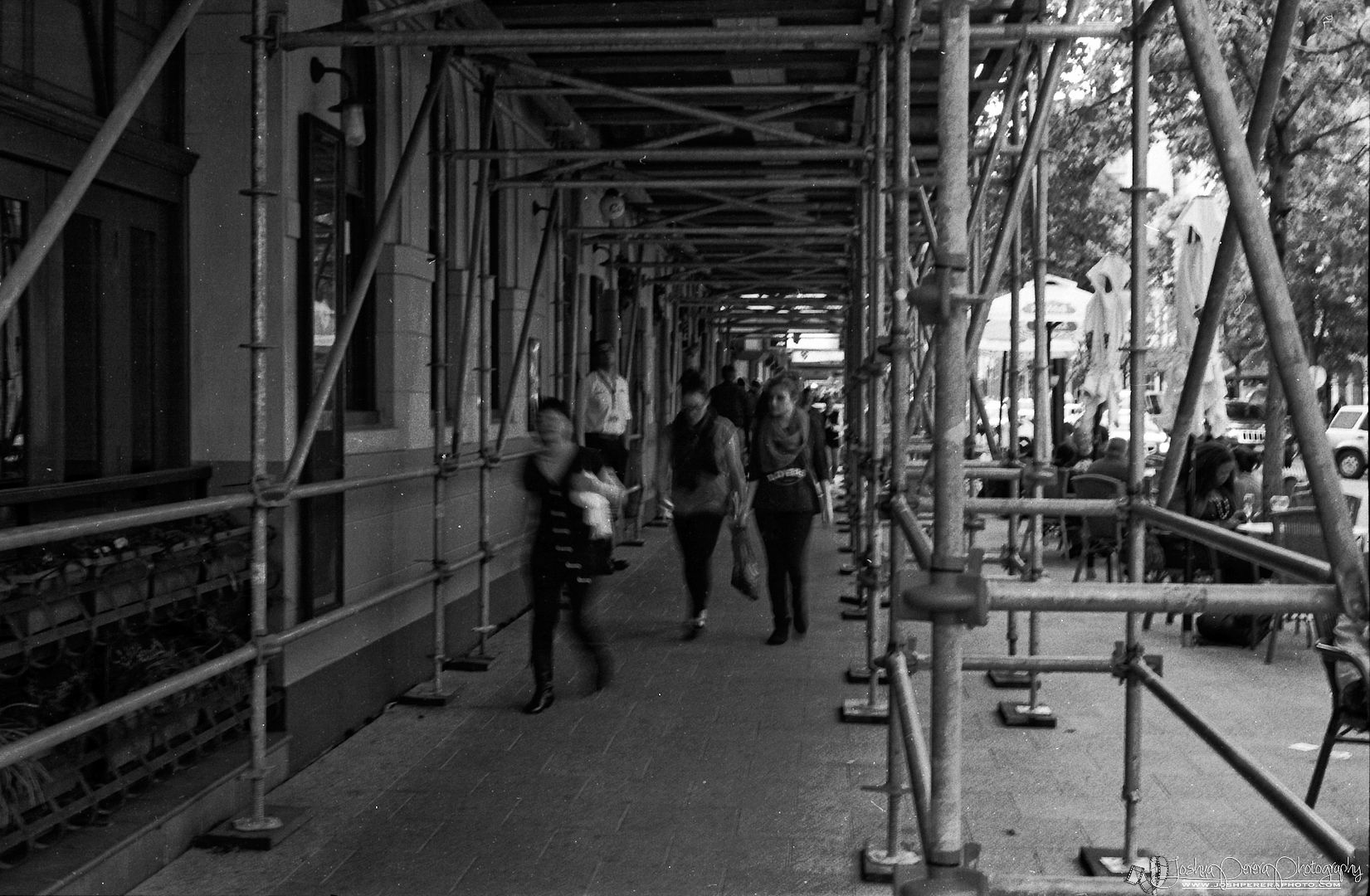 As we stopped for a minute to evaluate our options of where to head next, I noticed this guy leaning forward playing on his phone, combined with the lines of the traffic I thought it was a decent shot. Unfortunately at the last minute he noticed me and leaned back just as I hit the shutter.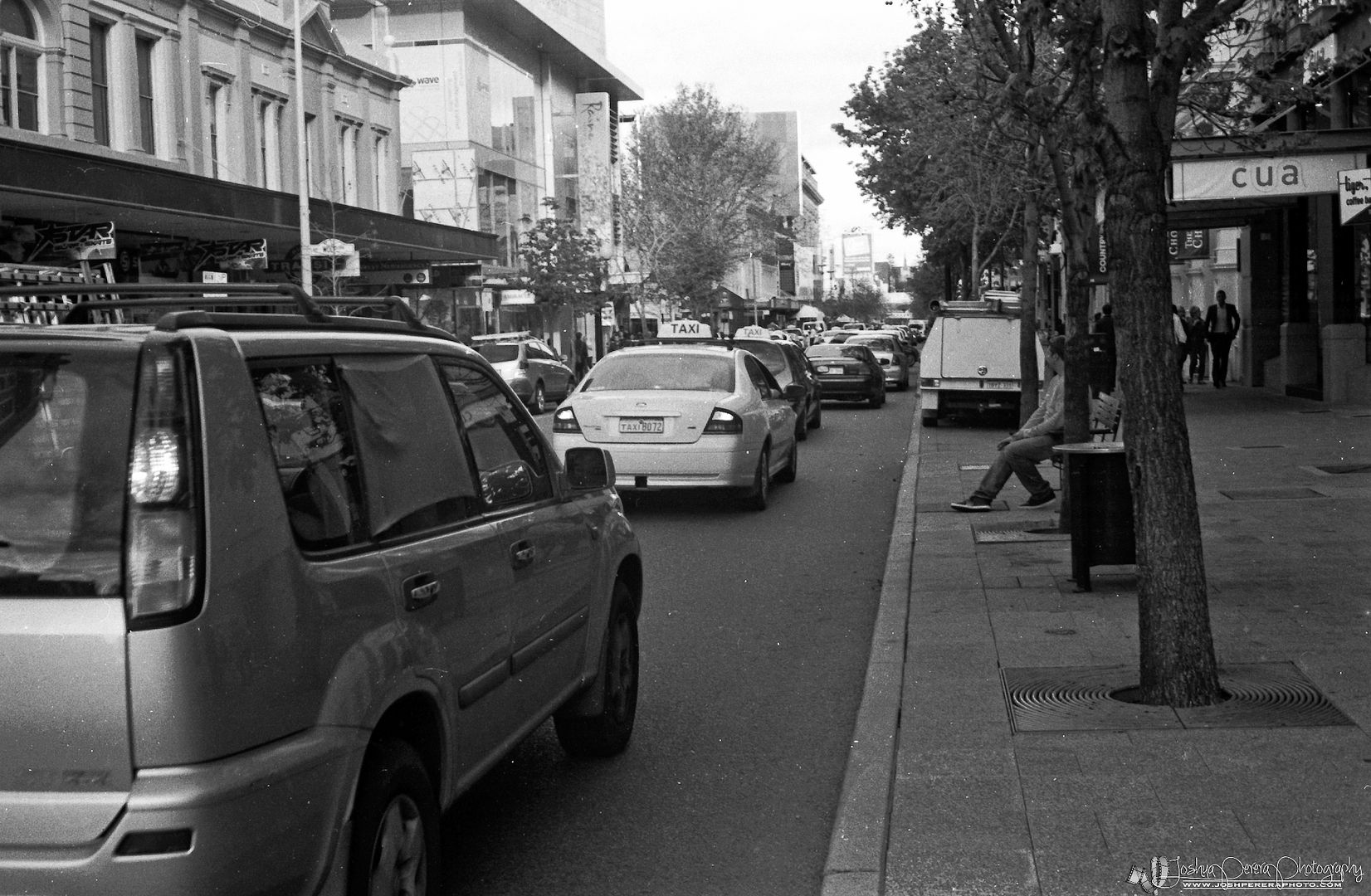 Realizing the light was getting a bit low for the 100 speed film Boris was shooting we decided to duck down a side alley and make a b-line for the new Arena construction as there is less tall buildings on that strip therefore less interruption of light. Heading down the back alley turned out to be the right move as there was some great scenes to be shot as we walked down it. I really liked the lines as I spied this woman walking towards us.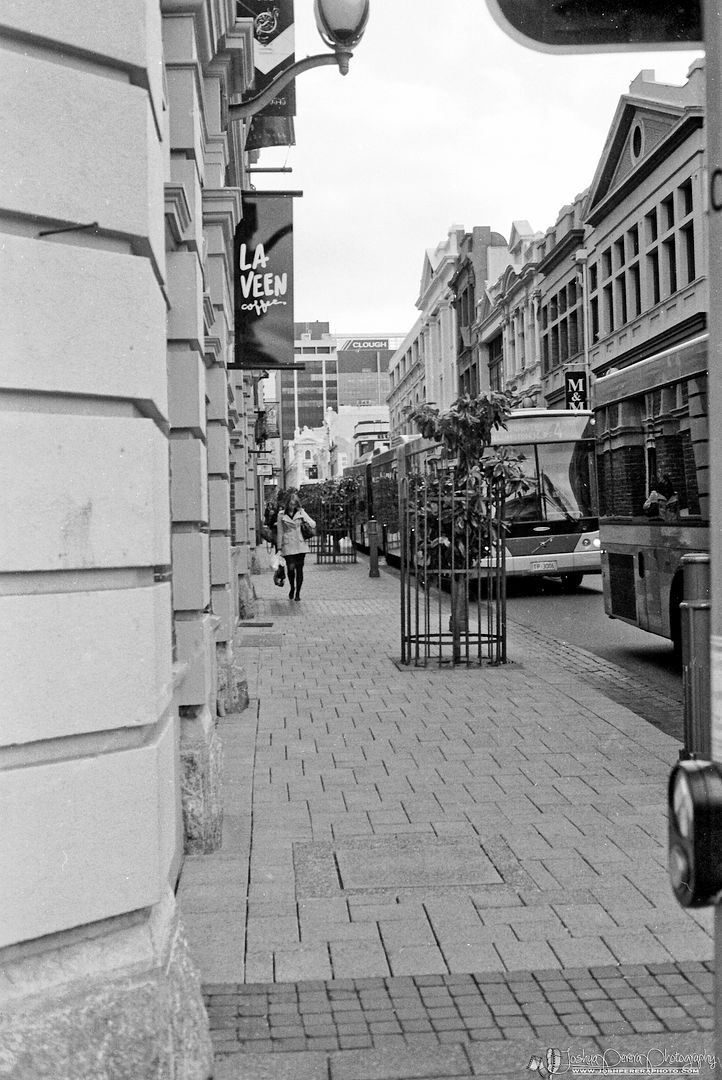 There were a bunch of little nooks off this back street that I found interesting too.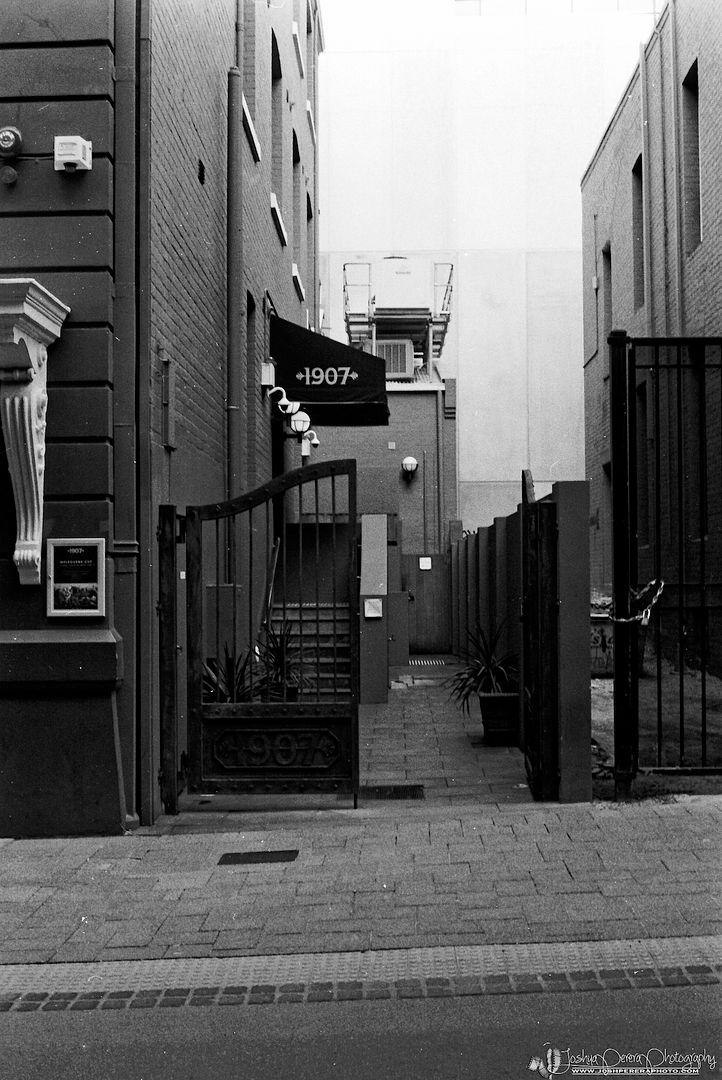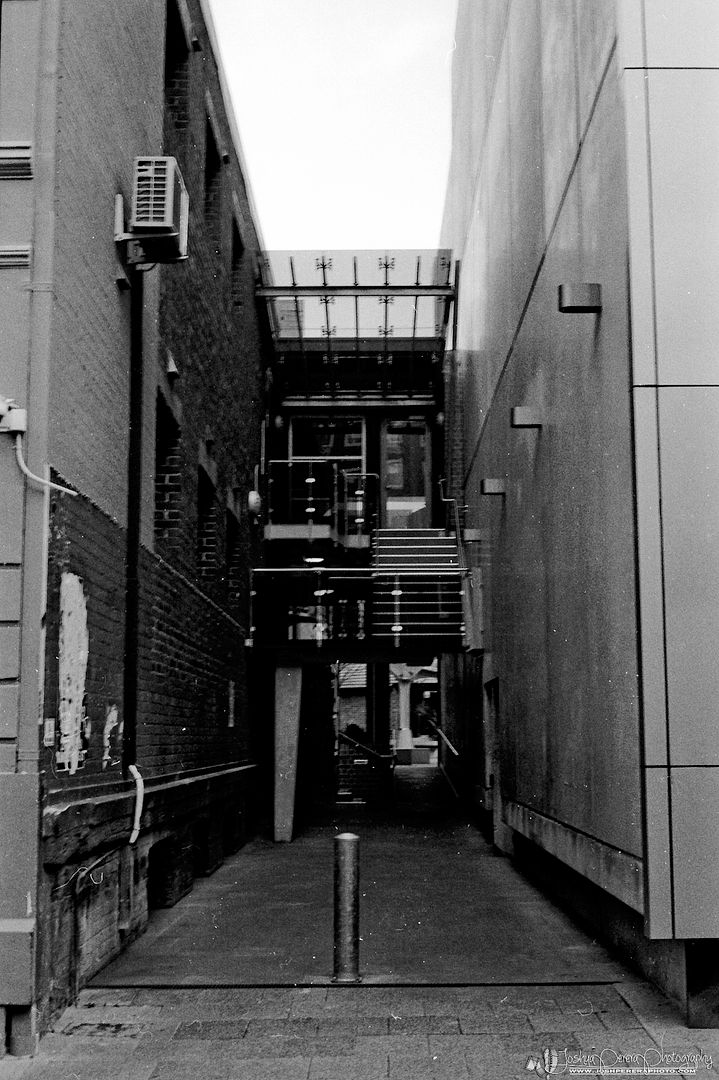 Even boris found something he felt was of interest to shoot with his new Yashimat.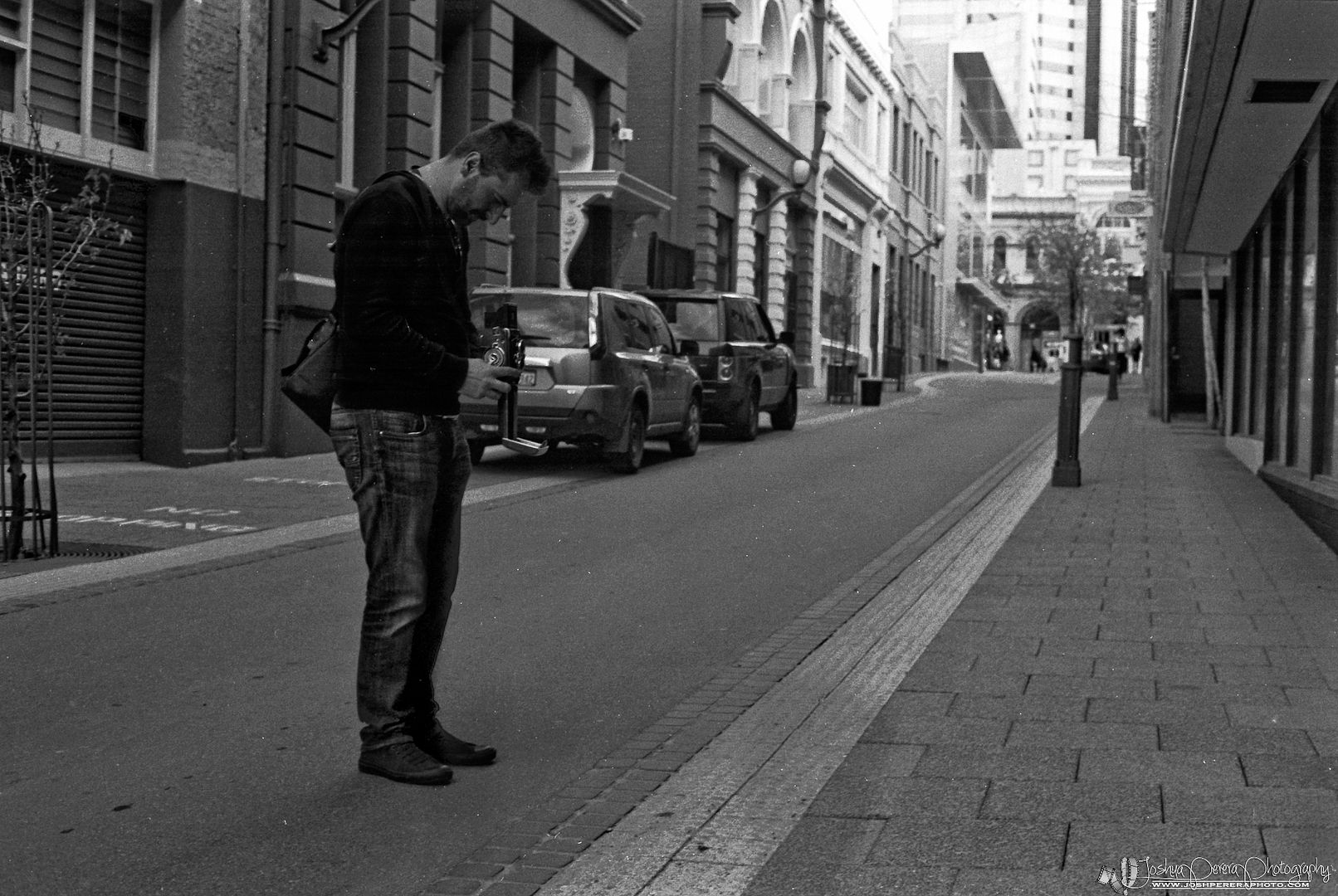 Getting out onto the main street there was definitely more light and it showed promise. There was just something about this at the time that just called me to shoot it.
Passing the new Arena Perth we crossed over the new makeshift rail bridge to head back to the Northbridge side of town to start to make a move back to where we started out. We both felt there was something cool about the lines on the bridge path which had depth to it.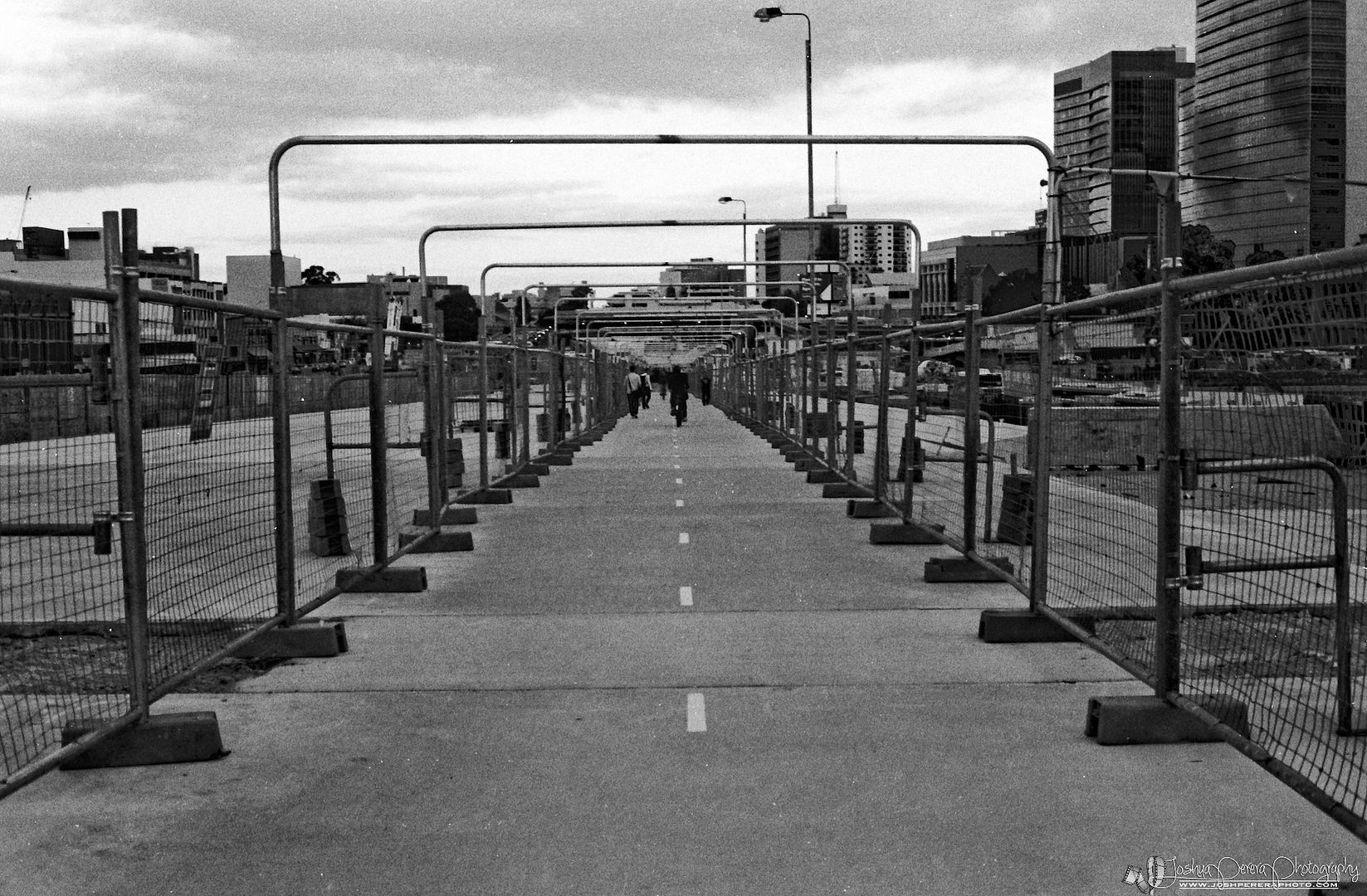 Looking over at the buildings, I imagined in my minds eye that they would make a cool shot. So I stood on one of the fence props and tried to shoot over the fence. In my rangefinder I thought I had cleared the fence, turns out not, but I think it works, adding a nice leading line to the shot.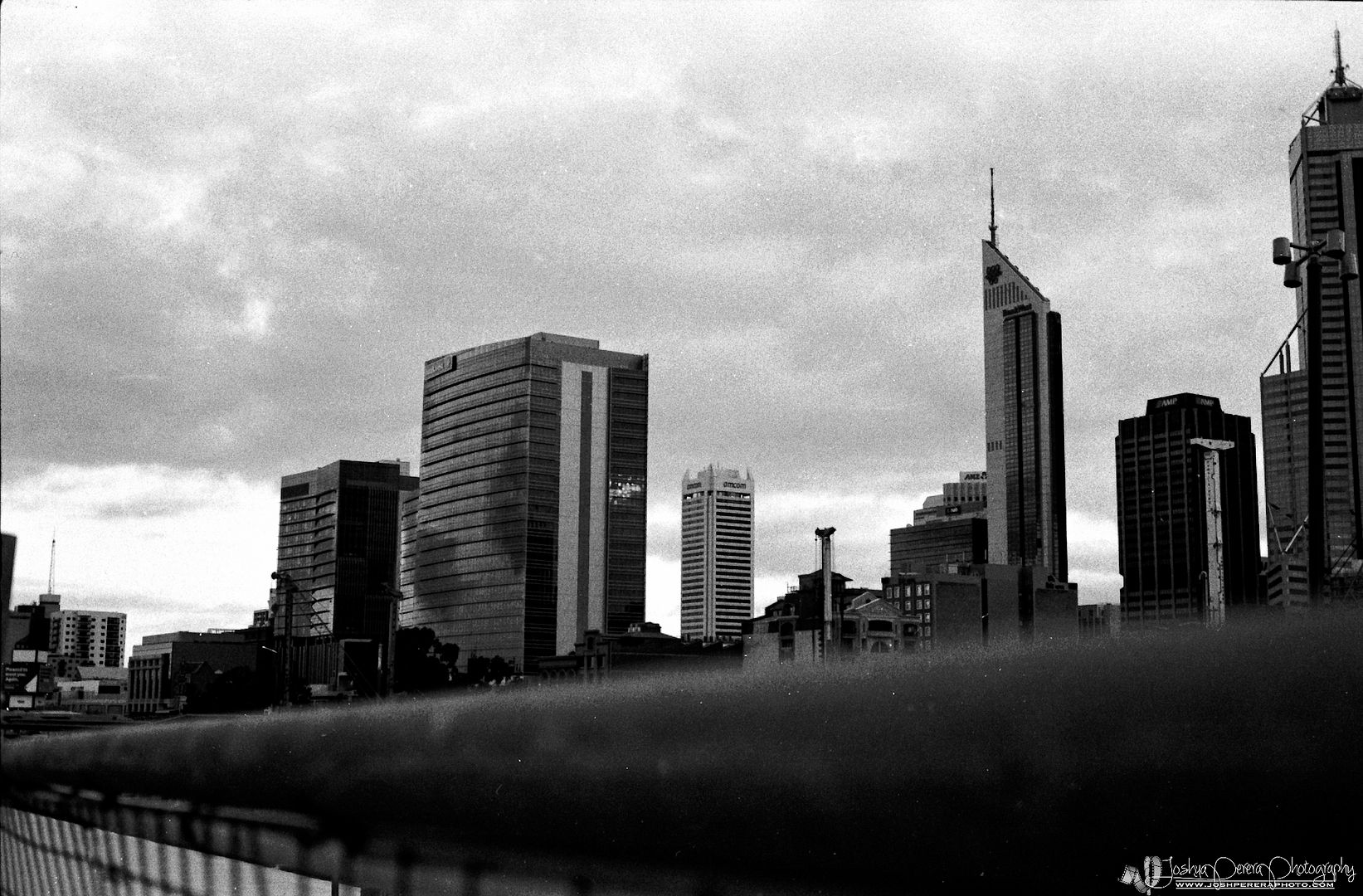 As we waited at the lights to cross at the intersection near the horseshoe bridge I felt compelled to shoot across the intersection. Again I like the lines.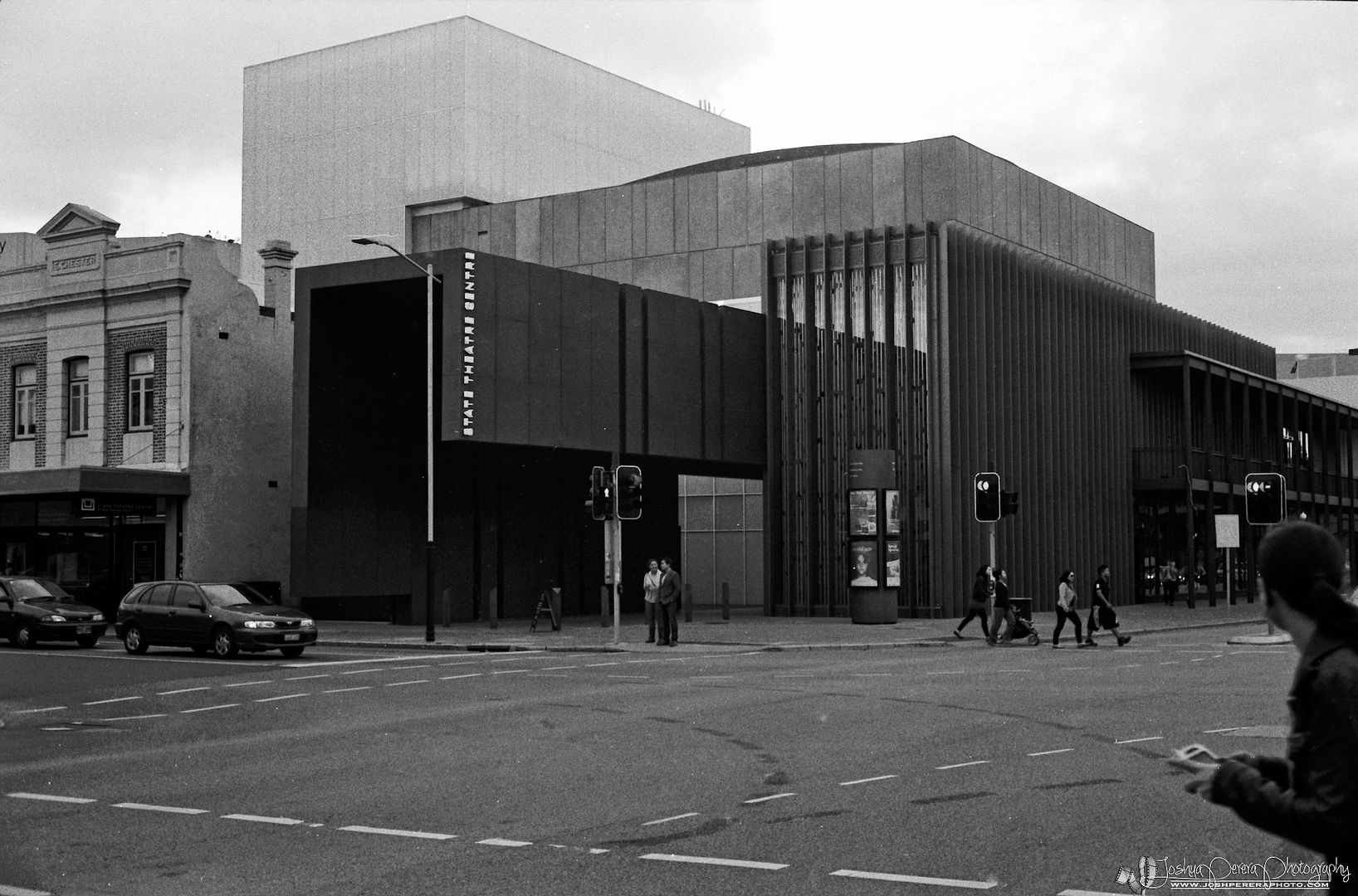 I have shot this alley before on colour film as I always find it interesting. I think I like it even more shot in b&w.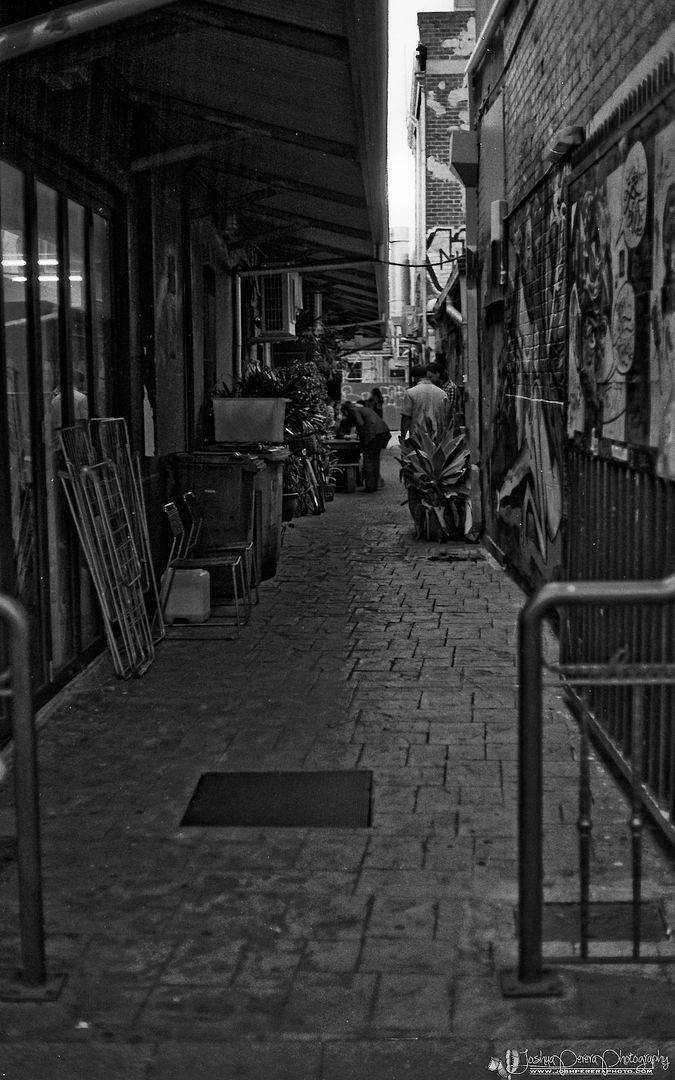 Getting back to where we started near the library and museum I wanted to grab a shot like I had seen Boris shoot along the way. While out shooting with him I had noted he was a phenomenal street shooter. Not only did he have a great eye and great compositional skills he also had a knack for getting up close and personal with subjects. When I saw this girl just sitting there distracted playing with her phone I just had to try getting up nice and close to snap this one. I don't think she was ever the wiser. hahaha
It was about this time that Boris had to make a move as he had to go pick up his girl. We said our farewells and I stuck around to finish shooting my roll. This kid just standing alone playing his recorder busking just stood out.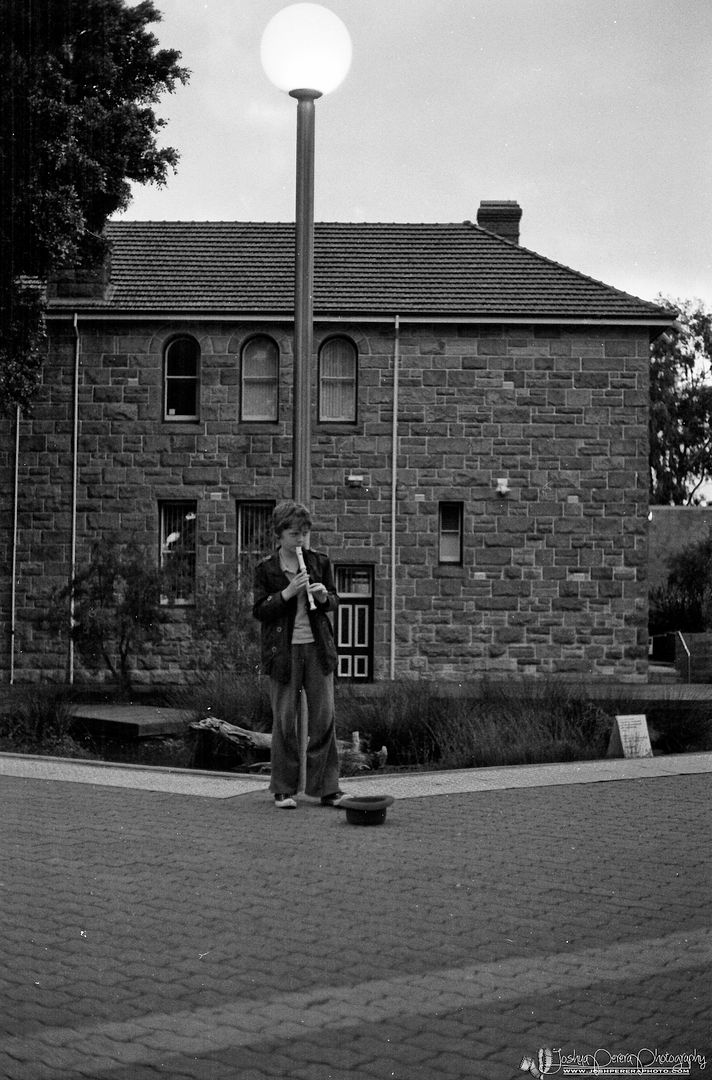 I walked up around the museum as we had not shot around there, this monument and it's message just stood out.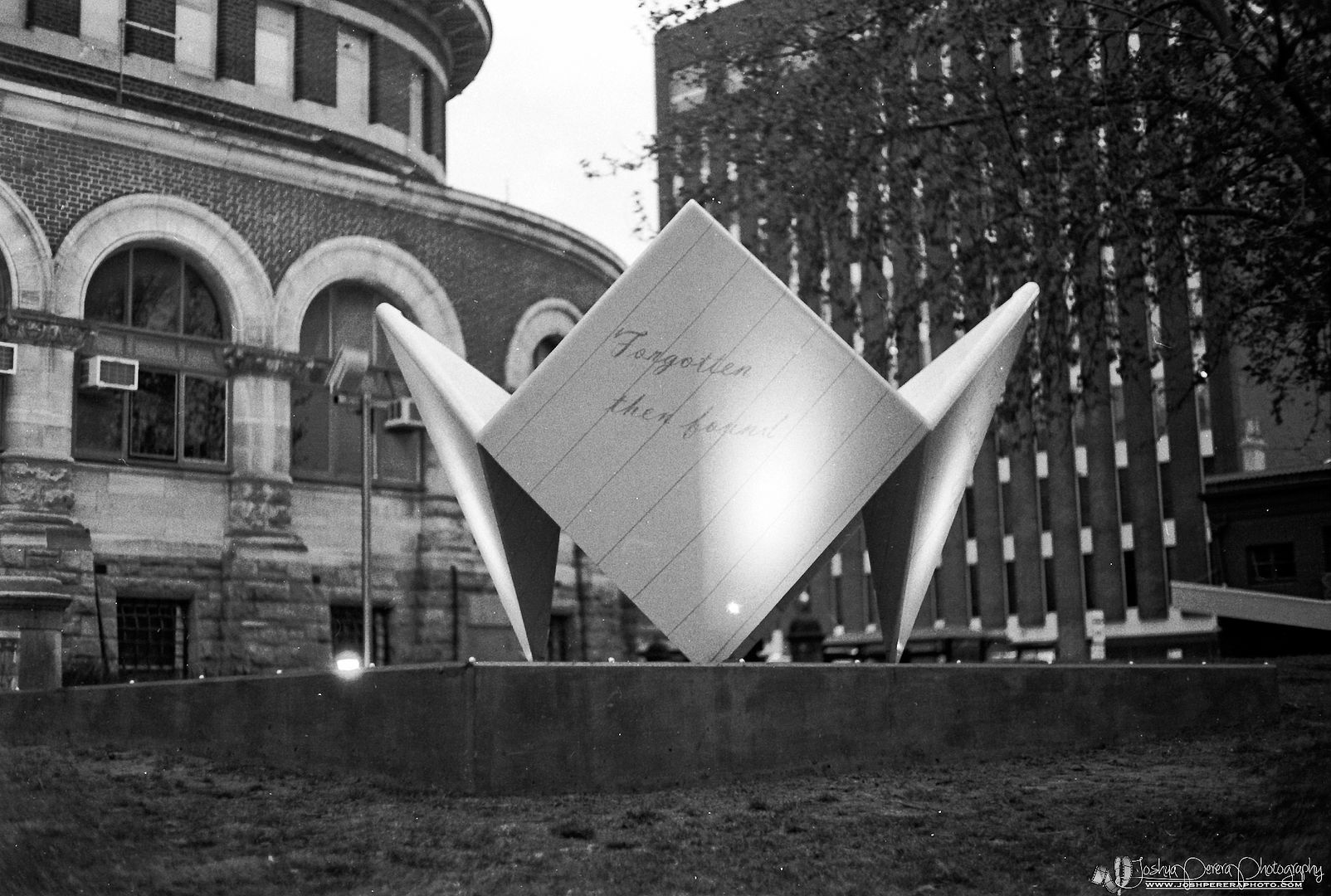 Near by there is this kids play area that was abandoned, I was a little bit mesmerized by these hypnotic spinning discs.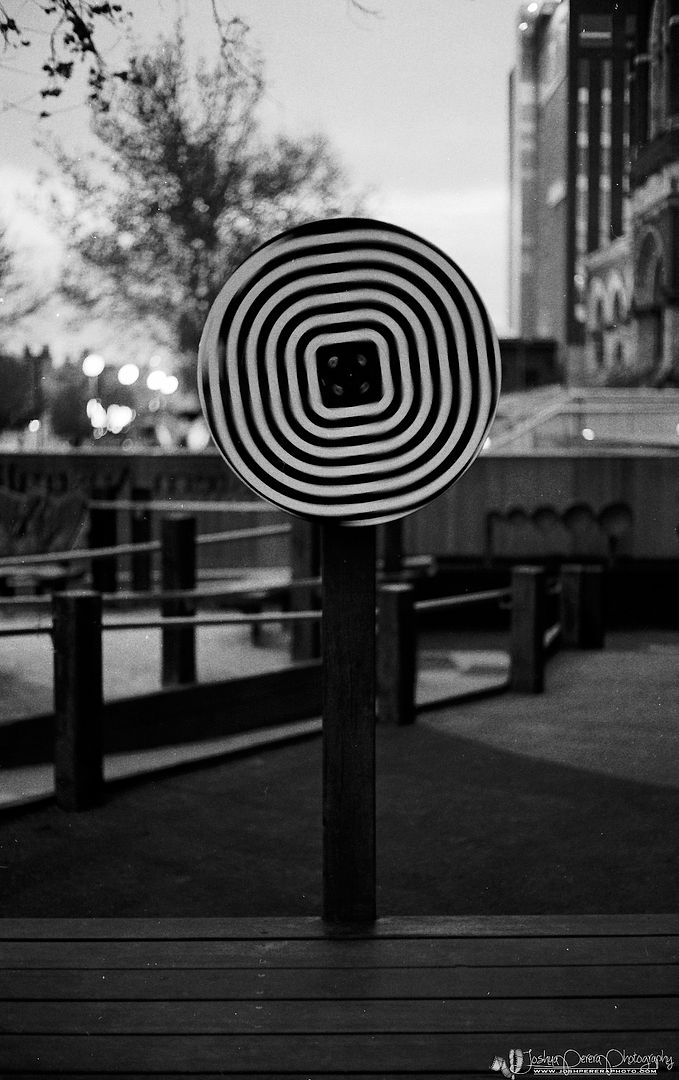 Heading back to the main area near the library I now noticed the light was fading fast and knew I needed to get a hurry on if I wanted to finish this roll.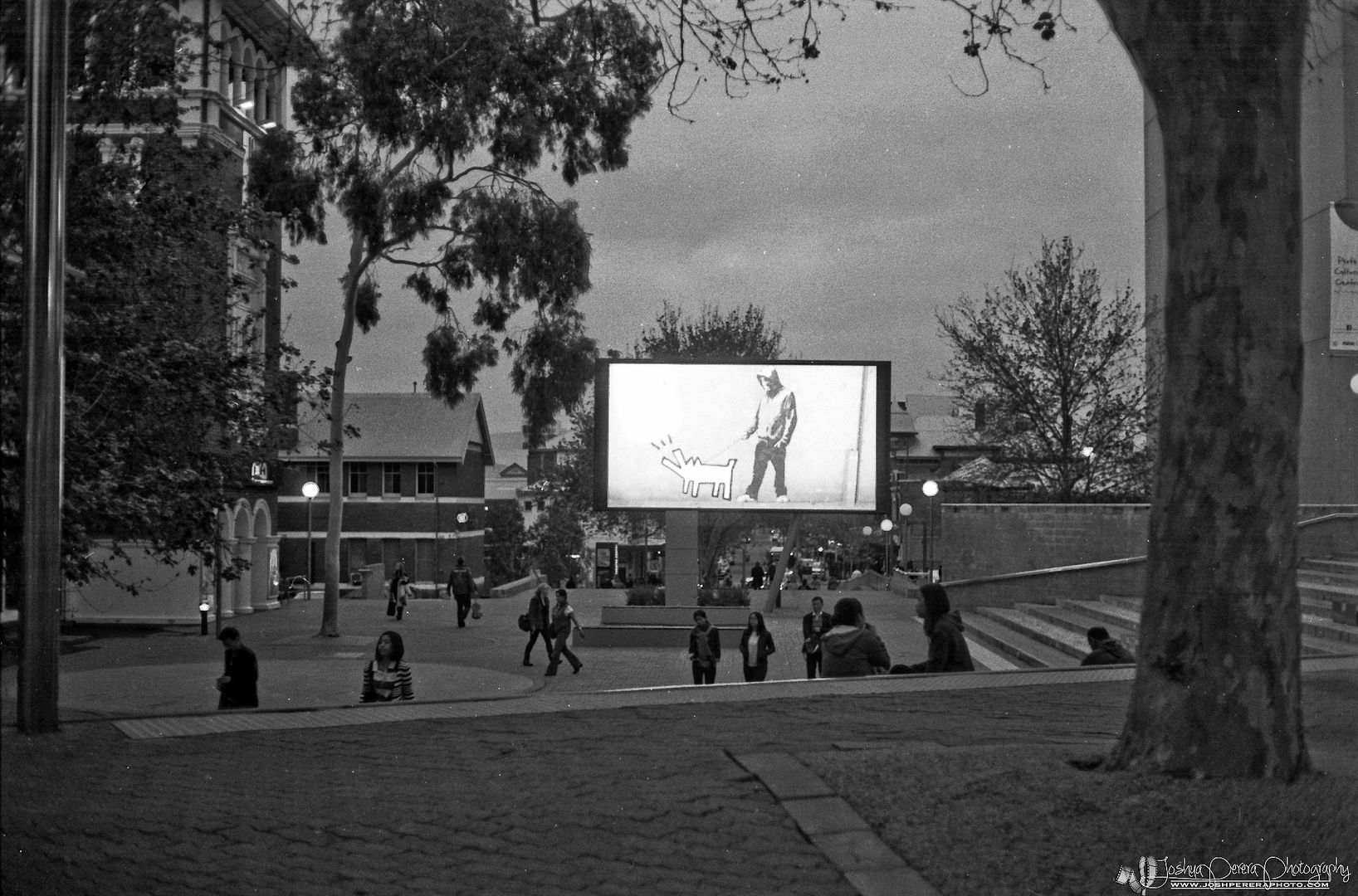 I have shot the Ben & Jerry van before while out on a photo walk for Expose WA earlier in the year, but I had never scene the Ben & Jerry ute there before. I always find nice shiny cars make great subjects.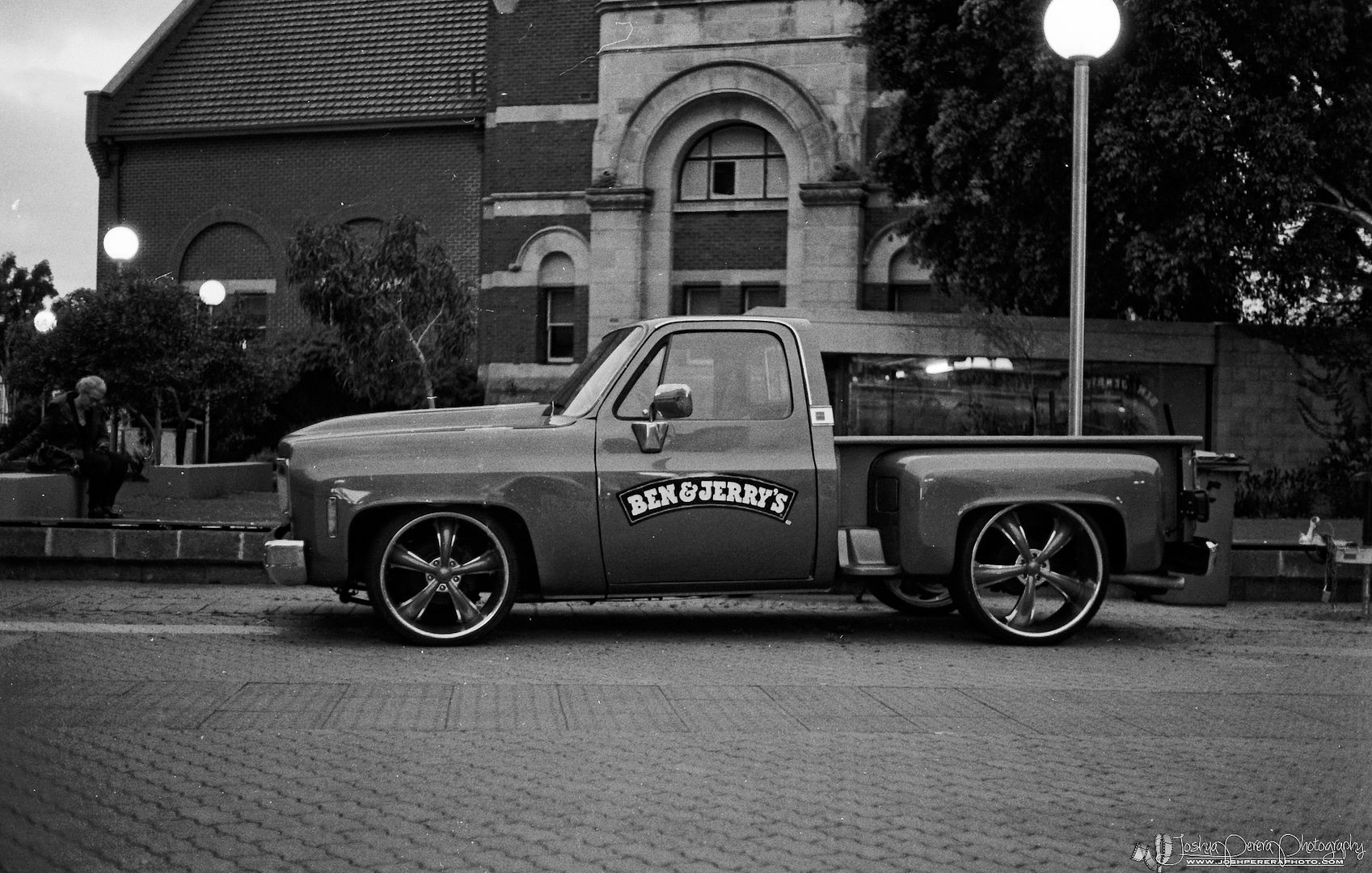 I love a lot of the sculpture work there is in town these days, it really comes to life as the sun fades and the lights come on to really illuminate it.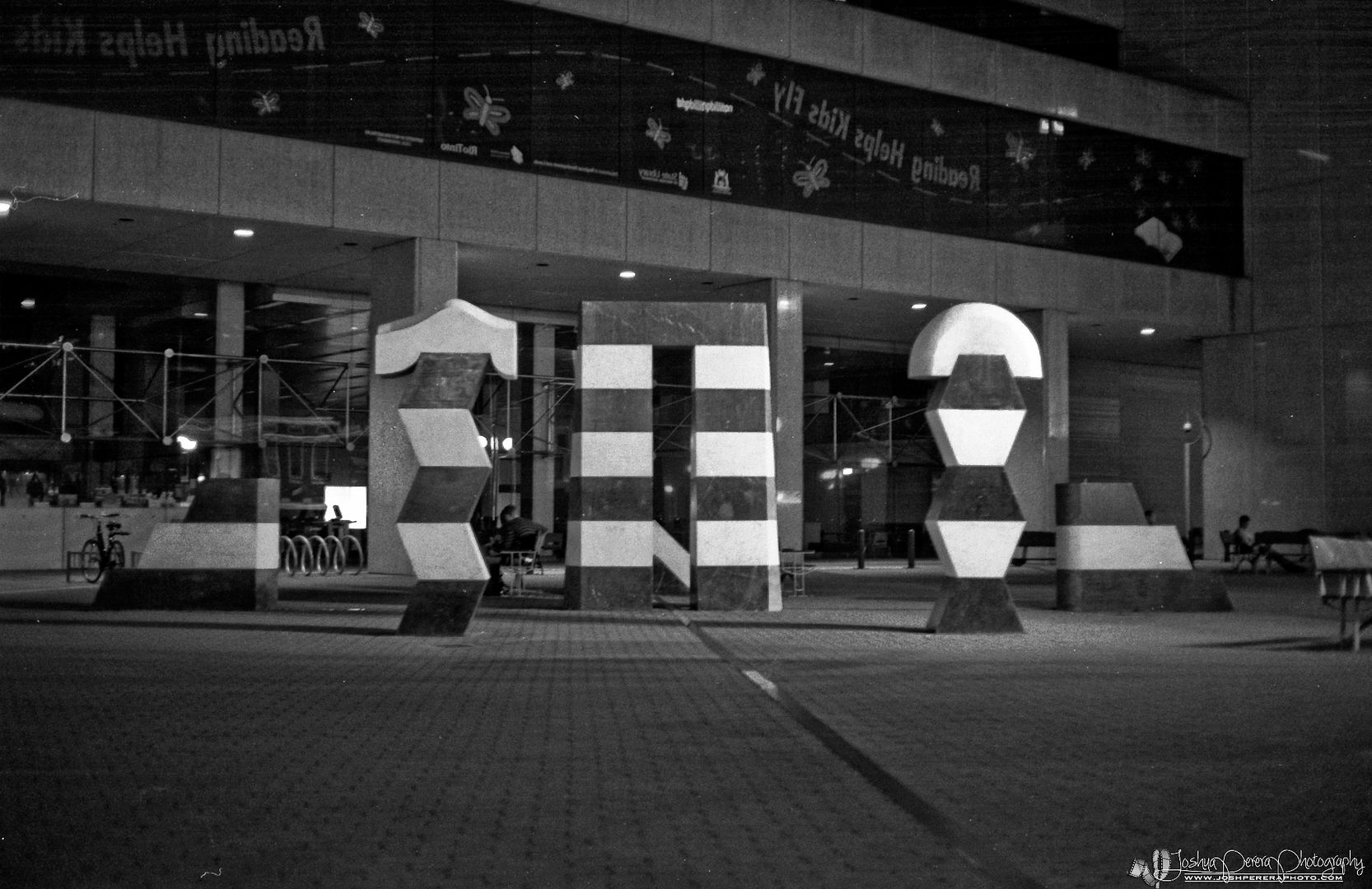 By now I was really starting to be surprised at just how much latitude I had with this 400 speed film. It was well and truly getting dark now, but I could still shoot at very useable speeds.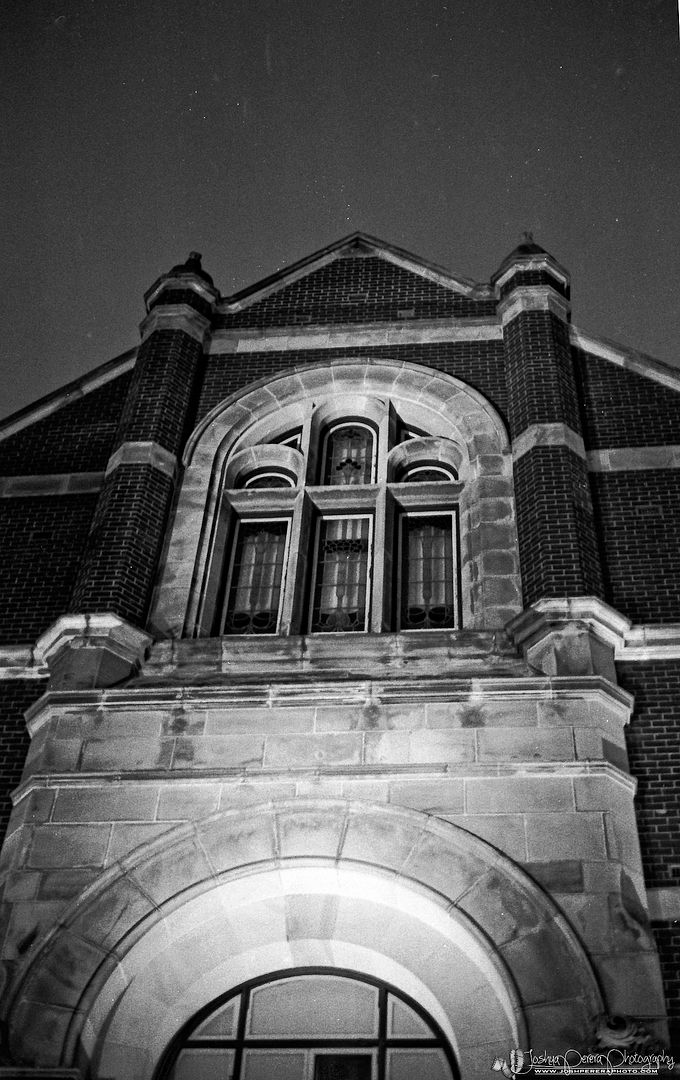 I really wanted to test whether I still had shutter speeds fast enough to capture movement when I took this shot. I am blown away by the result. Even the bit of haloing caused by the uv/haze filter just adds to the ambiance I feel.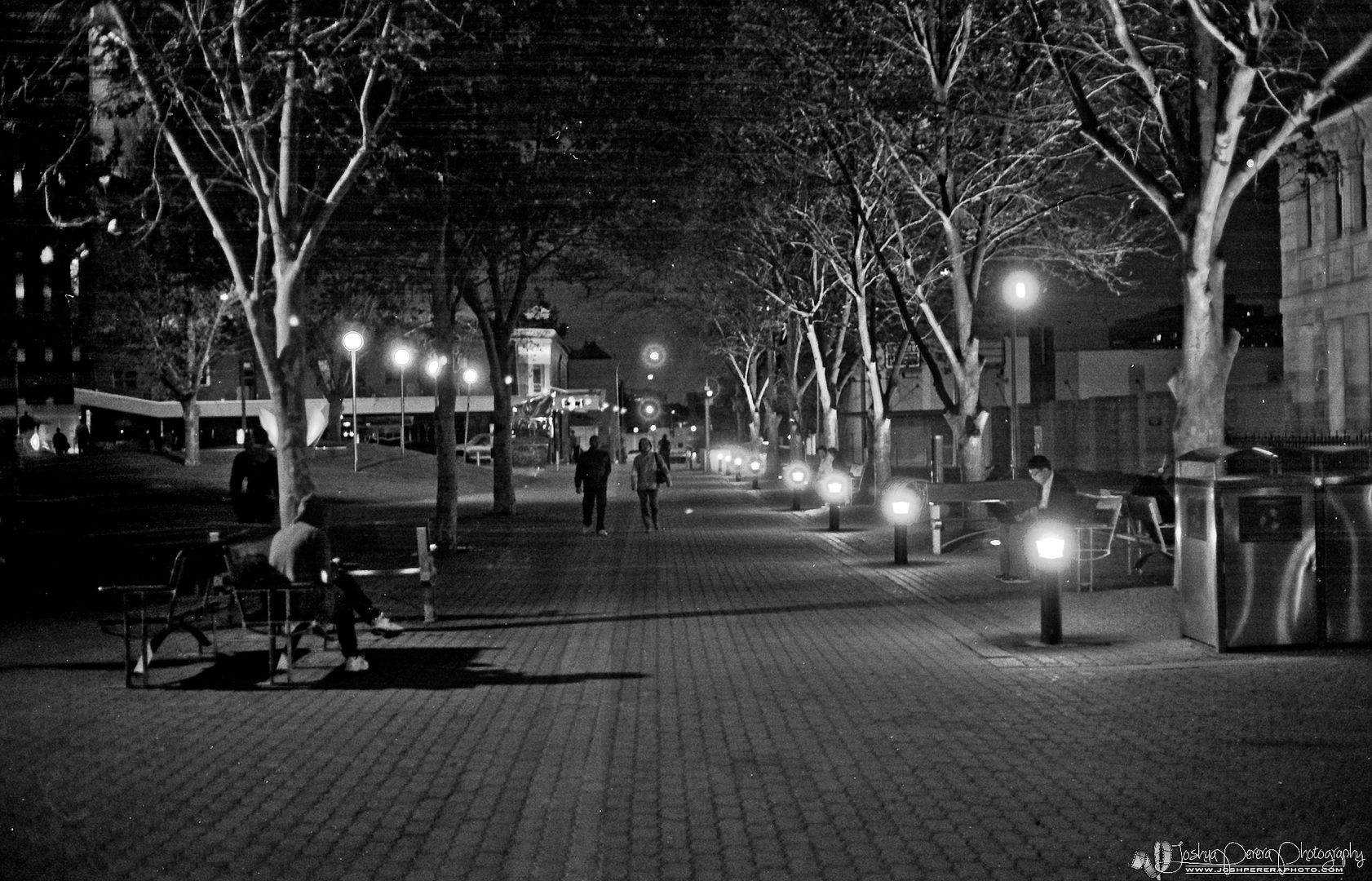 I knew I had just one more shot left and I really wanted this roll done by this time. As soon as I spotted this roof with these lines I knew I wanted to shoot it.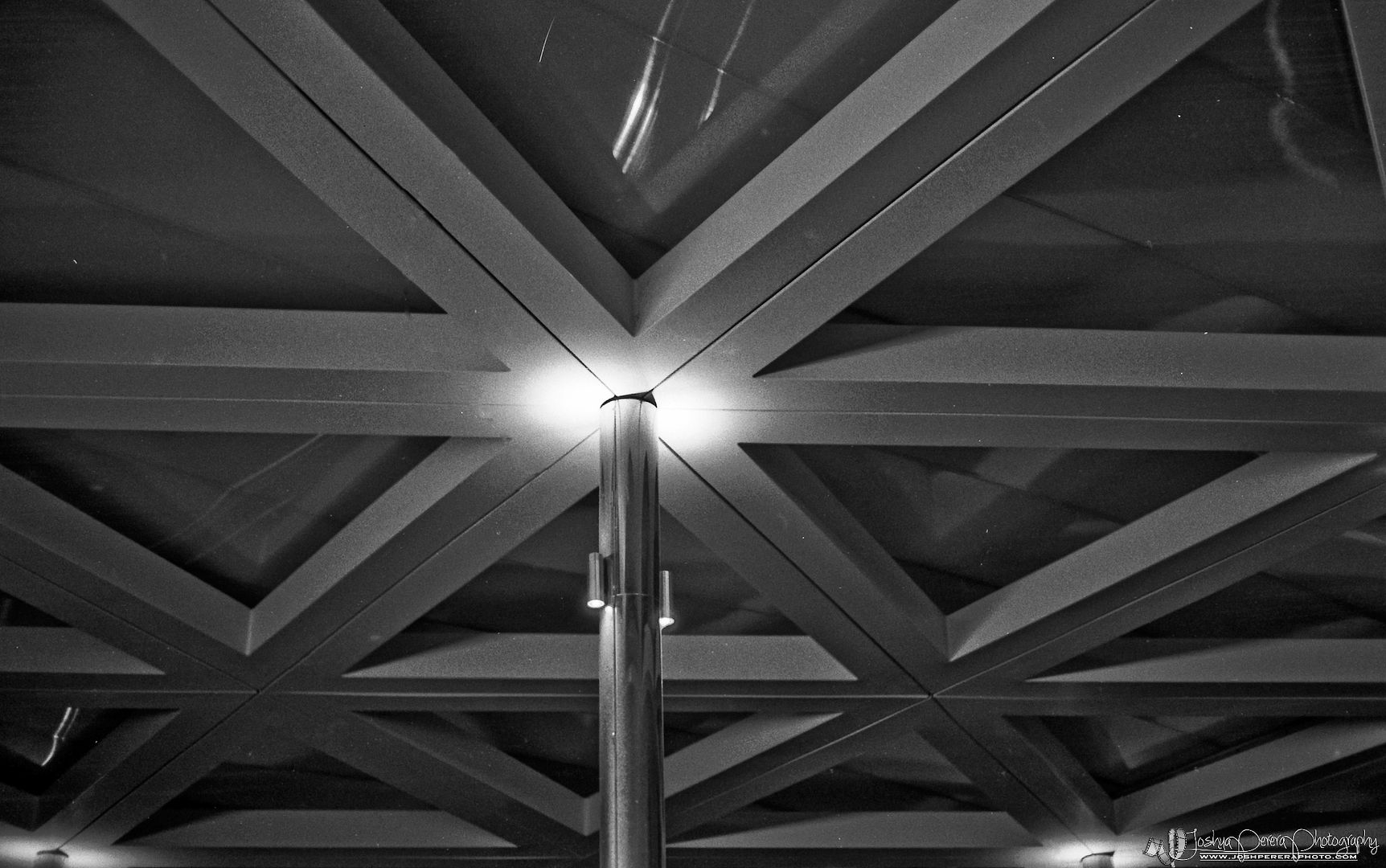 All in all I am very happy with my first two rolls that I have developed myself at home and I found this walk with Boris really enjoyable and I even learned a thing or two off him. I look forward to going for a shoot with him again. I also look forward to developing some more rolls. I just got my c41 dev kit, so if I am feeling brave I will have some colour film shots for you next time.
Till then thank you for taking the time to check out my shots and I wish you happy snapping on your endeavors.
If you still like to shoot film and that you might enjoy joining us next time, please do check out our little film group on facebook here: https://www.facebook.com/groups/152975388180408/