As you would know from my last post, just the other week Lisa and I went down to stay in Margaret river for a night for our good friends Jess and Simon's wedding.
It was good to get away, if even for just one night, and I was determined to make the most of it. I packed my new Sony camera backpack up with a decent selection of lenses along with my original Nex5 and my newer Nex5n, my trusty tools of choice 90% of the time. I the end I only really shot my Minolta 21mm 2.8 rectilinear wide angle on my Nex5 and my very recently arrived Zeiss Pancolar 50mm f1.8 which I recently shared test shots from here.
In this post I am just going to share my shots from my Nex5 with Minolta 21mm f2.8 from the trip. As I have stated in a few recent posts I have been testing the Zongyi/Mitakon Lens Turbo focal reducers, which effectively remove the crop factor from apsc allowing you to use your full frame lenses with the point of view more or less you would get from a full frame camera. The lens turbo also gives you an extra stop of speed, which can be handy for low light situations and really creating good subject separation. The adapters being an optical device is not without drawbacks, it accentuates soft edges if your lens does in fact have soft edges (I have tested whether it is lens dependent and it in fact is, more on this in a later post). It also is more prone to lens flare and thus light refractions resulting in a blue dot in your shots under certain lighting conditions, I affectionately refer to this phenomenon as the 'blue dot of doom'. But more on this later when I get around to doing a proper review.
About 45minutes into our long drive down to Margaret river we reach the first rest stop after the point were the Kwinana freeway ends. We have stopped here before earlier in the year on our way down to Busselton with the band to play a show, only then I was limited to my Voigtlander 35mm 1.4 on regular adapter M mount adapter, perfectly fine, but not nice and wide for that expansive landscape feel. I was keen to play with re-shooting it with my Minolta 21mm 2.8 on lens turbo, to try to attain that really expansive feel. I had been keen to put this combination to use for landscapes. I do like the really wide feel this shot now achieves, although the softer edges do disappoint me a little. I would like to give this another crack in the future when I get an actual full frame Nex.
(as usual click on images to see larger and sharper)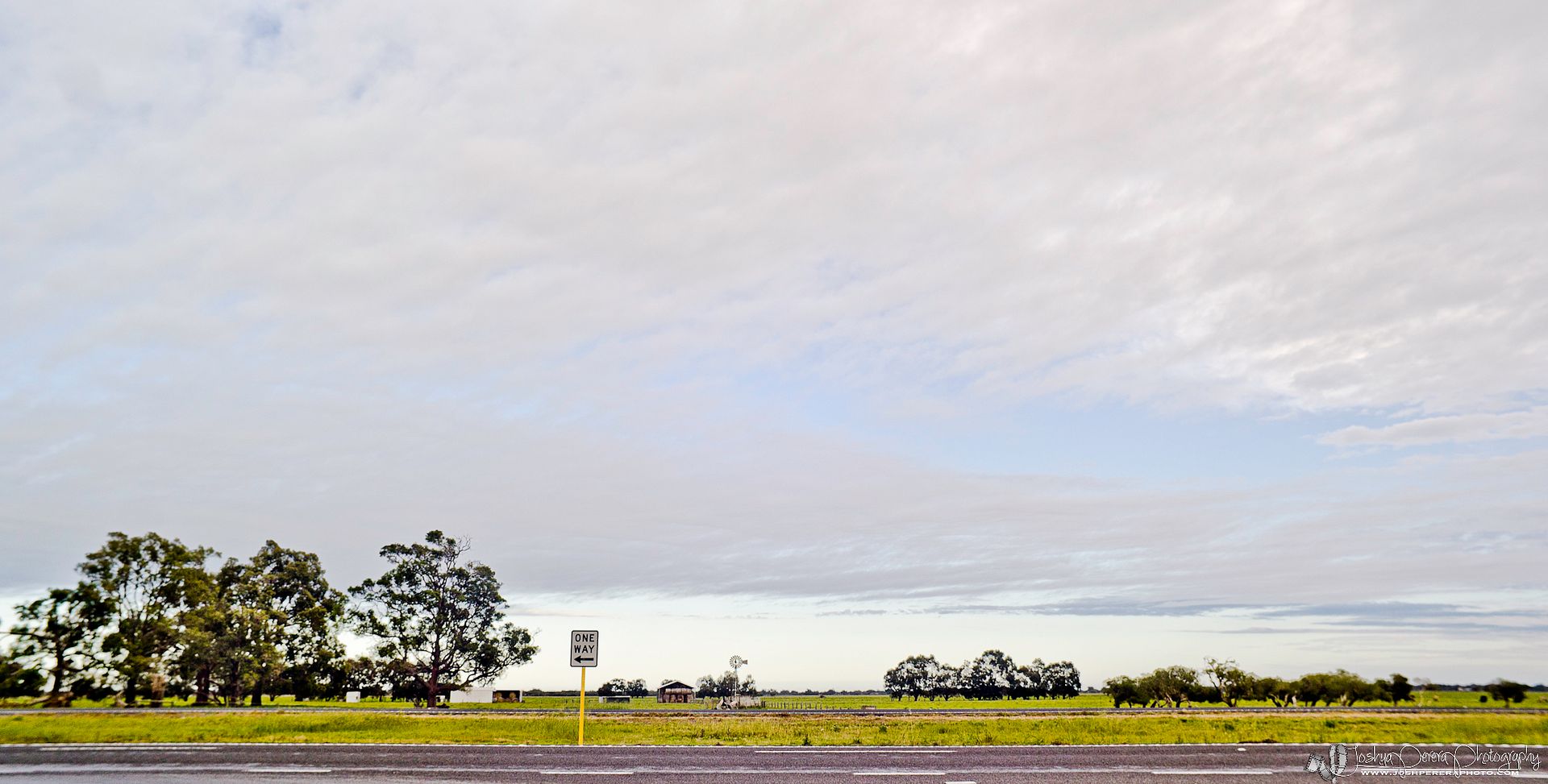 At this same rest spot is a giant set of sculptures Lisa and I have affectionately named the 'ice cream cones' which I too had wanted to re-shoot with a wider lens. Unfortunately I gathered some lens flare here and thus a little colour shift due to the 'blue dot of doom', so I converted this to a b&w landscape, I think it actually works quite well.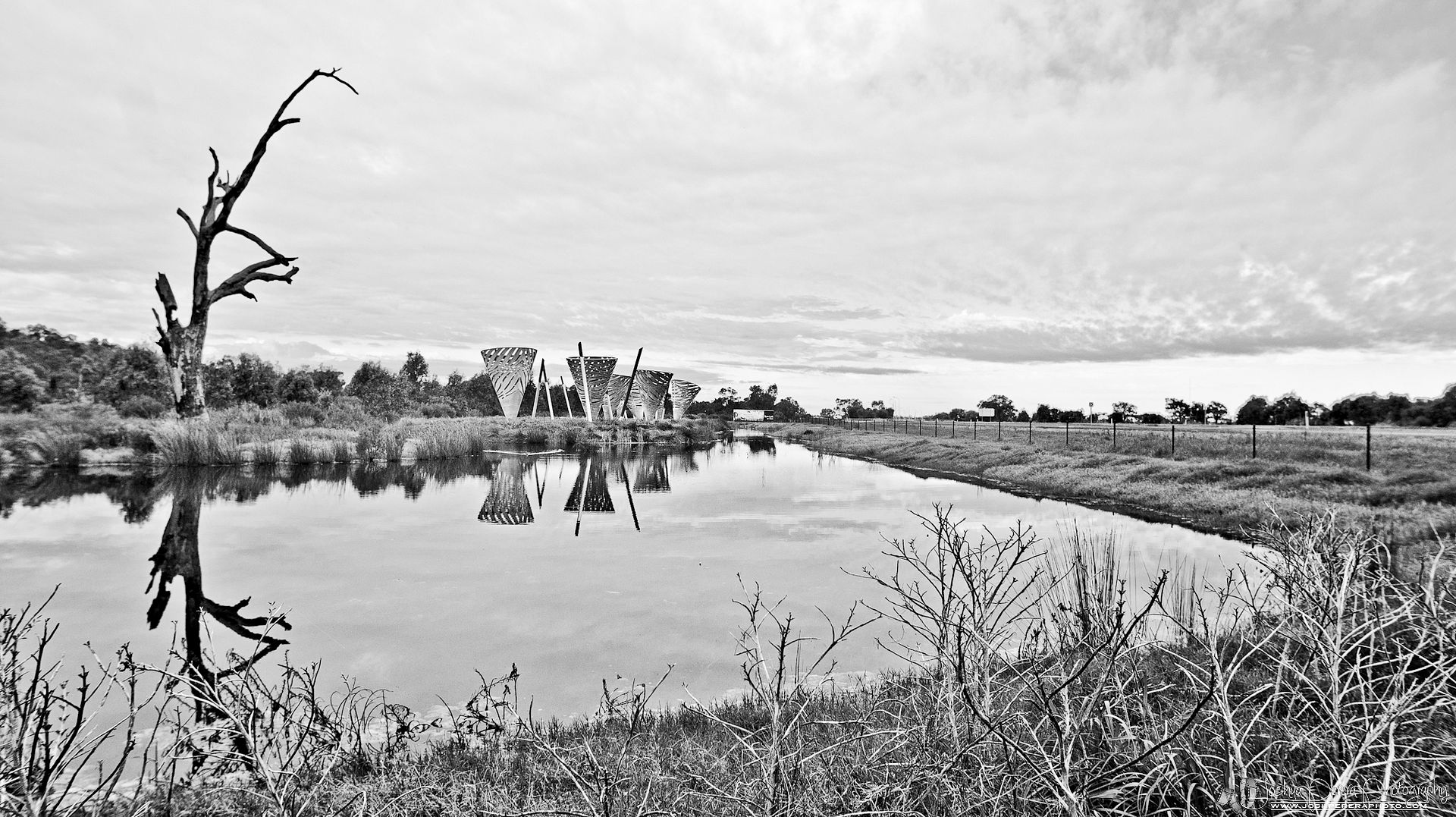 Continuing a bit further along on our long road trip, we started to notice all these dead gnarled trees in the paddocks, I thought they were really cool looking and I was inspired to shoot them. I had a vision in my mind that I wanted to shoot one standing lone in a field with my wide angle so when I spotted this one, I knew this was the right one. haha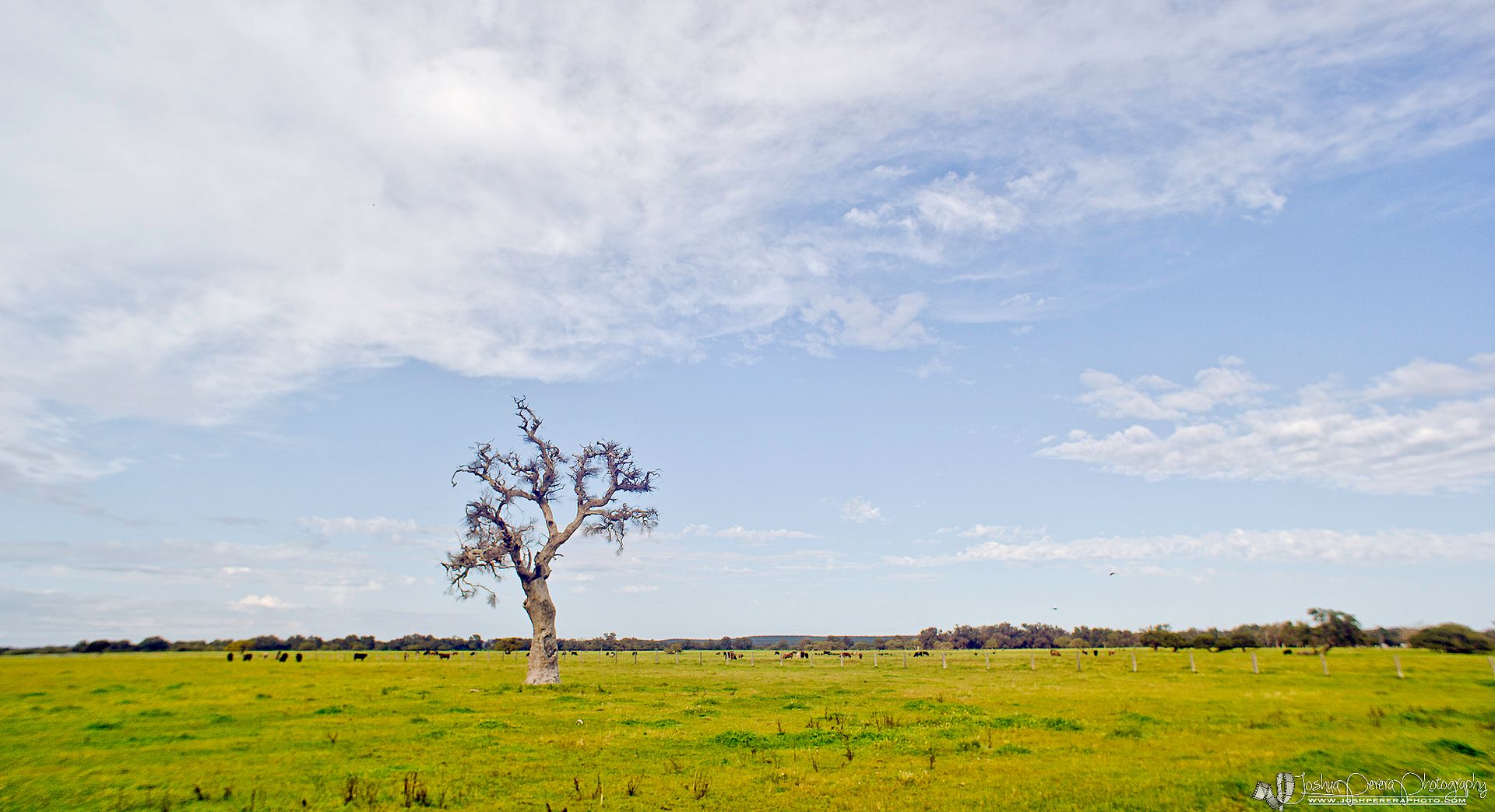 This one is a variation on the same shot which I really like too. I feel the power lines running off into the distance add some more depth to the perspective.
Having been on the road since six in the morning and it now approaching lunchtime, Lisa and I decided to make a stop off in Busselton, stretch our legs and have a bit of a shoot around the Busselton Jetty. If you have ever visited the Busselton Jetty you will know it is one hell of a walk. haha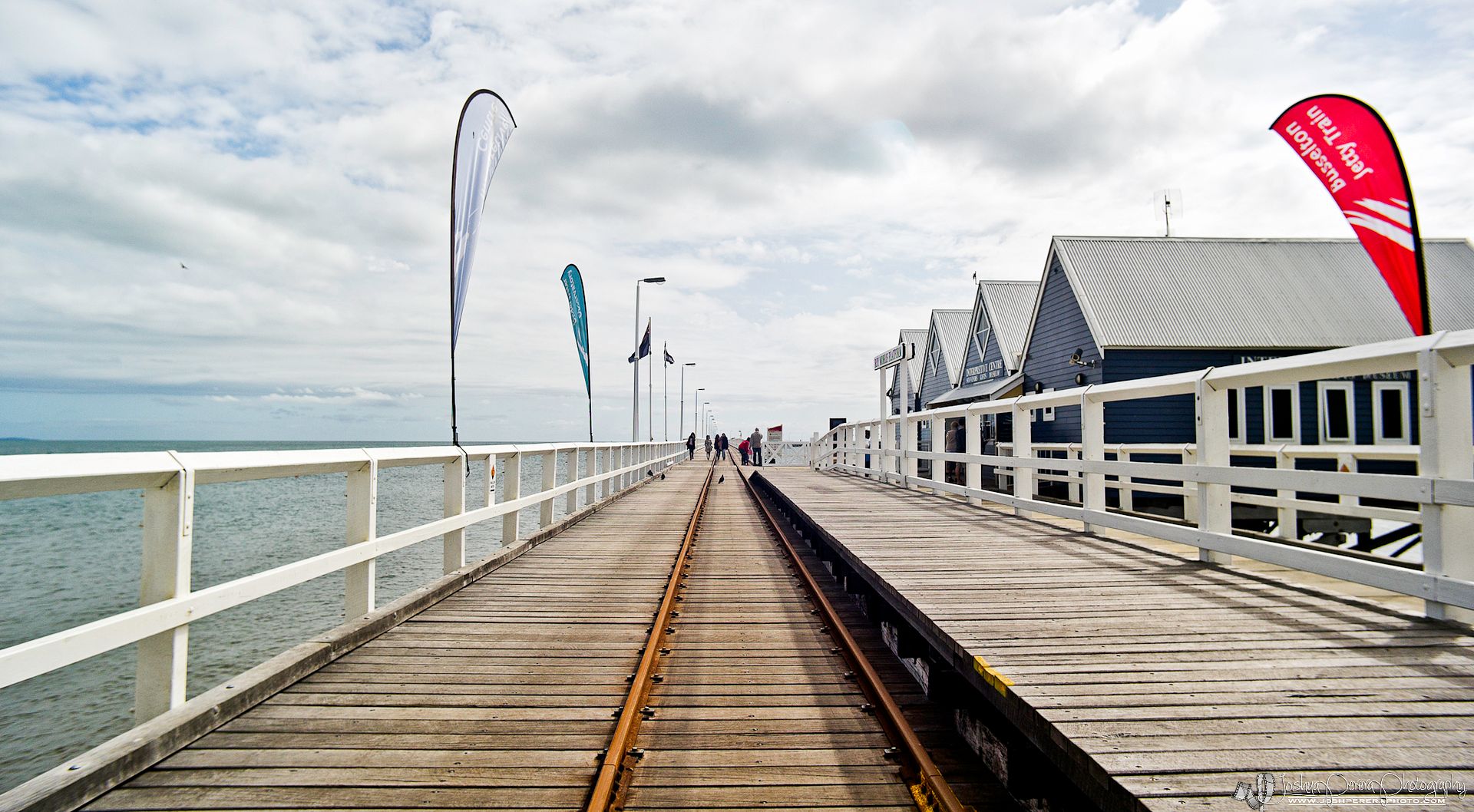 Next to the massive Busselton Jetty I was familiar with, is this small square formed jetty. After having a quick read of nearby plaques I found out that this was in fact the original Busselton Jetty before being replaced by the monster next to it. The colours were a bit subdued in this shot as the weather was starting to come out, so I converted it to B&W and think I prefer it this way.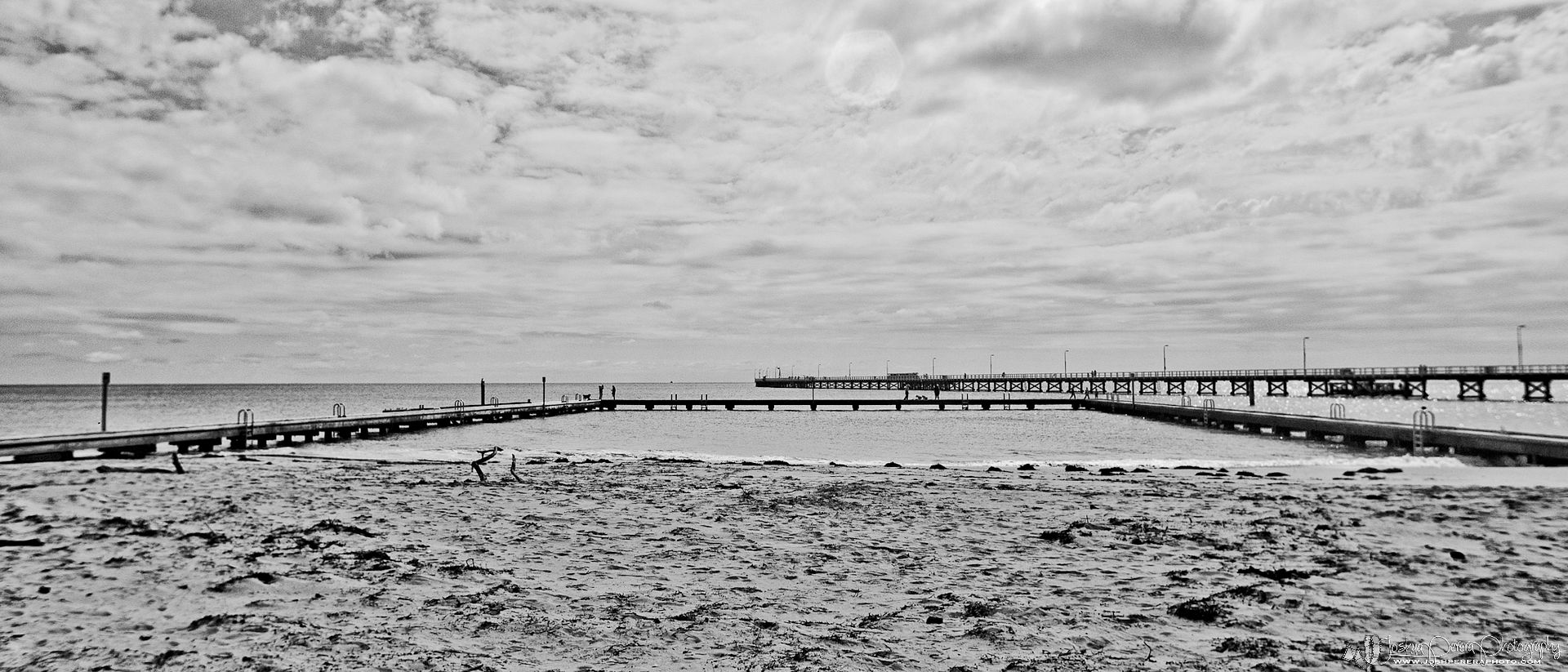 I thought I would try and get down low to display just how huge this jetty is, I think I failed in this shot to show the scope, but I do like the subdued colours as the weather started to become less favorable.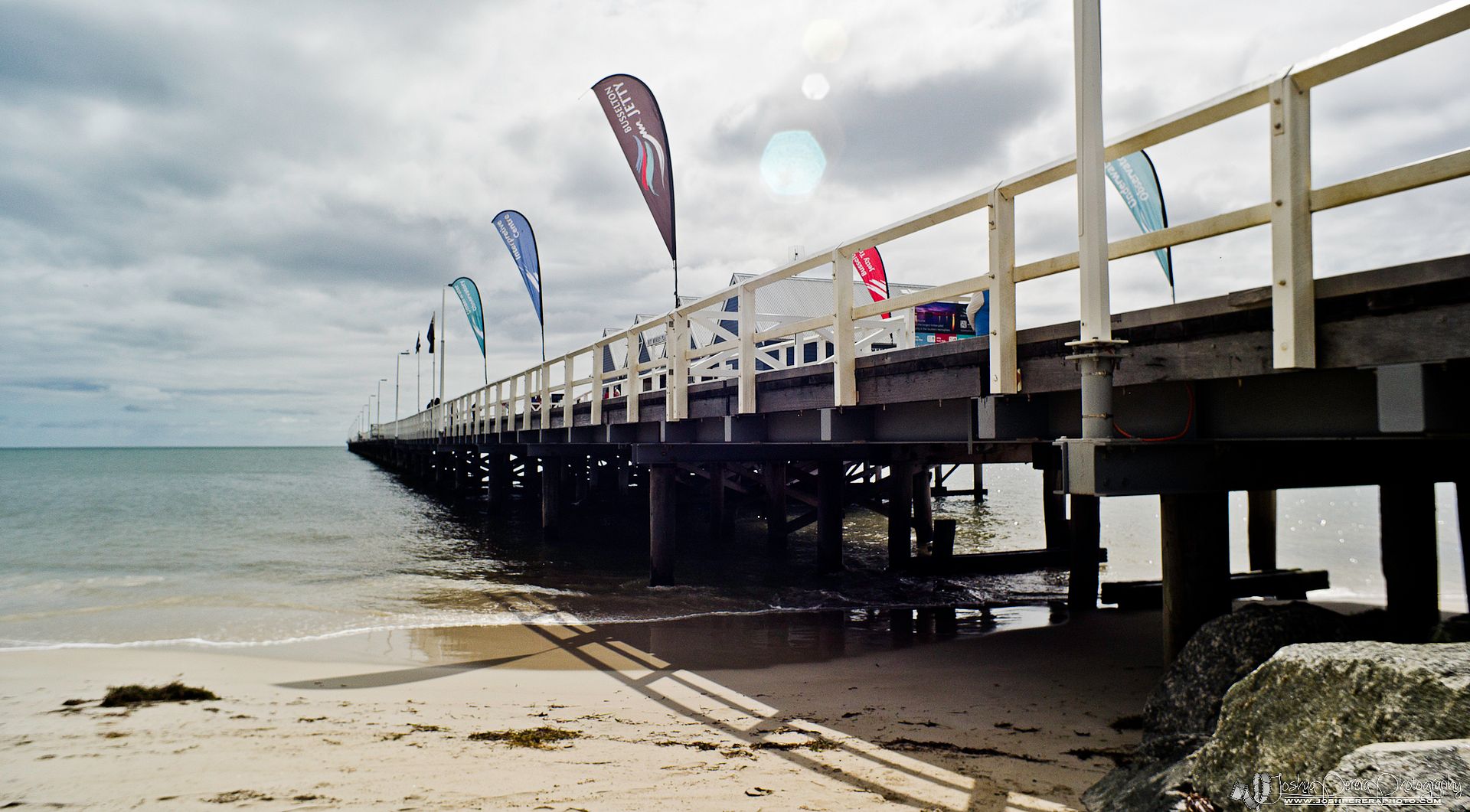 Near the older square shaped jetty there is this bust (of who I forget now, haha) and I thought 'well if nothing else that will add a bit of culture to my blog post…history is culture, right?'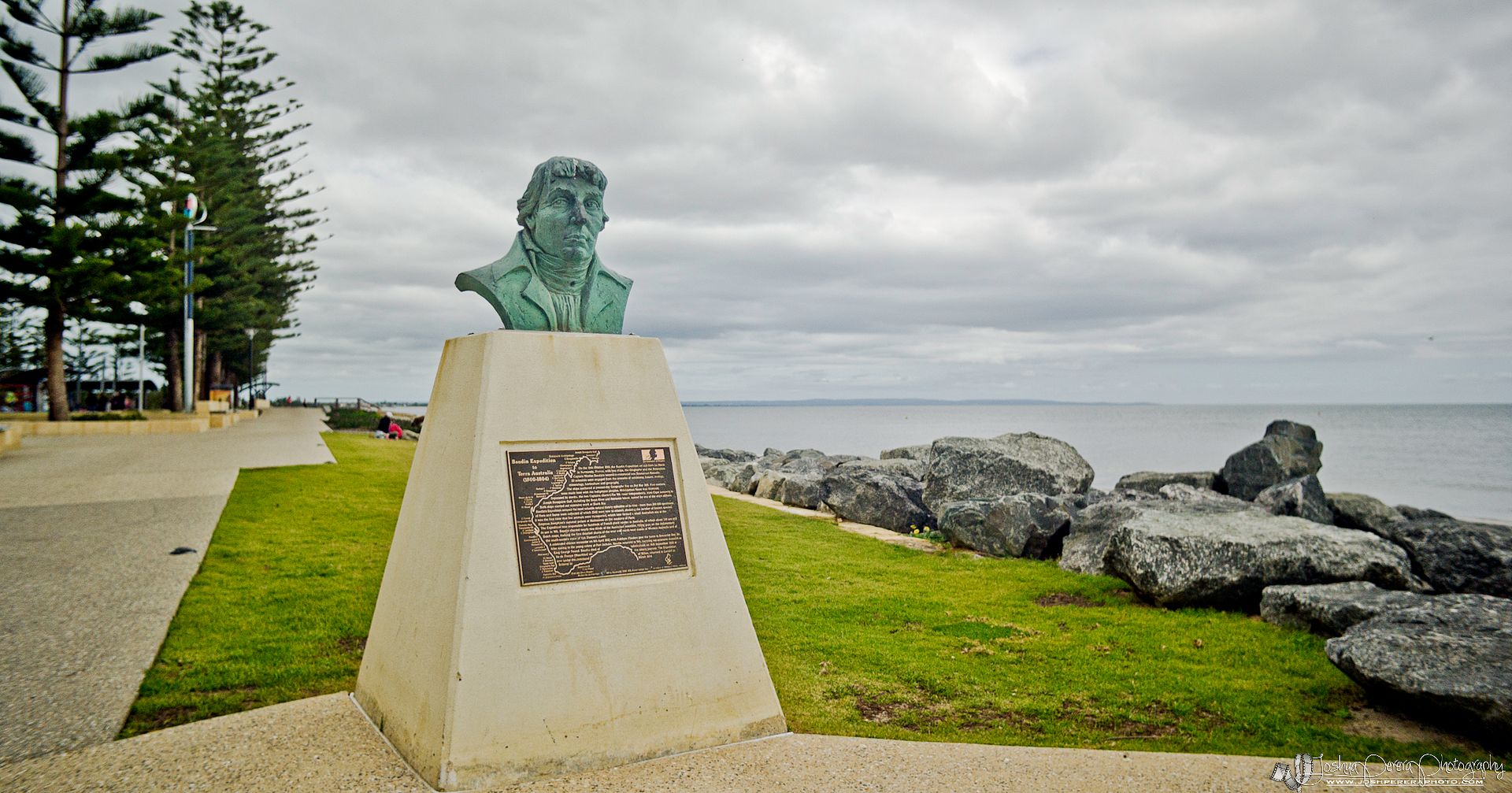 I really wanted to try and capture the scope of this huge jetty so I decided to walk to the other side of it in the hopes of capture a better angle. I think I still failed to really capture it's size. The edges are a bit soft so it loses something. I really want to return here to shoot these when I get my Nex fullframe, as I hope then I would not have nearly as soft corners as I do here due to having to use the lens turbo focal reducer to gain this wide field of view in the first place.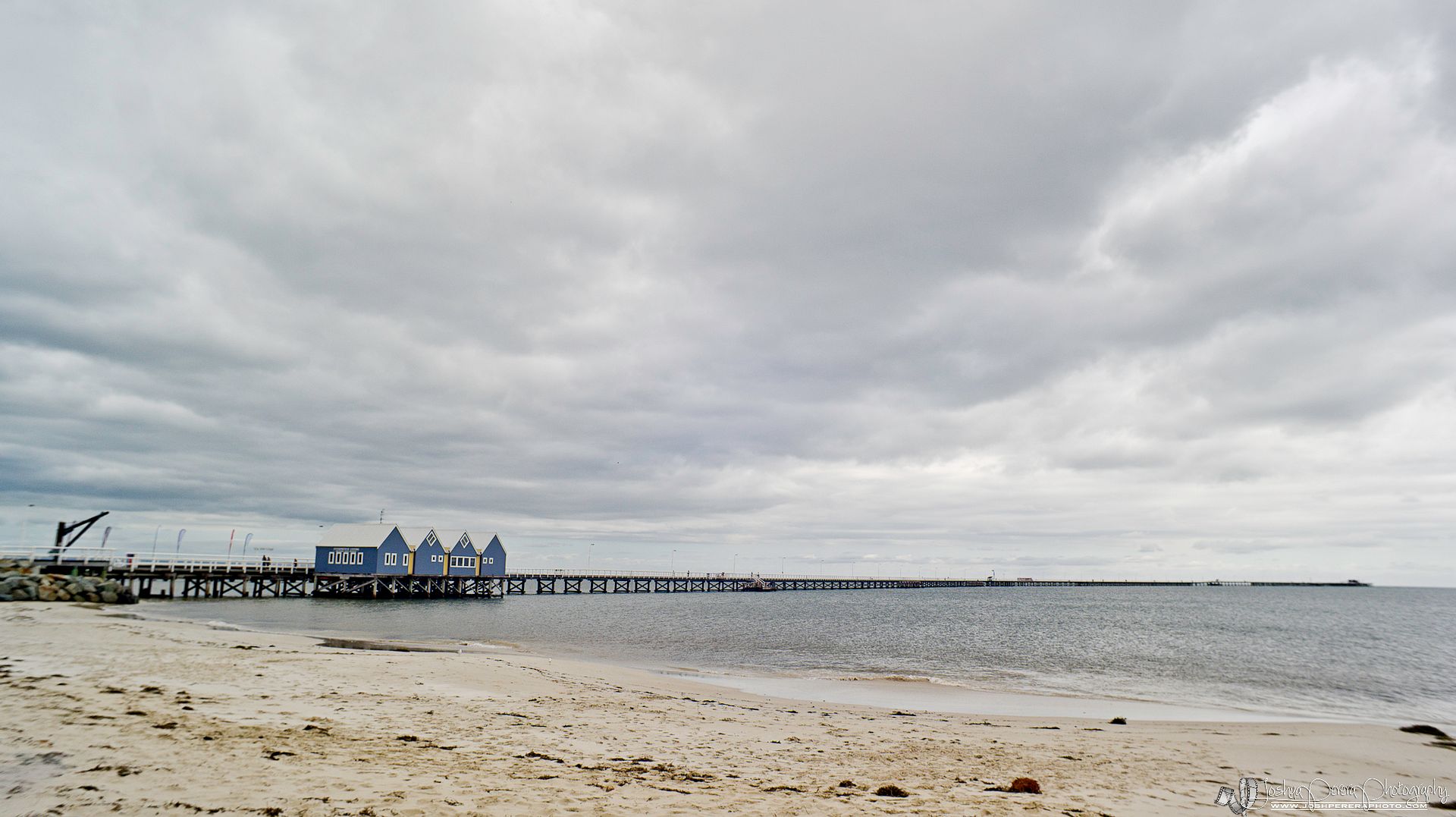 Finally after traveling for a few more hours we finally arrived at our destination in Margaret River. I was keen to stretch my legs, so once all our luggage was taken up to the room I came down to have a quick shoot around where we were staying.
There were things wrong with our room, but I did not have any complaints about our surroundings, very well presented.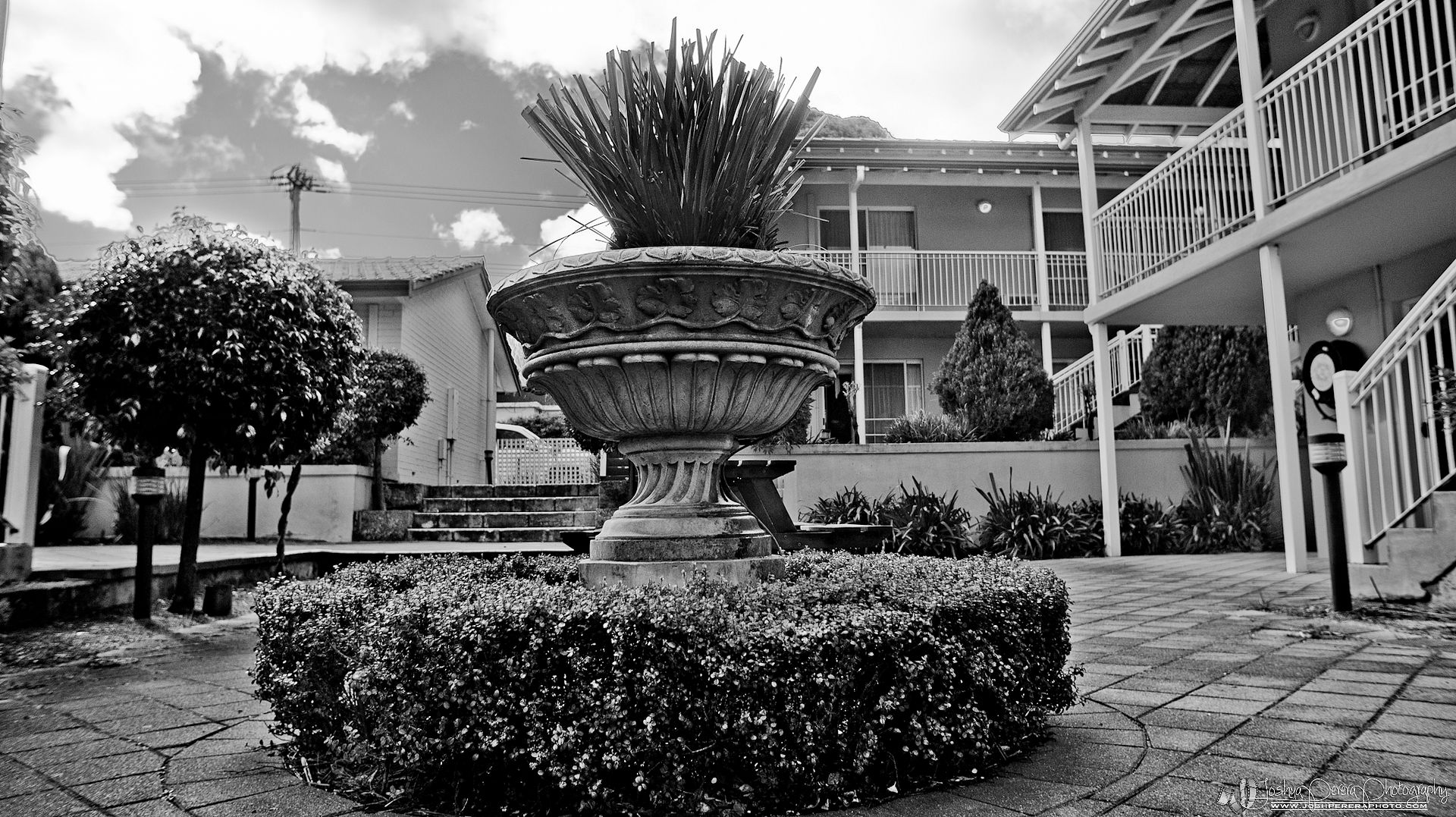 We had intended to go out this night to shoot some startrails and do some astro photography. We even drove out to a spot in the middle of no where, where we had an amazing view of the stars. We setup next to the road and just as I was getting ready to take some shots two cars drove past, one keeps going but the other stops fifty meters down the road from us. I did not think anything of it at first and continued to setup my shot. The car sat there with it's lights on for about 5 minutes when Lisa spoke up saying she was freaked out and getting into the car. I thought she was being silly, but then the car turned off it's lights and started reversing towards us. That was the point where I thought better of this scenario, threw my camera on tripod onto the back seat of the car, jumped into the drivers seat, locked the doors and drove us quick smart back to the hotel room. Needless to say that was the end of our astro photography adventure for that night. haha
The next morning we woke up to a rush to get ready for Jess and Simon's wedding. Lisa needed the bathroom to get ready before me so I decided to go and have a quick shoot of the streets around the hotel room. I love these trees at this time of year when they have dropped all of their leaves but are in full bloom of the beautiful red flowers.
I just liked the depth in this shot. I get sucked into staring down into that alleyway.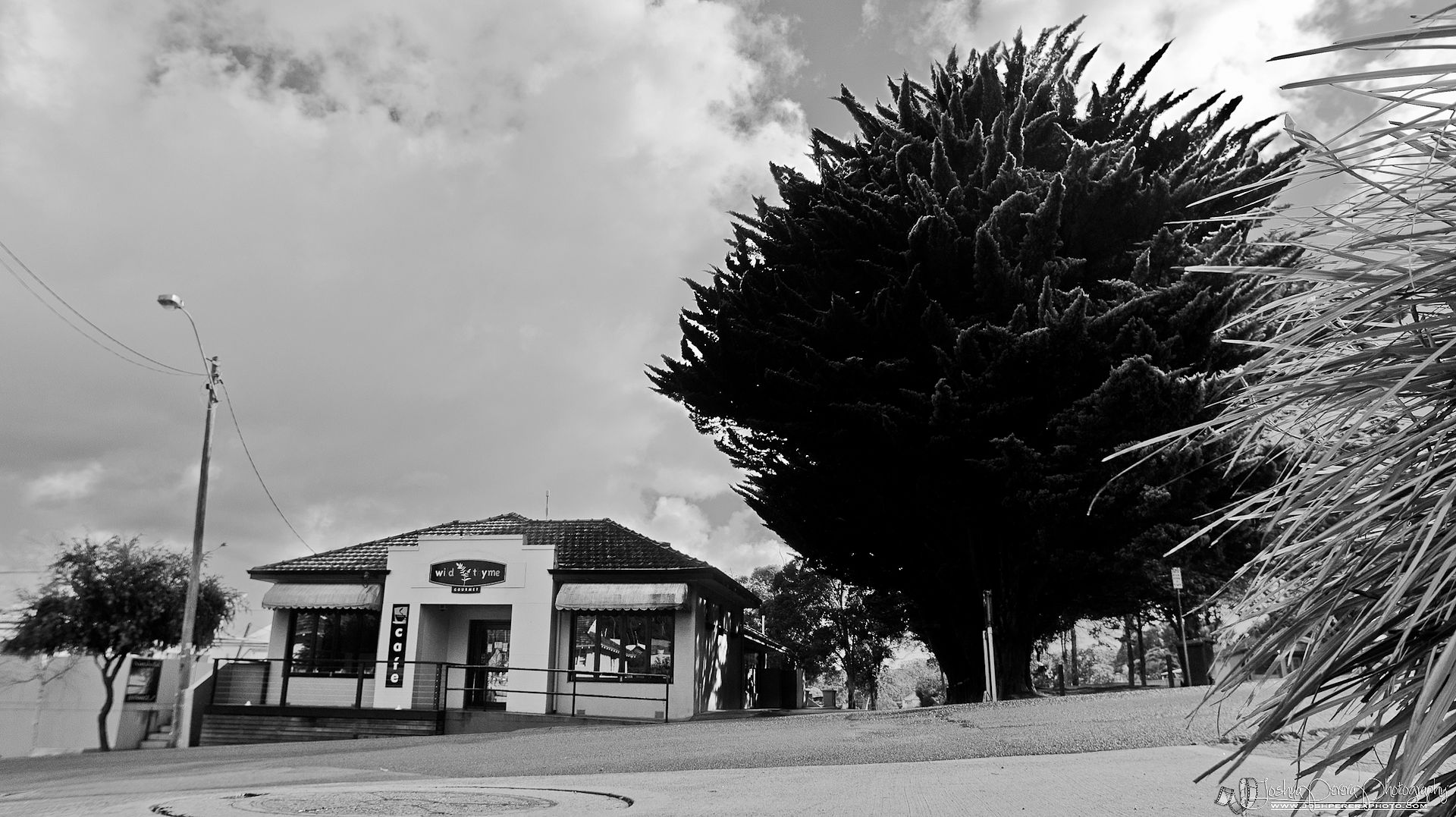 That was the end of my shooting with my Minolta 21mm f2.8 and Nex5 that was not wedding related except for this one sculpture that stood out at the Vasse Felix winery where the wedding was being held. Not only is it a cool sculpture, the lighting was just right and the backdrop looked amazing. I am very happy with this shot.
So that is where I leave you for this installment from our little overnight trip to Margaret River. Please do keep posted for part two which will have my shots with my Zeiss Pancolar 50mm f1.8 on my Nex5n. Till next time, Happy Snapping. 🙂