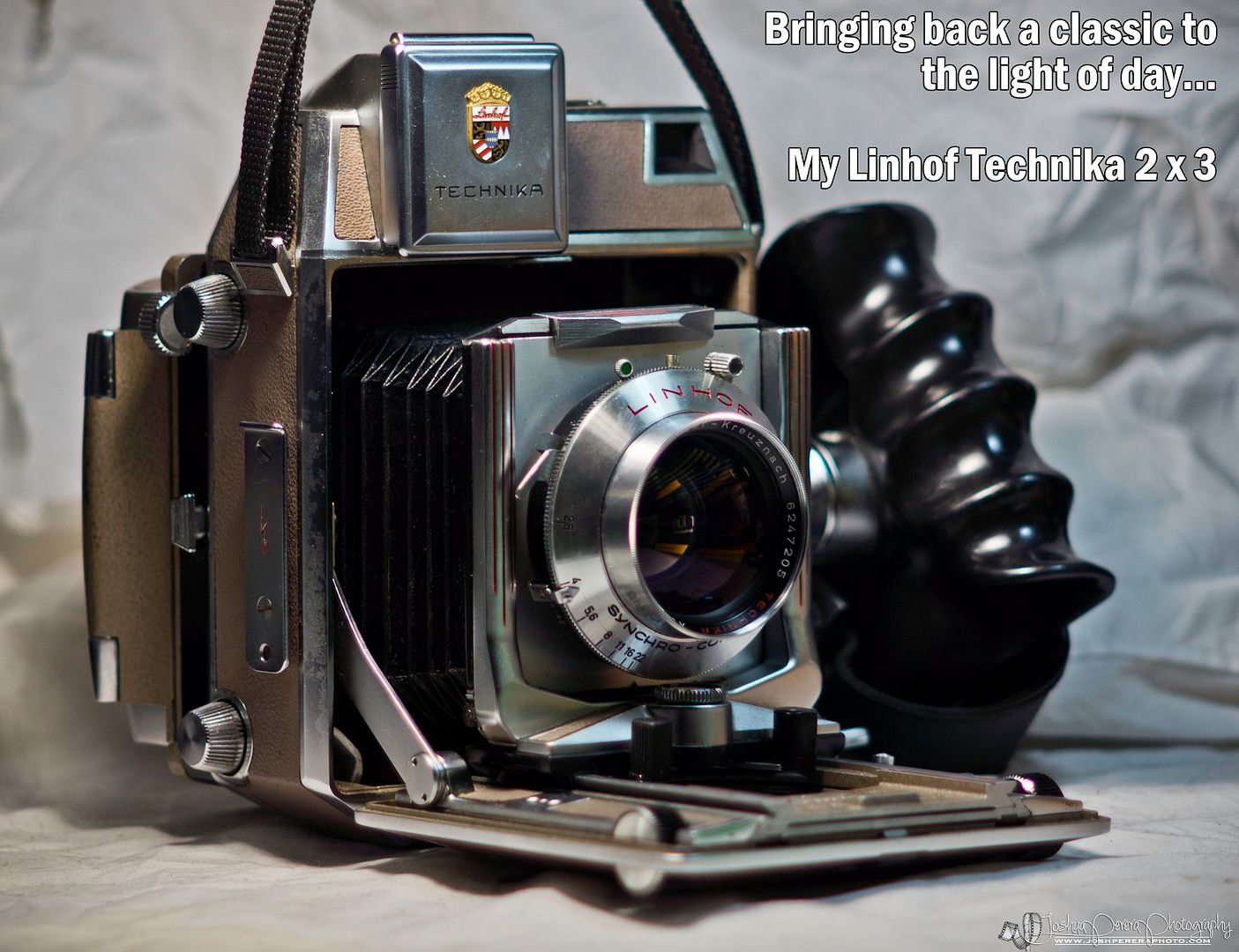 A few weeks ago I got the opportunity to meet a very nice lady whose husband had sadly passed away 15 years prior. Her husband had been an avid photographer who had taken some great shots I realised as I perused his prints on the walls of her home. Having been 15 years since his passing his wife had now decided she would like to see some if his photography gear find new homes where they would see the light of day and be used and loved again.
I was lucky enough to have been in the right place at the right time to gain first access to this trove of great film gear that had been locked away in cases for years. I took my time and had a good look through all the great gear and made offers on a few things that took my fancy. I wanted to make sure I gave her a fair price for classic gear, but all the while I had to bare in mind none of this gear had seen the light of day in 15 years let alone been tested and checked it was working.
One thing I took a long shot on was what I assumed to be an old large format camera of some kind. It was very dirty and I had no-idea how I would use it but I thought I would take a chance on it. It's almost like it called to me. Anyway after getting it home I cleaned it up and did a bit of research and figured out it was a Linhof Technika 2×3 large format camera. I was lucky enough to have purchased it with a 120 roll back, which mean I could shoot it with standard medium format film, which is perfect for me since I do not have a darkroom to load sheet film in. haha
With the help of my friend Graham we basically got it figured out, so we thought, we loaded a roll of Ilford delta 100 and I took it for a basic test shoot in Graham's back yard. Graham was also nice enough to dev the film after the test shoot so we could see the results… we were quickly disappointed as the shots all seemed blurry. Though one thing was apparent from these shots, the linhof was close focusing.
So after consulting with John Austin, he suggested that we had not engaged the infinty stops properly… what ever they were. Still confused but at least with an idea of where to go next, I consulted with another mate Boris when we ran into him at the recent Photo Markets. Boris inspected the camera and quickly pointed out the infinity stops to me and I felt a feeling of elation, I new we had almost unlocked the secrets of this beauty.
Finally this recent Friday, a film order that Graham and I had gone in together on had arrived, so I drove down to his place to collect my share and took the Linhof to give it one more test. Once I got to his place we first set it up as we now believed it worked and I focused on a nearby window. We removed the film back and setup a piece of paper where the film plain would be. I then set the camera to bulb mode and triggered the shutter, and low and behold we were presented with a clear sharp image on the paper. Bingo, we had it. We felt confident I could now go and shoot a successful test roll. So I loaded up a roll of the newly arrived Arista EDU 100 into the 120 roll back for the Linhof and proceeded to go for a walk around the streets near Grahams house to shoot a test roll. I couldn't be bothered with a tripod and I wanted to see if I could shoot this beast free hand. haha
I finished my 10 shots in about an hour, and had a very tired arm from carrying around this big clunker. haha. I was now eager to see the results. Graham was kind enough to offer to dev the film for me, I think he was as keen to see the results as I was. He quickly had the film out the roll back and loaded into the dev tank when we realised we did not know the correct dev times for this Arista EDU b&w film. We had a search on-line and it seemed no one had any idea on correct dev times for this film in Ilfosol 3. We had a bit of a search around, compared similar films with other developers and did some basic mental maths and made an educated guess as to the times we should use. Turns out Graham nailed the developing, the scans turned out great. So in one test session, we figured out an unknown camera, I shot it freehand using the free Iphone light meter app, which was a gamble, haha, and we took a chance on doing a dev that we had no idea on the correct times for. To finish up with these results I was over the moon. We got 9 fantastic shots in the end which not only shows the amazing capabilities of this classic camera and lens, but also the quality of this relatively cheap b&w film.
So without further ado, the test shots from this amazing classic old camera:
(as always please click on images to view larger and sharper)
This was the first shot I took, I love the lines and I saw these girls coming into view in the distance, I waited till they were just framed and fired.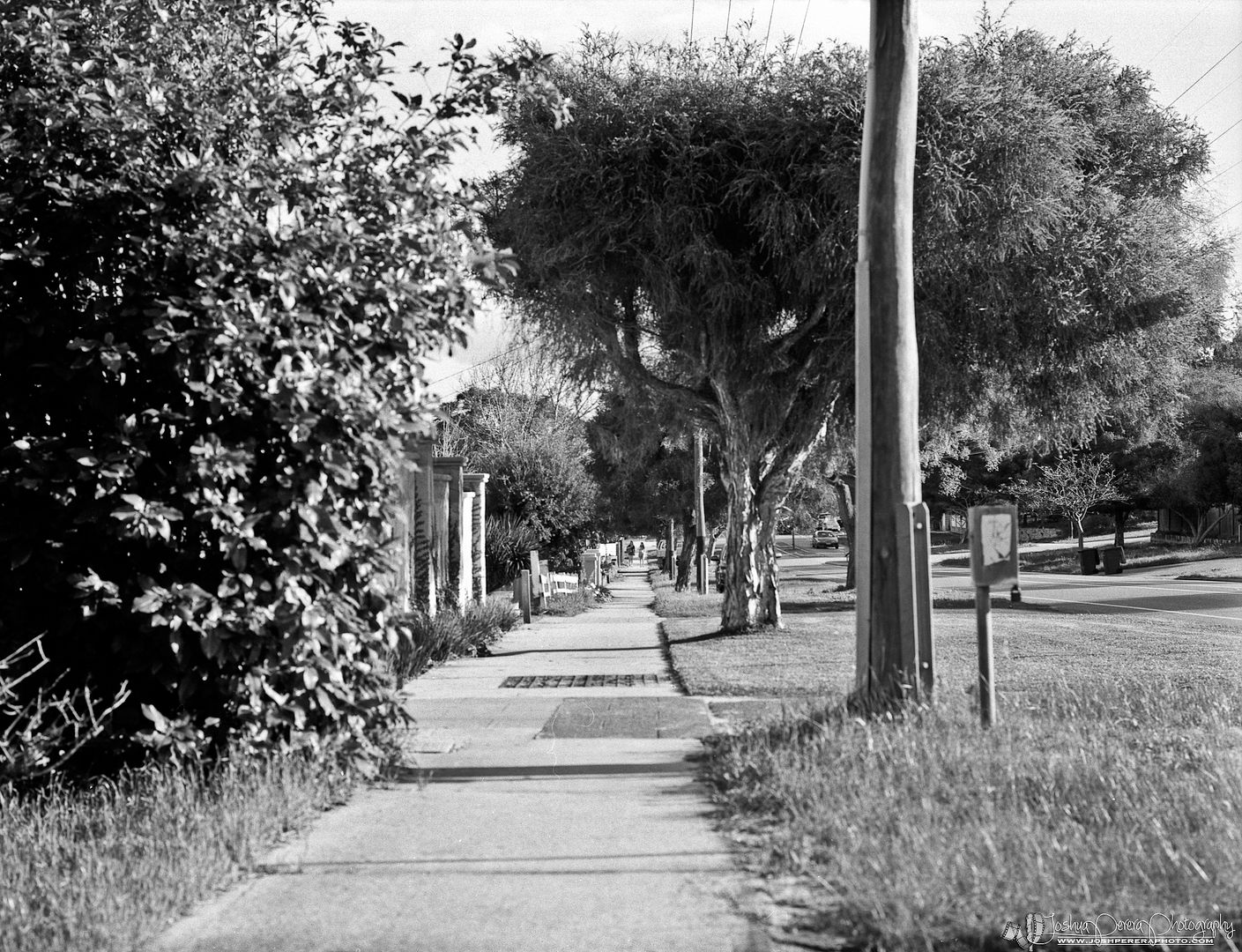 This shot I wanted to test how the lens handled flare… quite well it seems. I probably should have waited for the car to be out of shot, I was too keen to test for multiple things, I shot with the car passing as I wanted to see if I could capture movement with such a slow clunky old camera.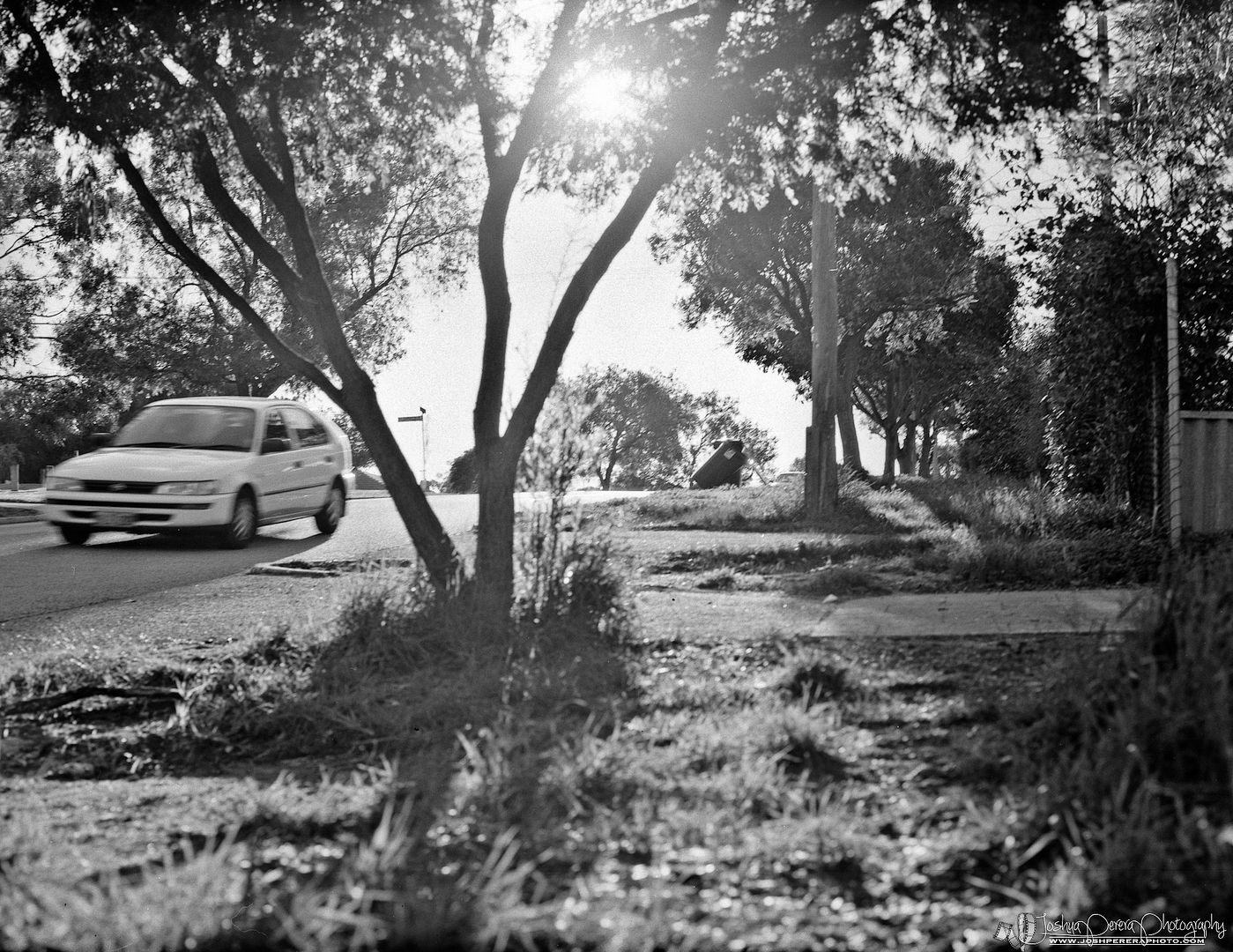 This is actually a mistake on my behalf, I accidentally double exposed this frame. One was a shot of a tree flower to test focus and shallow dof, the other was a shot of a gnarled tree trunk to test how much detail it picked up. This I guess is a lomo shot? haha. Still is kinda cool I think.

As I passed this one house I noticed this dilapidated letter box sitting on an old tree stump. I though this was a great opportunity to test how it would render a subject like a bit of a portrait. I also like the detail in the trunk.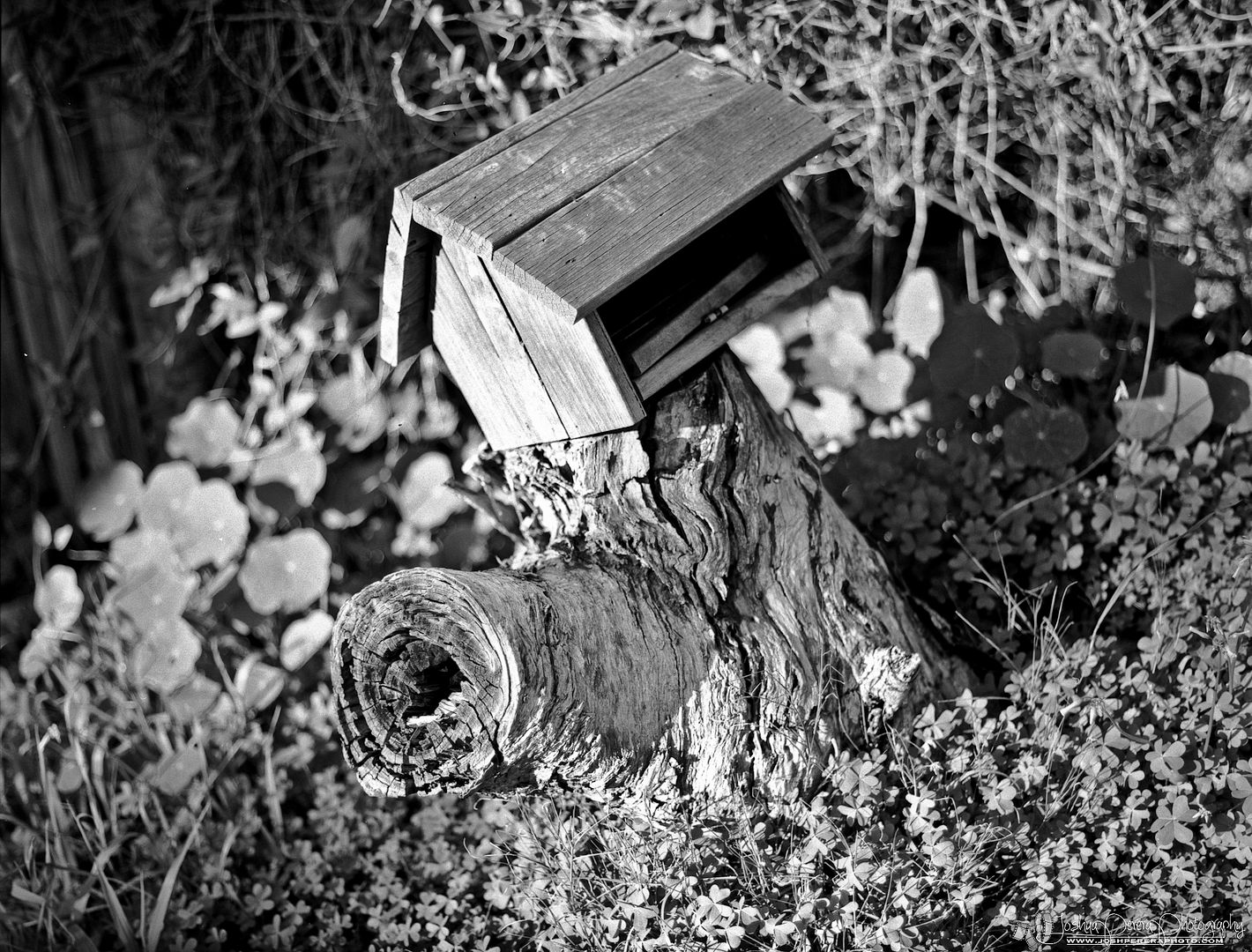 This was a Depth of Field and bokeh test… it passed both with flying colours for me. I love how sharp the balltop on the fence is and how smooth the out of focus area is.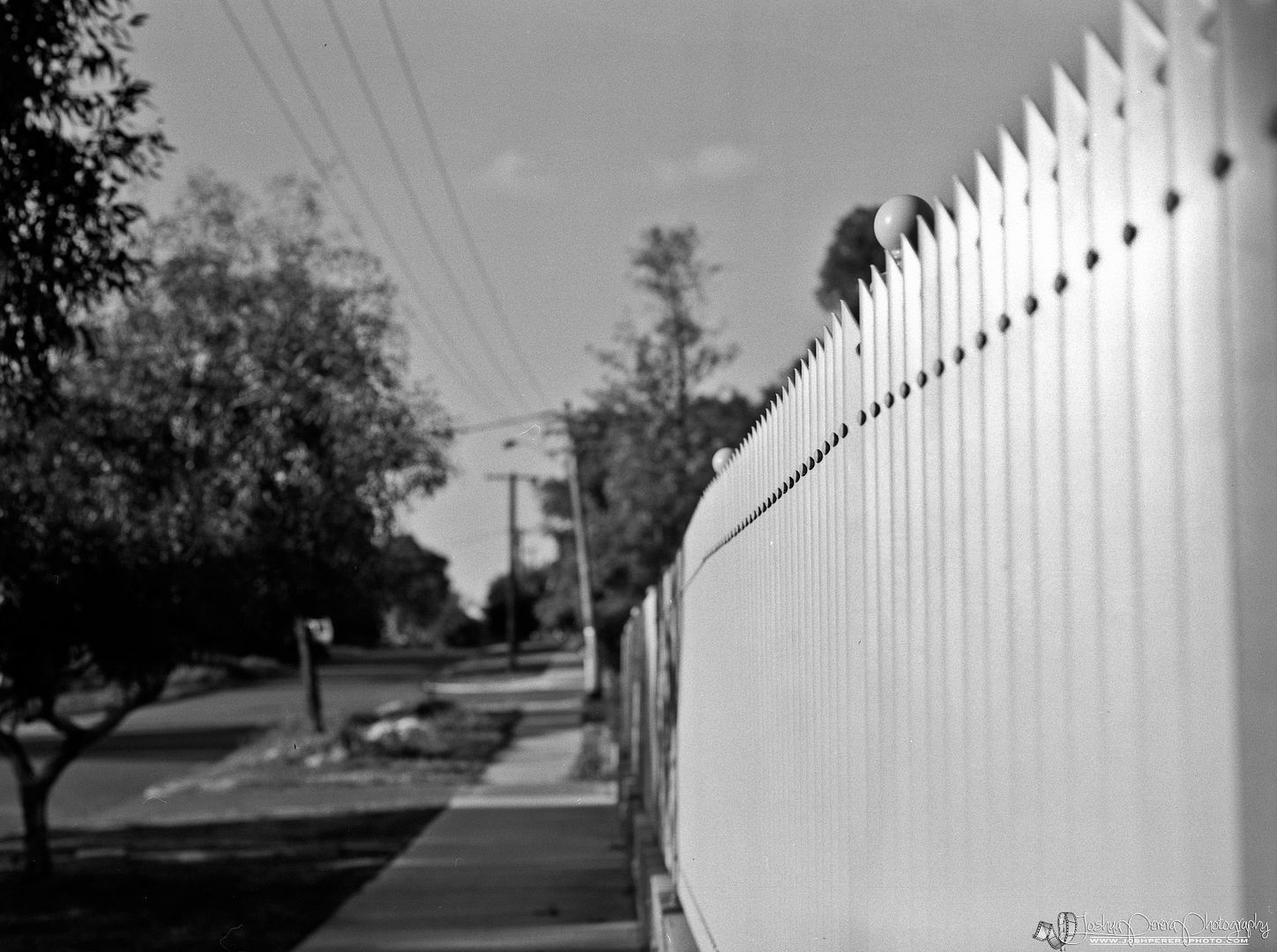 I just really liked this statue and this scene… I think it rendered it exactly how I saw it in my mind.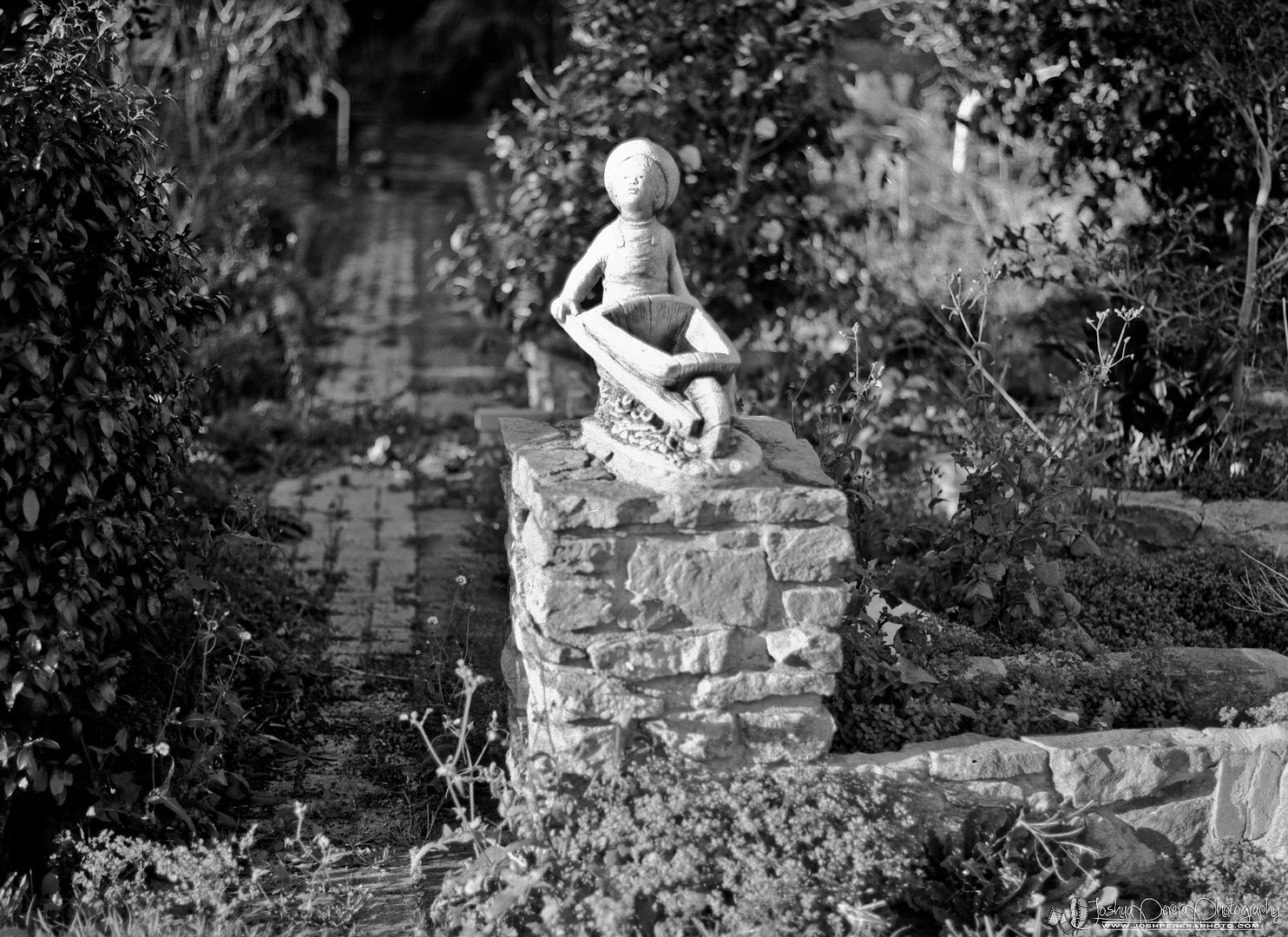 Here I was trying to test how accurate the focus was. I was focusing on the grass seeds on the strand of grass, The focus is a little off as they are out of focus, but not by too much.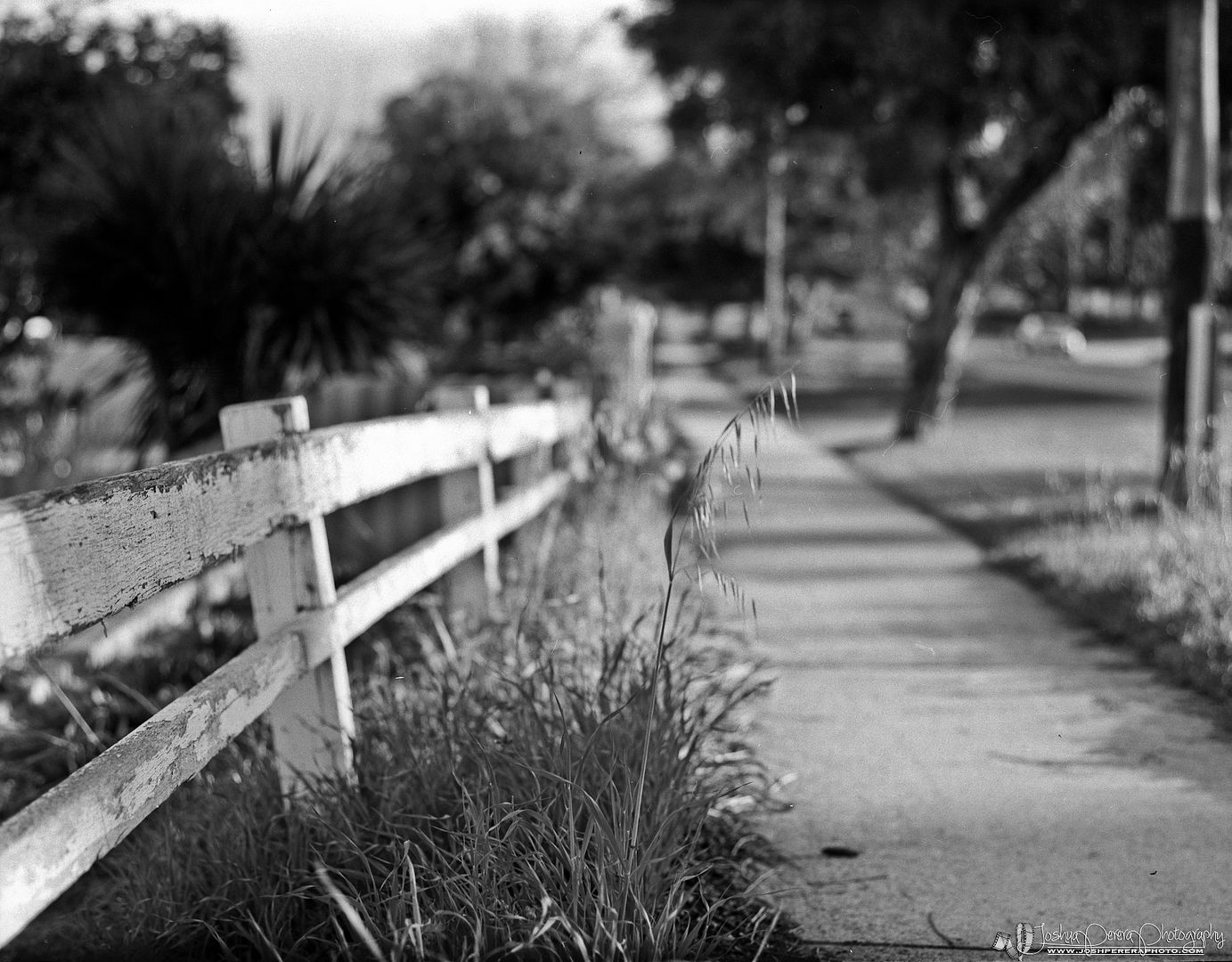 Now I was trying to see how much I could get in focus and how good infinity focus was. You can see the guys I was focusing on smoking at the bus stop in the distance, also got moving cars here too.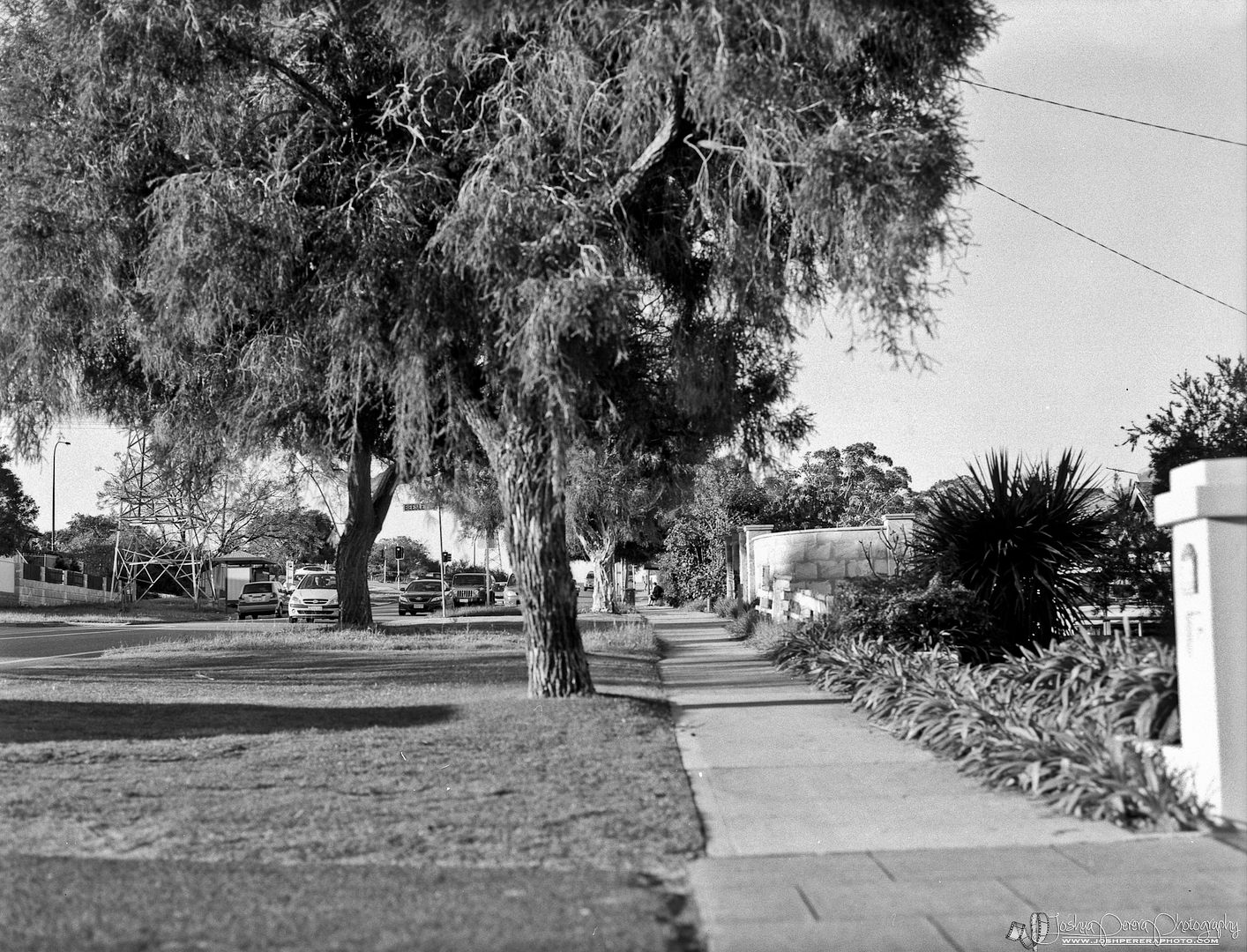 Another detail test. It rendered the detail in the tree awesomely, I like the lines in this shot too.

As you can see, this old bellows camera is still a stellar performer, one which I look forward to putting to good use in the future. I have to say a huge thank you to my friends Graham, Boris and John, whom without I would not have gotten this baby out of the dark and back into the light. Thanks guys.
I hope you all enjoyed having a look at these first test images from my beautiful old Linhof. Till next time, Happy Snapping. 🙂